UN SYSTEM
OMPI - GOLD
Balance of Payments Manual A guide for IMF member countries that regularly report balance of payments data to the IMF. Balance of Payments and International Investment Position Manual (BPM6)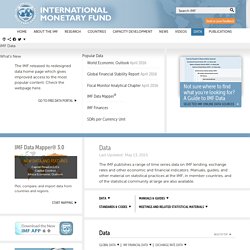 UN-WOMEN - iKNOW Politics
WomenWatch: UN Information and Resources on Gender Equality and Empowerment of Women
SOUTHERN SUDAN: Moving Forward After decades of conflict, four years into a regional peace accord, school enrolment in Southern Sudan shot up, and children – including hundreds of thousands of girls, who were previously excluded – swarmed into overcrowded classrooms. The government's priority in moving forward is improving quality, so that schools like Buluk A Basic School can become child-friendly schools.
Devpro Resource Centre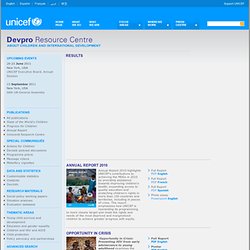 Capacity 21 > Resource Library > Welcome and Search
Documents en ligne Des renseignements détaillés sur les activités de l'OMC sont publiés dans les documents officiels des conseils, comités, groupes de travail, etc. de l'Organisation, mis à disposition dans la base de données Documents en ligne. > Documents en ligne > "Rechercher les documents" de Documents en ligne > Browse recent and frequently consulted documents Par ailleurs, de nombreuses pages du site Web de l'OMC contiennent des encadrés "Documents en ligne" avec des paramètres de recherche préconfigurés, qui vous permettent d'obtenir des listes de documents pertinents puis de sélectionner et de télécharger ceux qui vous intéressent.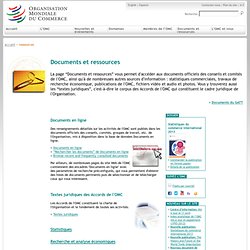 Documents et ressources portail
The UNCTAD web site was re-launched on 15 March 2012. As a result, the page you are looking for might have been moved, had its name changed or is temporarily unavailable. Perhaps try searching for the information you were looking for on our site by doing one of the following: Search the Site Another possible solution is to locate the article you are looking for by topic, date, author, title, or by type.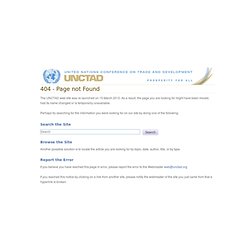 CNUCED - Bib
CCI - Library Catalogue
Sergio Vieira de Mello - United Nations Library
UNALIS, le systeme est inoperationnel... by gaelle0278 Oct 14
Pas pertinent car pas de ressources ou publications propres by gaelle0278 Oct 14
IMO - SeaLibrary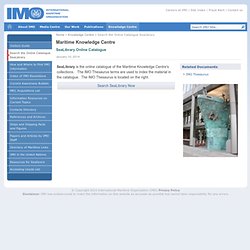 "sharing maritime knowledge" SeaLibrary is the on-line bibliographic catalogue of the Maritime Knowledge Centre's collections of books, conference proceedings, key IMO documents, articles, videos and DVD's. To support the day-to-day activities of the Organization,the Centre maintains selective collections in the following subjects: maritime safety and protection of the marine environment and more specifically ship design and equipment, stability and load lines, fishing vessels safety, containers and cargoes, bulk chemicals, fire protection, life-saving, search and rescue, standards of training and watchkeeping, carriage of dangerous goods, marine pollution, preparedness and response, navigation and communications, facilitation and technical co-operation. There is a small collection on the commercial aspects of shipping and an audio-visual collection.
Catalogue de librairie physique by gaelle0278 Oct 14
Bases de données du OIT - Bureau de la Bibliothèque et des services d'information
ILO - LEX: Conventions
Refworld | The Leader in Refugee Decision Support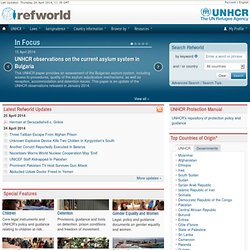 Refworld is the leading source of information necessary for taking quality decisions on refugee status. Refworld contains a vast collection of reports relating to situations in countries of origin, policy documents and positions, and documents relating to international and national legal frameworks. The information has been carefully selected and compiled from UNHCR's global network of field offices, Governments, international, regional and non-governmental organizations, academic institutions and judicial bodies.
OACI - Civil aviation
ICAO's web presence is currently undergoing migration to a new platform. The content you are looking for may not have been transferred yet. Please go to http://legacy.icao.int/icao/en/adb/wla/search_lib.htm , but do bear in mind that the content you will find may not be the latest.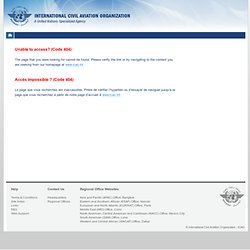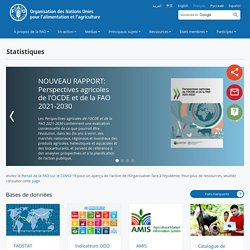 FAO
Agro-MAPS Base de données géographiques des statistiques sous-nationales d'utilisation des terres agricoles au niveau mondial. Le Système global d'information sur l'eau et l'agriculture (AQUASTAT) a été développé par la Division de la conservation des eaux et des sols de la FAO pour fournir aux utilisateurs une information synthétique sur la situation de la gestion de l'eau pour l'agriculture dans le monde entier, notamment dans les pays en développement et dans les pays en transition. Atlas mondial de la production et de la santé animale (GLiPHA) L'atlas mondial de la production et de la santé animale (GLiPHA) est un atlas interactif et facile d'utilisation s'appuyant sur le Système des Principaux Indicateurs ( SPI ) crée par la FAO.
Database AIDS