Art
Get flash to fully experience Pearltrees
Leon Neyfakh is the staff writer for Ideas. Amanda Katz is the deputy Ideas editor. Stephen Heuser is the Ideas editor.
Over the past seven years, at our creative agency, Access , we have worked with a number of residential and commercial property developers from Abu Dhabi to Sydney, helping them with development and strategy. Yet we see so often the sad sight of yet another mediocre building going up. We see city councils approving mediocre design and we see cities looking uglier because of it. We see property developers rushing to get their building up, wanting to make a quick sale and profit, and not really caring or thinking about the aesthetics of the building. Does the building enhance the surrounding area or make it worse? Will the building still look great 10, 15 or 20 years from now?
10 Ways to Play the Most Beautiful Open Chord Shapes Part I A great way to make your chord progressions and songs sound awesome is to use open chord shapes. I always love to use these chords to add some flavor to my chord progressions. One of my favorite chords is Fsus2.That chord has got the whole package for me.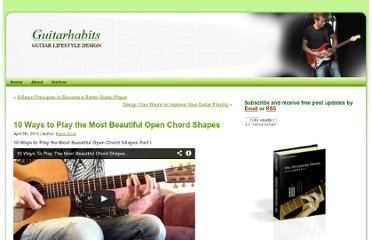 Mapping Stereotypes Atlas der Vorureile (German Edition) Buy from Amazon.de
Photo by John W. Tuggle If I have to name two things that took my guitar playing to the next level I would say music theory and memorizing the fingerboard. It made me understand the big picture. Combining music theory (understanding scales, modes, chord structure, improvising over chord progressions, etc, etc.) and knowing all the notes on the fingerboard will open up a whole new world.