Articles
Contributions Paroles d'experts Les intermédiaires associant diverses offres cloud pour commercialiser une nouvelle offre peuvent jouer un rôle intéressant pour les entreprises.
www.cio-online.com/contributions/lire-les-cloud-brokers-un-pas-vers-la-rationalisation-des-offres-cloud-617-page-1.html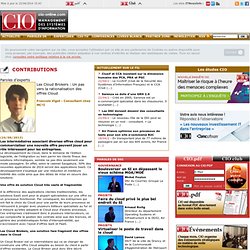 Freescale's Kinetis KL02 MCU is very small. Photo courtesy: Freescale. Chipmaker Freescale Semiconductor has created the world's smallest ARM-powered chip, designed to push the world of connected devices into surprising places. Announced today, the Kinetis KL02 measures just 1.9 by 2 millimeters.
Freescale's Insanely Tiny ARM Chip Will Put the Internet of Things Inside Your Body | Wired Design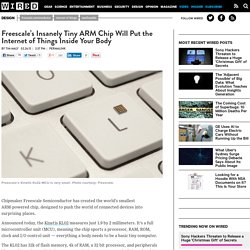 Photo: Victoria Ling The entire mobile economy is based on a tenuous assumption—that we'll be able to access the mobile web, whenever and wherever we want it, at ever-increasing speeds. The reality is not so rosy: We've already seen mobile carriers like AT&T and Verizon stop offering their unlimited data plans—and the struggle for bandwidth is going to be even more grueling as the number of tablets and smartphones continues to explode. Limited access is more than just an annoyance, it's a mortal threat to innovation. By 2020, wireless technology is expected to have a global impact of $4.5 trillion.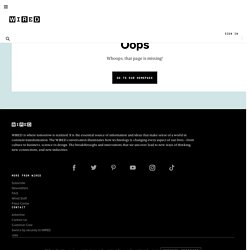 7 Massive Ideas That Could Change the World | Wired Business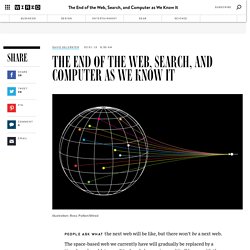 People ask what the next web will be like, but there won't be a next web. The space-based web we currently have will gradually be replaced by a time-based worldstream. It's already happening, and it all began with the lifestream, a phenomenon that I (with Eric Freeman) predicted in the 1990s and shared in the pages of Wired almost exactly 16 years ago.
Intel, Plastic Logic and Queen's U build the PaperTab: a flexible e-paper tablet (video)
Plastic Logic may have bowed out of building its own e-readers, but that's not stopping the company from making its presence felt at CES. It's teaming up with Intel and Queen's University on the PaperTab, a 10.7-inch tablet concept built around a flexible, e-paper touchscreen. The prototype runs a Sandy Bridge-era Core i5 processor that lets it stand on its own, but it's ultimately designed to work as part of a team: position awareness lets multiple PaperTabs join together to share a work area, and tapping one tablet with content can send it to a waiting document in another. The bendy nature isn't just for durability and a paper-like feel, either, as readers can flip through pages just by bending the relevant side. A fuller reveal is planned for January 8th, but you can get an initial sense of how the plastic slate works through the video after the break. Intel and Plastic Logic PaperTab
Asus and Leap Motion Bring Minority Report-Style Gestures to Life | Gadget Lab
Creating a powerful new input device for computers is hard, but not as hard as convincing people to ditch the mouse for something entirely new. Like, say, waving your hands in the air. You can either hand them out on street corner (bad idea), or bundle them with a computer maker.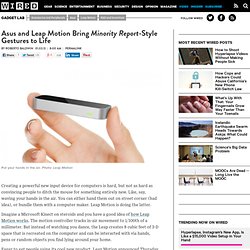 Et l'ordinateur en trois dimensions (3D) devint une réalité. Le génie de l'informatique, Jinha Lee, a dévoilé lors de la conférence annuelle TED (pour Technologie, divertissement et design) un ordinateur avec une interface en trois dimensions, rapporte Wired mardi 26 février. L'étudiant du Massachusetts Institute of Technology (MIT) avait déjà fait sensation l'année dernière avec ZeroN, une balle en 3D en lévitation qui pouvait enregistrer et reproduire la manière dont elle avait été déplacée par un utilisateur. Cette fois, la nouvelle invention de Jinha Lee est encore plus impressionnante.
La naissance de l'ordinateur 3D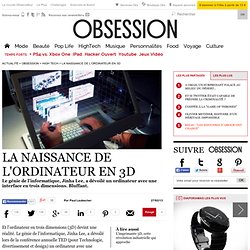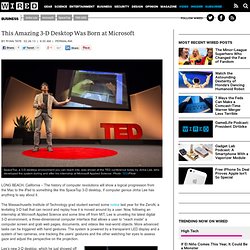 This Amazing 3-D Desktop Was Born at Microsoft | Wired Business
LONG BEACH, California – The history of computer revolutions will show a logical progression from the Mac to the iPad to something like this SpaceTop 3-D desktop, if computer genius Jinha Lee has anything to say about it. The Massachusetts Institute of Technology grad student earned some notice last year for the ZeroN, a levitating 3-D ball that can record and replay how it is moved around by a user. Now, following an internship at Microsoft Applied Science and some time off from MIT, Lee is unveiling his latest digital 3-D environment, a three-dimensional computer interface that allows a user to "reach inside" a computer screen and grab web pages, documents, and videos like real-world objects.
PET - CyberWiki
La libre utilisation des ondes radio permettrait de multiplier les réseaux WiFi alternatifs et citoyens.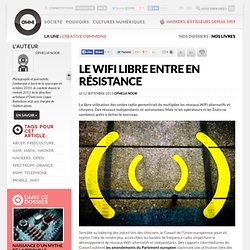 L'Internet illimité au purgatoire
L'idée de brider Internet était promise aux enfers. À en croire les opérateurs, en particulier Orange, le projet aurait été examiné le temps d'un été - le dernier.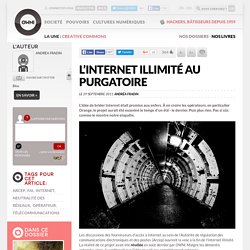 Le printemps arabe a donné des idées aux ingénieurs. A Washington, une équipe d'une vingtaine de personnes développe un réseau concurrent d'Internet.
Comment le virus Stuxnet s'en est pris au programme nucléaire iranien
- Vue aérienne de l'usine iranienne d'enrichissement d'uranium de Natanz.
Stuxnet: la piste israélo-américaine se précise
Les responsables américains et israéliens ont largement commenté le virus Stuxnet, un ver informatique très complexe qui a porté un coup d'arrêt à l'effort iranien pour fabriquer la bombe nucléaire.
Virus Stuxnet : anatomie d'une arme informatique de haute volée
Stuxnet a marqué un tournant dans l'histoire des virus. Cette vidéo présente de manière très joliment illustrée et animée cette étonnante arme informatique. La paternité de Stuxnet n'est pas établie avec certitude, mais son efficacité est avérée: les centrifugeuses d'uranium iraniennes peuvent en témoigner.
Stuxnet: le triomphe de la culture «hacker»
La «culture hacker» vit la meilleure et la pire heure de son histoire. D'un côté, le ver informatique (le complexe et très redouté «Stuxnet») vient de remporter une victoire sans précédent.
Activité_Net_60_secondes.jpg (Image JPEG, 1191x842 pixels) - Redimensionnée (81%)