Funkyrainbowsushi
Clayton Hodgett
Bizarre Websites On Which You Can Kill Time With Style. Advertisement Modern Web-building technologies allow designers to realize their most daring and creative ideas.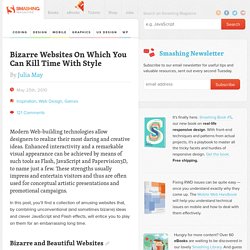 Enhanced interactivity and a remarkable visual appearance can be achieved by means of such tools as Flash, JavaScript and Papervision3D, to name just a few. These strengths usually impress and entertain visitors and thus are often used for conceptual artistic presentations and promotional campaigns. In this post, you'll find a collection of amusing websites that, by combining unconventional (and sometimes bizarre) ideas and clever JavaScript and Flash effects, will entice you to play on them for an embarrassing long time. Most Amazing Miniature Food Artworks by Shay Aaron.
How Secure Is My Password? "Little Boxes" performed using actual boxes as instruments - The Feed Blog. (CBS) - The last time we checked in on the band Walk Off The Earth, they were impressing us with their rendition of Gotye's song "Somebody That I Used To Know".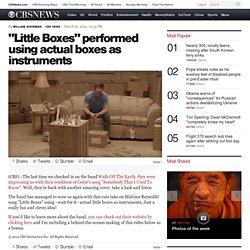 Well, they're back with another amazing cover, take a look and listen. The band has managed to wow us again with this cute take on Malvina Reynolds' song "Little Boxes" using - wait for it - actual little boxes as instruments. Just a really fun and clever idea! If you'd like to learn more about the band, you can check out their website by clicking here and I'm including a behind-the-scenes making of this video below as a bonus. © 2012 CBS Interactive Inc. CSS Cheat Sheet. Michael Jordan - How Quickly They Forget (MJ vs Lebron) Lamborghini-Aventador-11-1024x682.jpg (JPEG Image, 1024 × 682 pixels) - Scaled (69%) Inside the Lightsaber" There are hundreds of uses for a lightsaber in the household alone -- and only a few of them involve dismembering kitchen droids -- but most lightsaber techniques boil down to four key actions.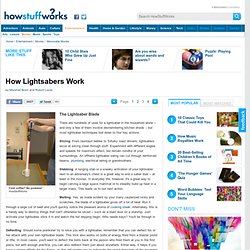 Slicing: From tauntaun bellies to Tofurky roast dinners, lightsabers excel at slicing clean through stuff. Experiment with different angles and speeds for maximum effect, but remain mindful of your surroundings. An offhand lightsaber swing can cut through reinforced beams, plumbing, electrical wiring or grandmothers. Stabbing: A lunging stab or a sneaky activation of your lightsaber next to an adversary's chest is a great way to end a saber duel -- at least in the movies. In everyday life, however, it's a great way to begin carving a large space mammal or to steadily build up heat in a larger mass. Beautiful/Decay Artist & Design. Pizza Braid. Solar System Scope. Marine Corps Humor: Differences In The Military | Marine Corps Stories | Scuttlebutt | Sgt Grit.
In an effort to ensure proper training and readiness among the military services, Congress has approved the following changes to basic principles of recruit training: Haircuts: Marines: Heads will be shaved.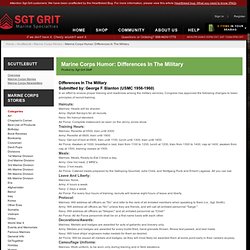 Army: Stylish flat-top's for all recruits. Navy: No haircut standard. Air Force: Complete makeovers as seen on the Jenny Jones show. Cliff Trampoline at Whistler | Wend Blog. Listen to Music Curated by Music Experts. Tentsile, the Portable Treehouse. Want to go camping, but afraid of bugs, snakes, or bears?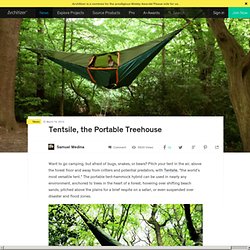 Pitch your tent in the air, above the forest floor and away from critters and potential predators, with Tentsile, "the world's most versatile tent. " The portable tent-hammock hybrid can be used in nearly any environment, anchored to trees in the heart of a forest, hovering over shifting beach sands, pitched above the plains for a brief respite on a safari, or even suspended over disaster and flood zones. The Perfect Homework Music for Hip-Hop Lovers | tayden06 | 4,000+ likes | 42. 13 Internet Terms You Probably Didn't Know Existed. Funny-Pics-08.03.2012-23.jpg (JPEG Image, 640 × 530 pixels) Instant Dance Party. 5 Real Life Soldiers Who Make Rambo Look Like a Pussy. We all understand that action movies are cheesy escapism.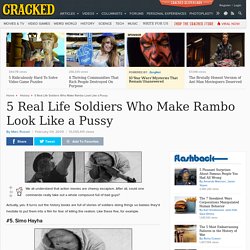 After all, could one commando really take out a whole compound full of bad guys? Actually, yes. It turns out the history books are full of stories of soldiers doing things so badass they'd hesitate to put them into a film for fear of killing the realism. Like these five, for example. Who Was He? Barcode Yourself by Scott Blake. Barcode Yourself is a complete, interactive experience in the series of barcode art, created using the personalized data of participants.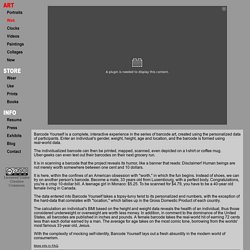 Enter an individual's gender, weight, height, age and location, and the barcode is formed using real-world data. The individualized barcode can then be printed, mapped, scanned, even depicted on a t-shirt or coffee mug. Uber-geeks can even test out their barcodes on their next grocery run. It is in scanning a barcode that the project reveals its humor, like a banner that reads: Disclaimer! How-To: Easily Remove the Vocals from Most Songs | r3dux.org. FutureFunkyrainbowsushi. Untitled. CrackingCreditCode.jpg (JPEG Image, 600 × 1708 pixels) AIM HIGH Episode 6 on Cambio. Html My name is Clayton.
Pearltrees videos
Getting started.
---