Steampunk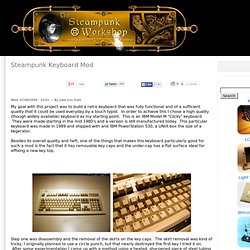 My goal with this project was to build a retro keyboard that was fully functional and of a sufficient quality that it could be used everyday by a touch typist. In order to achieve this I chose a high quality (though widely available) keyboard as my starting point. This is an IBM Model M "Clicky" keyboard. They were made starting in the mid 1980's and a version is still manufactured today. This particular keyboard was made in 1989 and shipped with and IBM PowerStation 530, a UNIX box the size of a kegerator.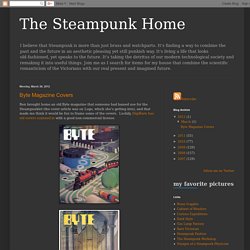 I saw this artwork by photographer Amanda Weil, in House Beautiful and I thought the idea of a transparent or translucent image printed on glass was intriguing. Old daguerreotypes were printed on glass, so the idea could be adapted for some very steampunk images. Weil makes furniture and screens as well as wall art, but for the DIY photographer, I'd look into Fracture. You can get an 18 inch diagonal print on glass for $35. According to their FAQ, "You'll be able to select "No Mount" for just the opaque printed glass or "Transparent" for the printed glass without any white background." I think that, paired with a sepia or black and white toned photo, would make for a impressive wall.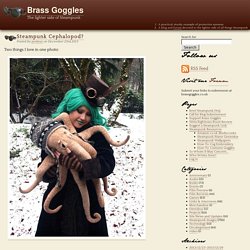 Posted by proteus on December 23rd,2013 Two things I love in one photo: [via Brian Kesinger's Tea Girls] Posted by proteus on October 17th,2013
steampunk - Gizmodo
Make: Online : Steampunk gift guide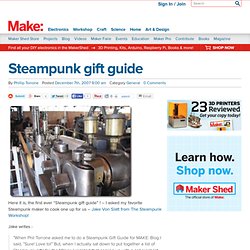 Here it is, the first ever "Steampunk gift guide" ! – I asked my favorite Steampunk maker to cook one up for us – Jake Von Slatt from The Steampunk Workshop! Jake writes - "When Phil Torrone asked me to do a Steampunk Gift Guide for MAKE: Blog I said, "Sure! Love to!" But, when I actually sat down to put together a list of Steampunk gifts for the Maker, I realized that coming up with a coherent list was going to be difficult.The definition of Steampunk has become somewhat fractured.
A fiddler tunes. A woman on upright bass stretches her hands. The banjoist adjusts his strap while the mandolinist takes a drink. In this moment before a song, the possibilities of sound are only as limited as the experience and the vision of the artists onstage. From the lineup of instruments, you might expect a traditional bluegrass tune from such a group, but why not arrangements of Bach or a Rush cover or a surreal ballad in the style of David Bowie?
Steampunk Model 420 Pneumatiform Infumationizer Project Details
Aether Emporium / Kits and Models