PRINT
How The Guardian And The 3 Little Pigs Hope To Keep The Wolf From The Door. Author: Jason Gonsalves, Head of Strategy, BBH London Our first ad for The Guardian broke on Wednesday night.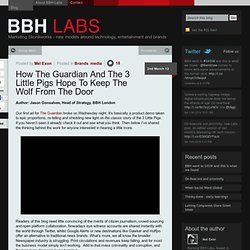 It's basically a product demo taken to epic proportions, re-telling and shedding new light on the classic story of the 3 Little Pigs. Print News Organizations Plunge Into Live Video. The New York Times imagines the kitchen table of the future. At The New York Times Company's R&D Lab, the group's collective of technologists, artists, and journalists talks a lot about "information shadows" — the auras of data that surround us in our daily lives.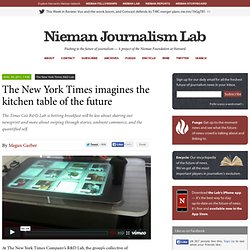 Tracking and processing the info trails we leave, the thinking goes, allows for deeper insights into ourselves — and it can also help media organizations to provide their users with news consumption experiences as intimate as they are relevant. We tend to emphasize the "self" aspects of "the quantified self"; the R&D Lab is exploring what it means to be a part of a quantified community — and, for the Times, what it means to be a provider of information to that community. I recently had the chance to visit the R&D Lab, which is housed on the 28th floor of the Times building in New York. In the video above, Matt Boggie, The Times Co.'s Media & Technology Strategist for R&D, demonstrates the Times' screen-top version of a kitchen table. Beta620 | Experimental Projects From The New York Times. Newspapers in America: the story of their rise and fall visualised | Datablog | News.
Turn autoplay off Turn autoplay on Please activate cookies in order to turn autoplay off Edition: <span><a href="
Newspapers : Why India's newspaper industry is booming. 1 August 2011Last updated at 17:01 By Rajini Vaidyanathan BBC News, Chennai The growth in Indian newspaper industry is being powered by English as well as regional papers As the print deadline approaches, there is a sense of urgency in the air.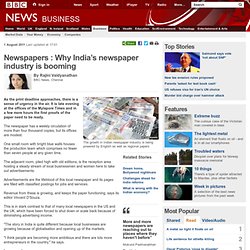 It is late evening at the offices of the Mylapore Times and in a few more hours the first proofs of the paper need to be ready. Update: Our New Newsroom for the Digital Era Is Now Up and Running - Lewis DVorkin - The Copy Box. Future of media: This is no time for incrementalism. In a recent piece for Forbes magazine, Washington Post managing editor Raju Narisetti looks at the challenges that mainstream media of all kinds are facing — falling circulation, the gap between traditional print advertising and the smaller revenues from online advertising, and the difficulties of trying to be digital while still running a legacy business.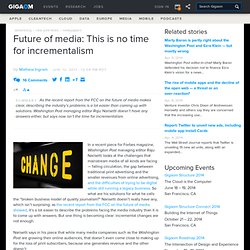 So what are his solutions for what he calls the "broken business model of quality journalism?" Narisetti doesn't really have any, which isn't surprising: as the recent report from the FCC on the future of media showed, it's a lot easier to describe the problems facing the media industry than it is to come up with answers. But one thing is becoming clear: incremental changes are not enough. Découvrez 6 mois, en librairie le 24 mars. Newspapermap - All onlinenewspapers in the world. Neilfrench5.jpg (Image GIF, 1078x1515 pixels) - Redimensionnée (37%)
---