Quotes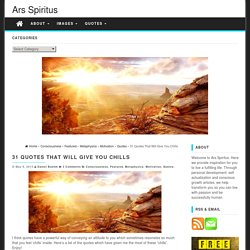 I think quotes have a powerful way of conveying an attitude to you which sometimes resonates so much that you feel 'chills' inside. Here's a list of the quotes which have given me the most of these "chills". Enjoy! Some people die at 25 and aren't buried until 75. —Benjamin FranklinMost people are other people.
31 Quotes That Will Give You Chills - Ars SpiritusArs Spiritus
Socrates Quotes
Zitat - "Wahnsinn ist, wenn man immer wieder das Gleiche t
Impress Quotes
Vanilla Sky (2001) - Memorable quotes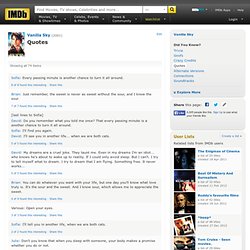 Sofía: Every passing minute is another chance to turn it all around. Brian: Just remember, the sweet is never as sweet without the sour, and I know the sour. [last lines to Sofia] David: Do you remember what you told me once?
25 Great Quotes to Inspire and Brighten Your Day
Mitch Albom Quotes (Author of Tuesdays with Morrie)
Die Fabelhafte Welt der Amelie - Zitate zum Film | Zitate-db.de
IMGDaddy
Bauanleitung für einen schönen Tag
To keep moving forward in life it is a must that we keep a continual attitude of positivity, and excellence. Keep a smile on your face, even in the most trying of times. Keep being yourself as well. Many times when life gets us down, all we desire for is some normalcy after tragedy.
Quotes and Sayings - Search Quotes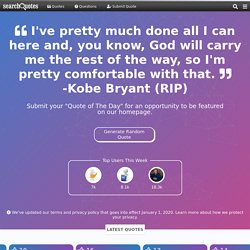 Fred OBryants Quote Collection - Volume 1
Inspiration Gallery #173 - Various quotations & From up North | Design inspiration & news - StumbleUpon
Various quotations | #222 & From up North | Design inspiration & news - StumbleUpon
- StumbleUpon
- StumbleUpon
- StumbleUpon
words that speak to the soul. - Polyvore - StumbleUpon