Owl
Abstract This W3C Incubator Group (XG) seeks to enable the use of the (Semantic) Web for Product Modelling (PM): the definition, storage, exchange and sharing of product data. Product data is information about the structure and behaviour of things that are realized in industrial processes.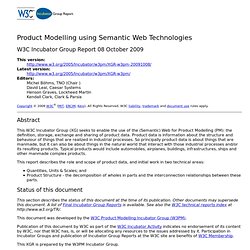 Product Modelling using Semantic Web Technologies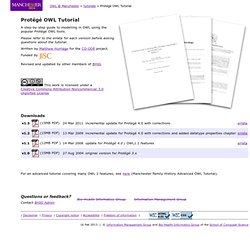 OWL @ Manchester > tutorials > Protégé OWL Tutorial A step-by-step guide to modelling in OWL using the popular Protégé OWL tools. Please refer to the errata for each version before asking questions about the tutorial. Written by Matthew Horridge for the CO-ODE project.
Protege OWL tutorial at Manchester (School of Computer Science – The University of Manchester)
Figure 8. Hierarchy of wine regions. The "A" icons next to class names indicate that the classes are abstract and cannot have any direct instances.
What is an ontology and why we need it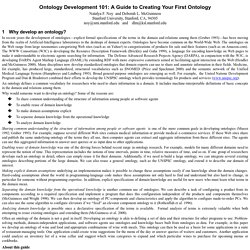 Recommandation du W3C du 10 février 2004 Cette version : http://www.w3.org/TR/2004/REC-owl-guide-20040210/ Dernière version : http://www.w3.org/TR/owl-guide/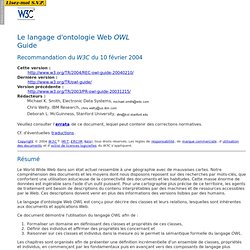 Standardizing Legal Content with OWL and RDF: Linking Enterprise Data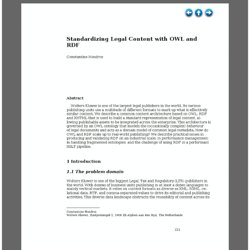 in Java when RDF data is being addressed, or in Schematron where XHTML is concerned. The backbone, of course, of any RDF-aware application is the consistency check, which in our toolset is provided by Pellet. This checks, for a given knowledge base,
Welcome to the TONES ontology repository. About This repository is primarily designed to be a central location for ontologies that might be of use to tools developers for testing purposes. Usage
TONES Ontology Repository
What is the difference between RDF and OWL