Livre
Get flash to fully experience Pearltrees
"In its initial form the Human Library is a mobile library set up as a space for dialogue and interaction. Visitors to a Human Library are given the opportunity to speak informally with "people on loan"; this latter group being extremely varied in age, sex and cultural background. " by feillet May 22
« Le passe-Jardins » est une association qui cherche à promouvoir toutes les formes de jardins partagés et solidaires. En véritable centre de ressources, elle comprend une médiathèque, composée d'un espace documentaire , d'une photothèque et d'une outil-thèque . Cette médiathèque est mobile . En effet, en complément de l'ouverture fixe et hebdomadaire des locaux de l'association et de la possibilité de prendre rendez-vous pour consulter les documents, Le passe-jardins propose d'apporter certaines de ses ressources dans le cadre de projets de création ou d'aménagement de jardins.
The Cairo Genizah he Cairo Genizah, mostly discovered late in the nineteenth century but still resurfacing in our own day, is a collection of over 200,000 fragmentary Jewish texts (which may well equal three times that number of folios). Many of these were stored in the loft of the ancient Ben Ezra Synagogue in Fustat medieval Cairo , to the south-west of the modern city) between the 11th and 19th centuries. A genizah is a storage room where copies of respected texts with scribal errors or physical damaged, or unusable documents, are kept until they can be ritually buried. The dark, sealed, room in the arid Egyptian climate contributed to the preservation of the documents, the earliest of which may go back to the eighth and ninth centuries. These manuscripts outline a 1,000-year continuum of Middle-Eastern history and comprise the largest and most diverse collection of medieval manuscripts in the world.
"...a resource center on the study and description of Byzantine bindings..." by feillet May 14
Global search Objectives The STUDITE project aims to highlight the technical and artistic contributions of Greek and Byzantine manuscripts to the history of the book. Byzantine binding influenced the culture of the book in both the Orient and the West, and these connections are the subject of considerable cultural and scientific interest. STUDITE therefore aims to preserve and enhance this shared heritage to foster better historical understanding and intercultural dialogue. To achieve its objectives, the STUDITE project will conduct various activities:
Selon Platon « la perversion de la cité commence par la fraude des mots » . Si le journalisme fait corps avec la cité, alors méfions-nous de ses dérives. Et l'utilisation de mots frauduleux par certains confrères doit nous amener à réfléchir à l'exercice de ce singulier mais passionnant métier, au rôle de ceux qui prétendent le défendre (dont votre serviteur).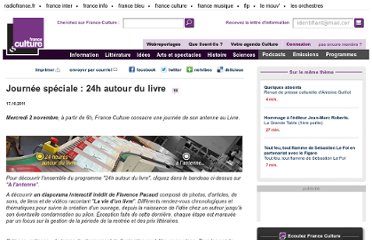 Mercredi 2 novembre , à partir de 6h, France Culture consacre une journée de son antenne au Livre. Pour découvrir l'ensemble du programme "24h autour du livre", cliquez dans le bandeau ci-dessus sur " A l'antenne ". A découvrir un diaporama interactif inédit de Florence Pacaud composé de photos, d'articles, de sons, de liens et de vidéos racontant " La vie d'un livre ". Différents rendez-vous chronologiques et thématiques pour suivre la création d'un ouvrage, depuis la naissance de l'idée chez un auteur jusqu'à son éventuelle condamnation au pilon.
Using knives, tweezers and surgical tools, Brian Dettmer carves one page at a time. Nothing inside the out-of-date encyclopedias, medical journals, illustration books, or dictionaries is relocated or implanted, only removed. Dettmer manipulates the pages and spines to form the shape of his sculptures. He also folds, bends, rolls, and stacks multiple books to create completely original sculptural forms.