MadeOfStarStuff's Guide to the Real World
What Would Jesus NOT Do?
Instruction Manual for Life [cc]
I have given up on God : atheism
Sam Harris on Christianity
Paxman Meets Hitchens: A Newsnight Special
Richard Dawkins - "What if you're wrong?"
Scale of Earth, Sun, Rigel, and VY Canis Majoris. [full zoom at the end]
Size Comparison - From a Molecule to a Galaxy In One Single Shot (Annotations On)
Time Lapse Sky Shows Earth Rotating Instead of Stars (fixed audio)
VLT (Very Large Telescope) HD Timelapse Footage
Carl Sagan - God And Gods
The Atheism Tapes - Daniel Dennett - Darwin's Dangerous Idea
A Universe Not Made For Us: Remastered in HD [Carl Sagan Tribute Series, S01E01]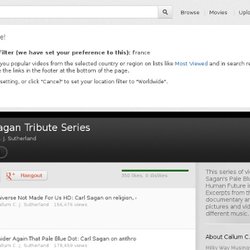 Carl Sagan Tribute Series
Welcome to YouTube!
philhellenes's Channel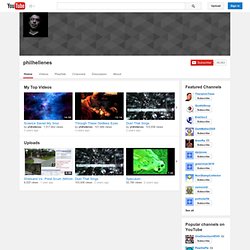 Welcome to YouTube!
This Remarkable Thing