Photo
I'm very interested in photography - especially abandoned places. But anything that is just beautiful or apples to a feeling inside works for me. I will try to collect pearls containing nice photos,but also give you some interesting music links and "good to know- things".


Hope you will enjoy my tree. 50 Photos That Will Blow You Away (Final Part) Here's the 3rd and final part of the wonderful and mind-blowing posts.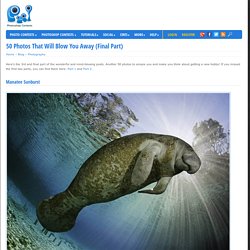 Another 50 photos to amaze you and make you think about getting a new hobby! If you missed the first two parts, you can find them here: Part 1 and Part 2 . Manatee Sunburst. Street Art: 111 Most Interesting Photos of 2011 | Photography & Design & Inspiration. Images. With ash from the volcano by Raym& - StumbleUpon. Camera Obscura - A blog/magazine dedicated to photography and contemporary art. Www.flashstrategygames.com/games/dice_mogul.swf.
Top photographs got massive visitors and impressions. After a long time i have found this interesting idea for readers and lovers of pokkisam blog.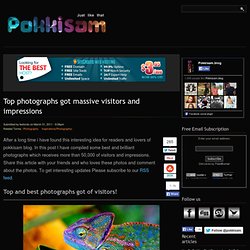 In this post I have compiled some best and brilliant photographs which receives more than 50,000 of visitors and impressions. Share this article with your friends and who loves these photos and comment about the photos. Expert Photography | Photography Tips. Characters - Graffiti Pictures & Graffiti Art. Web Gallery of Art. Tate's Online Events Archive. The Satirical Art of Paul Kuczynski - Stop and Think - StumbleUpon.
Mizozo fake link What is Mizozo?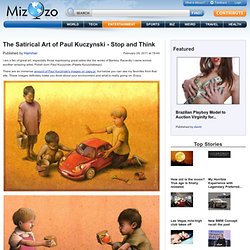 Mizozo is a user generated content site which is in the process of a major shift in business. Exhibit Unravels Mysteries of Ancient Chinese Temples Through History, Science | PBS NewsHour | July 11, 2011. JUDY WOODRUFF: Finally tonight, bringing together art, history and science.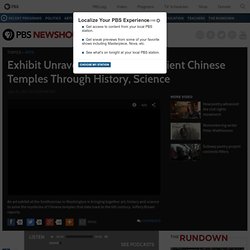 Jeffrey Brown takes us through a unique museum exhibition. JEFFREY BROWN: Sculptures from sixth century China, the head of a Buddha, a seated bodhisattva, a kneeling winged monster, works of art from museums around the world. Minjae lee. Plitvice, a watery paradise in Croatia - StumbleUpon. In recent years, Croatia has changed from a relative unknown to one of the trendiest destinations in Europe.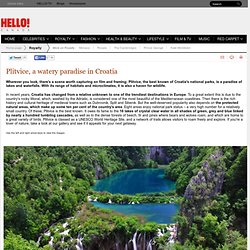 To a great extent this is due to the country's rocky littoral, which, washed by the Adriatic, is considered one of the most beautiful of the Mediterranean coastlines. Then there is the rich history and cultural heritage of medieval towns such as Dubrovnik, Split and Sibenik. But the well-deserved popularity also depends on the protected natural areas, which make up some ten per cent of the country's area.
Eight areas enjoy national park status – a very high number for a relatively small country. Festival of Colors. Farmin.se. Steve-Milner1.jpg from spaceweather.com - StumbleUpon. Bryan F. Peterson Photography. Photo Groups and Blogs. High Speed Liquid and Bubble Photographs by Heinz Maier | Colossal - StumbleUpon. It never ceases to amaze me: just when I think I've seen every possible permutation of an artform or technique—be it figurative sculpture, stop motion animation, or in this case, high speed photography—somebody comes along and manages to do something radically different.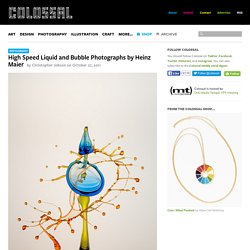 German photographer Heinz Maier says that he began taking photographs less than a year ago in late 2010. He claims to not know what direction he's heading in just yet, right now he's experimenting with macro photography, mostly insects, animals, and these delicate high speed water droplets. Amazing-Places_24B-552508.jpeg from vidwallpapers.com - StumbleUpon. Photo &Milky Way above the Himalayas& by Anton Jankovoy... - StumbleUpon. Nepal, Himalayas, Annapurna Base Camp Trek, Modi Khola valley, nearby Machhapuchre Base Camp (3,700 m) Great news!!!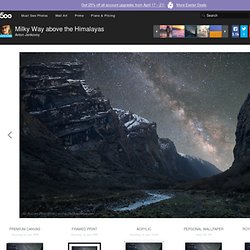 Already you can buy my book about NIGHT SKY PHOTOGRAPHY (Getting ready and photographing the night sky): - PDF (perfect for your iPad, telephone, Tab, PC, MAC and etc. 100 Exceptional Examples Of Portrait Photography. Best Pictures Of The Decade: The Noughties. TotallyCoolPix is all about the images and this is a retrospect all about the years 2000-2010 aka The Noughties.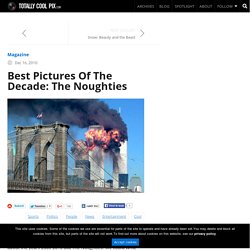 We could write about September 11th 2001 or the tsunami or countless earthquakes or the Middle East conflict or Barack Obama or Michael Schumacher or Saddam Hussein or Facebook or the human race. But we'll let the pictures speak for themselves. 00tx6f3y-1024x719.jpg from englishrussia.com - StumbleUpon. Amazing Mystery Photographer Comes To Fame After Her Death: Pics, Videos, Links, News. 8 Effects Every Photographer Should Know About. Photography seems easy at first glance.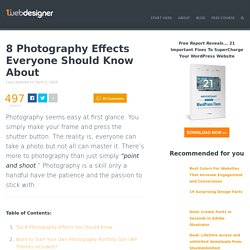 You simply make your frame and press the shutter button. The reality is, everyone can take a photo but not all can master it. There's more to photography than just simply "point and shoot." Silence. Photography. NYC's Day and Night Combined in Stephen Wilkes Photography. For this Thursday we've made a series that captures a transitioning of day into night within a single photograph.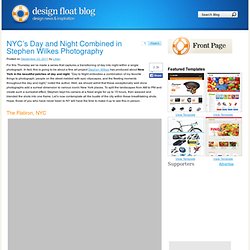 In fact, this is going to be about a fine art project Stephen Wilkes has produced about New York in the beautiful patches of day and night. "Day to Night embodies a combination of my favorite things to photograph; people on the street melded with epic cityscapes, and the fleeting moments throughout the day and night," noted the author. 22 Photographies augmented with illustrations by Johan Thörnqvist. Amazing-sunseat.jpg (960×639)
---