Comics
PHD Comics: Running Behind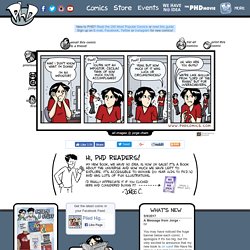 UK Lectures! - The UK Lectures at St. Andrews, Warwick, Cambridge and Queen Mary were a success!
AmazingSuperPowers: Webcomic at the Speed of Light - by Wes and Tony
Scenes From A Multiverse - A daily comic about life by Jon Rosenberg
After finally moving to the "Animation Capital of the World", my contractor job ended abruptly (an unfortunate part of doing contractor jobs). This means I can focus on getting a job as a storyboard artist! But first I need to make sure I can continue to live here.Therefore, to make ends meet until I find my next job, I'm opening up commissions again!
bustygirlcomics.com
Buttersafe – Updated Tuesdays and Thursdays
new strip
2681
Saturday Morning Breakfast Cereal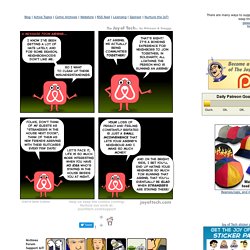 recharging your funnybone's battery..
The Joy of Tech is a comic about technology and pop culture, created by Nitrozac and Snaggy, and updated three times a week. We like to feature the people and events that are making today's tech news. We've been making comics on the web since early 1999, and The Joy of Tech is now in its 12th year.
Everything is boring here
QC: New Comics Every Monday Through Friday
comic strips archive at the official Dilbert website
Brad Colbow - Independent Web Designer, Illustrator
Welcome to Doonesbury
Ages
Head Trip - Wednesday, April 27, 2011
theWAREHOUSE web comic
by Ryan Hudson : Updated M-W-F - Natural Disaster.
1.00 FTE - Impressions of corporate life.
Jesus and Mo
DOGHOUSE