Stumble!
All That Is Interesting - The First Zombie-Proof House. Somehow, ritual drunk-conversation concerning team captains for the apocalypse has become a major part of the lives of 20-somethings.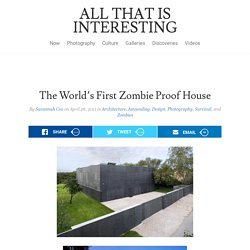 Having been matured in the Grandaddy-crowned masterpiece film (put "A.M. 180" on and forget that you have a job) 28 Days Later and the best-selling Zombie Survival Guide, we're all a little too ready to deal with the 2012 zombie apocalypse of our dreams. "The Safe House," designed by KWK Promes, starts to get eerily close to something I could work with, if say 200 bludgeoned members of the undead army came over to eat their way into borrowing some sugar. "The most essential item for our clients was acquiring the feeling of maximum security," begins the designers' website in the summary of the structure.
Who wouldn't feel safe in a concrete rectangle that folds in upon itself to become completely sealed? Sieger-6833.swf (application/x-shockwave-flash Object) Thefrogumblelog" Internet shorthand as if written by a proper Englishman I now present the sequel to "Famous movie quotes as if written by a proper Englishman"… hah!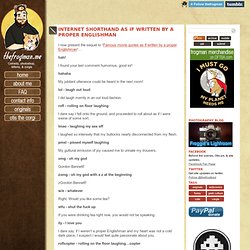 I found your last comment humorous, good sir! Hahaha My jubilant utterance could be heard in the next room! Magic Box | Email Junk. Hack Apart a Highlighter to Create UV-Reactive Flowers [Science] - How-To Geek ETC. College students have long been hacking apart highlighters to create glowing bottles of booze to line their dorm room walls.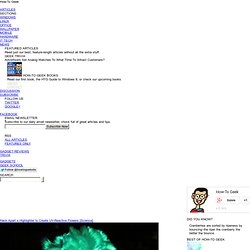 Far more interesting, however, is the application of the hack to flowers. Many of you may remember a science class experiment from years gone by where in you put food coloring in a beaker and then some freshly cut white flowers; returning to the experiment a day later yielded flowers colored to match the dye you added. God is Imaginary - 50 simple proofs. The Ultimate Anti-Bullying PSA: Kid Fights Back With Devastating Body Slam. Online Books : "The Essential Psychedelic Guide" - Ecstasy.
INTENSITY: 2 to 4 MATERIAL: Ecstasy is a synthetic compound developed in 1914 as a potential dietary aid.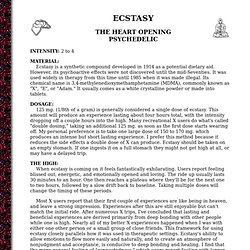 However, its psychoactive effects were not discovered until the mid-Seventies. It was used widely in therapy from this time until 1985 when it was made illegal. Its chemical name is 3,4-methylenedioxymethamphetamine (MDMA), commonly known as "X", "E", or "Adam. " It usually comes as a white crystalline powder or made into tablets.
Hubble Heritage Gallery of Images. Aystein-Lunde-Ingvaldsen3.jpg (JPEG Image, 1024x579 pixels) - Scaled (81. Gauss Pistol Home.
---