Humanism
virtual philosopher
Thought For The Day by Thought For The World
Thinking Above The Standard - The Infidel Guy Show
With due deference to Thomas Paine's ground-breaking skepticism, here are some fun postings that apply simple morality and logic to the question, "If you were Almighty God (or Jesus) of the Bible, would you act the way He acts?" The fact is, you wouldn't. No compassionate, rational human would; the many contentious Bible versions make their God out to be vindictive, irresolute, short-sighted, confused, self-contradictory and sometimes downright evil.
Freethought Ring
The Brights Movement Forums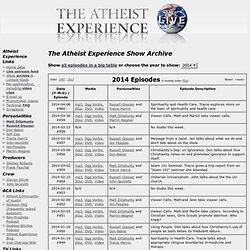 Using our Content The content of The Atheist Experience, including video and audio downloads and DVDs may be freely copied subject to the Creative Commons Attribution-Noncommercial-Share Alike 3.0 license. The license enables free use of The Atheist Experience content for those not attempting to profit from the work. Please credit the Atheist Community of Austin as the producer of the work when you use it. Atheist Experience Audio Audio of the most recent episodes is available in the table above in several formats.
The Atheist Experience Show Archive
The National Secular Society is Britain's only organisation working exclusively towards a secular society. Founded in 1866, we campaign from a non-religious perspective for the separation of religion and state and promote secularism as the best means to create a society in which people of all religions or none can live together fairly and cohesively. The NSS sees secularism - the position that the state should be separate from religion - as an essential element in promoting equality between all citizens.
About us | National Secular Society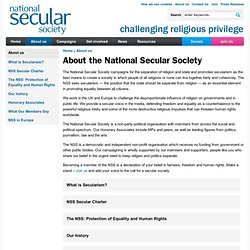 Mid Sussex Freethinkers
:: Index
Council for Secular Humanism
Brighton and Hove Humanist Society
Religion: Atheism