Photographers
jlfindley
Kai Müller | Photographer | Berlin
Norman Jean Roy
荒木 経惟「写狂老人Aのフィルム・ノスタルジー」 Nobuyoshi Araki "Film Nostalgia" 会期:2011年5月7日(土)~5月28日(土) 会場: タカ・イシイギャラリー (東京・清澄) Nobuyoshi Araki "Film Nostalgia" Dates: May 7 – 28, 2011 Location: Taka Ishii Gallery (Kiyosumi, Tokyo) Opening reception: Wednesday, May 25, 17:30-19:00 写真っていうのは、まあ写真つーか人生は、ノスタルジーだと確信をもったわけだよ。
荒木経惟オフィシャルサイト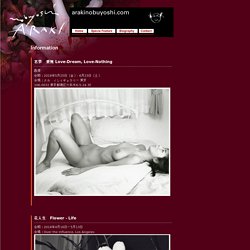 Julius Shulman Film
Dan Busta
isabel m. martinez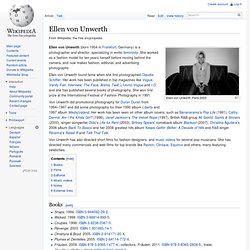 Ellen von Unwerth
Ellen von Unwerth, Paris 2003 Ellen von Unwerth (born 1954 in Frankfurt , Germany ) is a photographer and director , specializing in erotic femininity . She worked as a fashion model for ten years herself before moving behind the camera, and now makes fashion, editorial, and advertising photographs. Ellen von Unwerth found fame when she first photographed Claudia Schiffer . Her work has been published in top magazines like Vogue , Vanity Fair , Interview , The Face , Arena , Twill , L'Uomo Vogue and I-D , and she has published several books of photography. She won first prize at the International Festival of Fashion Photography in 1991.
matthias vriens-mcgrath
Jeremy Kost
Adam Rankin
Mert Alas and Marcus Piggott , working name "Mert and Marcus", are fashion photographers who work together on a collaborative basis. Their work and style is heavily influenced by the photographer Guy Bourdin and have pioneered the use of digital manipulation within their field. They have defined the look of the past decade and as a duo are one of the most respected and acclaimed photographers working today. Mert and Marcus, both born in 1971 in Turkey and Wales respectively, met for the first time in England in 1994 after having worked for a brief period in completely different areas, the first in classical music and the second in graphic design. Marcus was an assistant photographer and Mert was a fashion photo modeler. After working together in the photography business, they decided to create a team.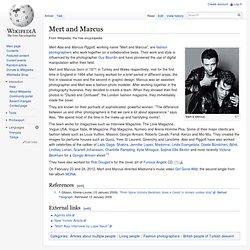 Mert and Marcus
RICKDAYNYC
TYLER WILLIAM PARKER
RAM SHERGILL