Newspapers & Agencies
Primerahora.com -Noticias de Puerto Rico sobre espectáculos, deportes y política
Noticias Univision - Ultimas noticias en Español de EEUU y Latinoamerica
Actualidad de Mendoza, Argentina y el Mundo. Diario Mendoza de Mendoza, Argentina
Claridad, El Periódico de la Nación Puertorriqueña
Times of Acadiana
Prensaescrita.com
Episode 17: 'I just figured out how to make a fist'
Dimelo
China National News | News as it Happens in China
Chinadaily European
VermilionToday.com - Abbeville Meridional, Kaplan Herald, Gueydan Journal | Vermilion Parish, La.
Ohmy News International
Bain ads hit home in swing states - TheHill.com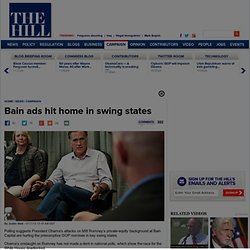 Polling suggests President Obama's attacks on Mitt Romney's private-equity background at Bain Capital are hurting the presumptive GOP nominee in key swing states. Obama's onslaught on Romney has not made a dent in national polls, which show the race for the White House deadlocked. But there are signs the negative ads and focused discussion on Romney's business background are hurting the Republican in much the same way the attacks on John Kerry's Vietnam service hurt the Democratic nominee in the 2004 race, when national numbers held but key biographical metrics began to erode for Kerry. In a swing-state survey from Purple Strategies released Monday, nearly 4 in 10 voters said new information they had learned in the past week made them consider Romney less favorably than they had before, and 42 percent of independents said Romney was "too out of touch" to be president. In Colorado, Virginia and Ohio, Romney's favorability numbers have dropped from June.
Somos Centro
Newser | Headline News Summaries, World News, and Breaking News
El apoyo de Peña Nieto al líder de las autodefensas causa polémica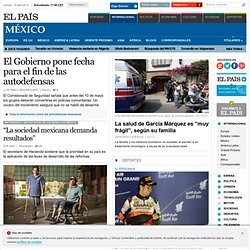 México en EL PAÍS
News, Travel, Weather, Entertainment, Sports, Technology, U.S. & World - USATODAY.com
Yahoo! España
El Universal, el periódico de México líder en noticias y clasificados
Jaime Escalante Salazar Bajo la premisa de que el ser humano no puede vivir aislado de la sociedad, la Cámara de Industrias, Comercio y Servicios de Santa Cruz (Cainco), organizó el foro denominado 'Plataformas Digitales y Redes Sociales para Empresas', donde el experto colombiano Ricardo Gómez habló sobre el uso de Facebook y Twitter y otras plataformas digitales, como herramientas de distribución mediante la Web 2.0, que promueve la organización y el flujo de la información con más facilidad e inmediatez. "Partimos de una base de que el ser humano necesita estar socializando todo el tiempo compartiendo cosas, no puede existir sólo y tiene que estar en comunidad todo el tiempo y la participación en las redes sociales, la dinámica consiste en que es mucho mejor si más personas entran en contacto contigo", afirmó Gómez que vino al país desde Córdova Argentina.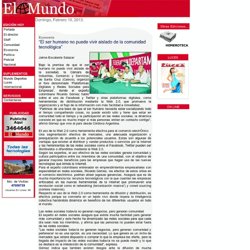 El Mundo - Prensa Mayor
LaPresse.ca
THE TIMES
Noticias de Comunidad Valenciana :: elperiodic.com
iBahia - Inovador. Interativo. Imediato. Portal de notícias de Salvador e da Bahia
MasPublico.com | Un nuevo medio libre y profesional
Home - The Globe and Mail
DAILY MIRROR
THE SUN
InfoJoia - O Portal de Notícias do IBGM
EXPRESS
Le Figaro
Le Progrès
La Provence
DAILY MAIL
Libération
Infórmame | La actualidad, en un vistazo
Yahoo! Noticias España - Los titulares de hoy
Le Parisien
DAILY STAR
Expatica
RIA Novosti
ITAR-TASS
World News
Интерфакс
AFP
24in60.com | The last 24 hours in 60-second, unbiased news bites.
RedNotebook
Glee - Landslide
The News is NowPublic.com
Press Association
Journal of Digital Humanities
World News | Breaking US News and International News Headlines - GlobalPost
International news