Masters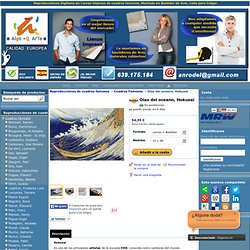 Olas del oceano, Hokusai - Algo Mas Que Arte
Hokusai
Girls on the bridge en lainformacion
Max Ernst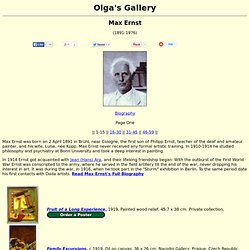 Max Ernst was born on 2 April 1891 in Brühl, near Cologne, the first son of Philipp Ernst, teacher of the deaf and amateur painter, and his wife, Luise, née Kopp.
lucian freud paintings
Exposición de Hopper en el Museo Thyssen-Bornemisza con EL PAíS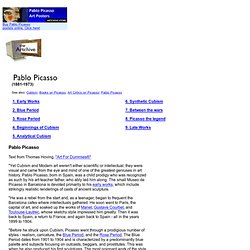 Pablo Picasso
Pablo Picasso Text from Thomas Hoving, "Art For Dummies®"
Leonardo da Vinci
Mark Rothko
Guernica: Historia de un cuadro | Especiales
The path to youth takes a whole life.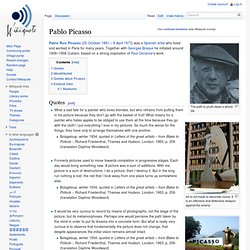 Pablo Picasso
Salvador Dalí
Every morning upon awakening, I experience a supreme pleasure: that of being Salvador Dalí, and I ask myself, wonderstruck, what prodigious thing will he do today, this Salvador Dalí. Salvador Felip Jacint Dalí ( 11 May 1904 – 23 January 1989 ) was a Spanish surrealist artist . [ edit ] Quotes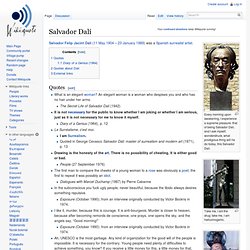 Pleasure 1927 The Lovers 1928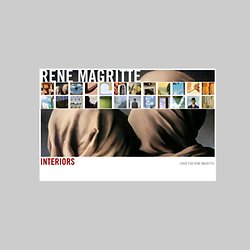 Rene Magritte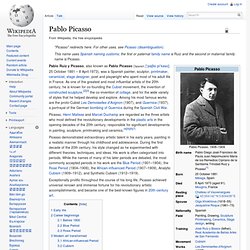 Pablo Ruiz y Picasso , known as Pablo Picasso ( Spanish: [ˈpaβlo piˈkaso] ; 25 October 1881 – 8 April 1973) was a Spanish painter , sculptor , printmaker , ceramicist , and stage designer who spent most of his adult life in France .
Dali - Video
Victor Vasarely | Op-art.co.uk | Op-Art.co.uk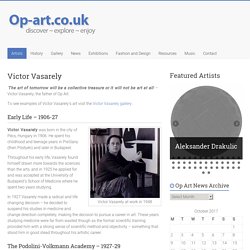 ' The art of tomorrow will be a collective treasure or it will not be art at all ' – Victor Vasarely, the father of Op Art.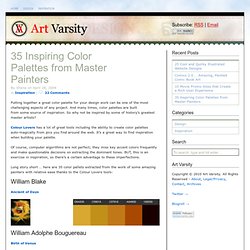 Putting together a great color palette for your design work can be one of the most challenging aspects of any project. Andy Warhol, Marilyn , 1967 Collection of The Andy Warhol Museum, Pittsburgh © 2012 The Andy Warhol Foundation for the Visual Arts, Inc.
Andy Warhol: 15 Minutes Eternal
Artworks by Gustav Klimt: (Click on the images if you wish to view them individually or larger.) "If you can't please everyone with your deeds and art, please just a few." – Gustav Klimt
Gustav Klimt's Lost Paintings « Sexuality & Love in the Arts
Fundación Goya en Aragón
Catálogo - Catálogo online de obra - Goya Fundación Goya en Aragón
Chirico, 1967 (40mn)
Chagall, Panorama (1967)
Guernica d'Alain Resnais 2/2 (1950)
DOCUMENTAIRE TITIEN
Van Gogh d'Alain Resnais (1948)
Guernica d'Alain Resnais 1/2 (1950)
Chagall, Panorama (1967)
Andy Warhol (August 6, 1928 – February 22, 1987) was an American artist who was a leading figure in the visual art movement known as pop art . His works explore the relationship between artistic expression, celebrity culture and advertisement that flourished by the 1960s.
francis bacon
Otto Dix (1891-1969)
DAVID HOCKNEY: PAINTINGS
googleart: 10 chefs-d'oeuvre de la pe
10 chefs-d'oeuvre de la peinture mondiale sur Google Art Project « Art CAPV
Exposition au 1er étage
Modern Masters - Virtual Exhibition : Matisse - Howard Hodgkin
Hiroshige nuit de neige à Kambara.JPG - Wikipedia, the free encyclopedia
Maison de Victor Hugo
File:Great Wave off Kanagawa2.jpg
G. Caillebotte - Vue de toits, effet de neige.jpg - Wikipedia, the free encyclopedia
File:Monet - The Magpie.jpg
Pieter Bruegel d. Ä. 106b.jpg - Wikipedia, the free encyclopedia
Tea house at Koishikawa. The morning after a snowfall
Ernst Ludwig Kirchner - Schneelandschaft - 1930
Van Gogh - Zwei grabende Bäuerinnen auf schneebedecktem Feld.jpeg - Wikipedia, the free encyclopedia
Nicolas de Staël - Résultats enchères passées