Culture, Knowledge & Encyclopedies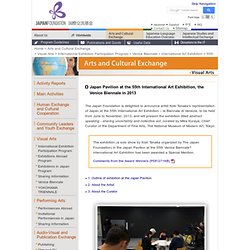 Japan Foundation > Arts and Cultural Exchange > Visual Arts > International Exhibition Participation Program > Venice Biennale > International Art Exhibition > 55th
The Japan Foundation is delighted to announce artist Koki Tanaka's representation of Japan at the 55th International Art Exhibition – la Biennale di Venezia, to be held from June to November, 2013, and will present the exhibition titled abstract speaking - sharing uncertainty and collective act, curated by Mika Kuraya, Chief Curator of the Department of Fine Arts, The National Museum of Modern Art, Tokyo.
Fundación Rafael Del Pino | Fundación Rafael Del Pino
Fundación Ramón Areces. Actividades, Becas, Investigación...
Arte Open Views - Arte contemporáneo en espacios privados
Publicado en Escultura Urbana, octubre de 2007 por Miguel Cereceda
Informe situacionista sobre la iconografía monumental de la ciudad de Madrid
engranajes culturales
Política de Privacidad del Portal FábricaCultural

Empleo cultural
Freebook Sifter - A Resource for Free eBooks
Hongrie : Budapest, champ de ruines culturel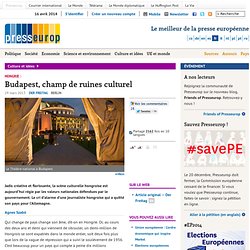 Jadis créative et florissante, la scène culturelle hongroise est aujourd'hui régie par les valeurs nationales défendues par le gouvernement.
Recursos Culturales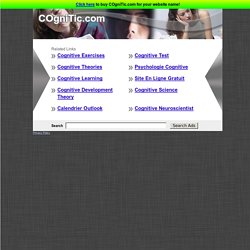 K - La spirale de la connaissance de Nonaka
L' : passage de la connaissance tacite a la connaissance explicite L' : passage de la connaissance explicite a la connaissance tacite La : La connaissance tacite évolue en connaissance tacite approfondie. La : La connaissance Explicite se transforme en connaissance explicite approfondie. Nonaka et Takeuchi ont proposé ce modèle de la connaissance créant le processus à travers
Centro del conocimiento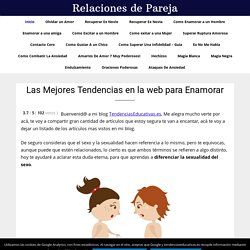 Esta puerta de entrada al conocimiento pretende dar acceso a todas las herramientas presentes y futuras que se desarrollan en torno a la educación, difundir información en forma de noticias, ser un centro digital de referencia para profesionales y ser un centro informativo y digital para todos los profesionales que quieran conocer las últimas tendencias en el entorno de la educación y las TIC. Todo ello de manera pública, abierta y gratuita, en red. Un interesante aliado para la actualización, formación y asesoría en la aplicación de las TIC en la Educación.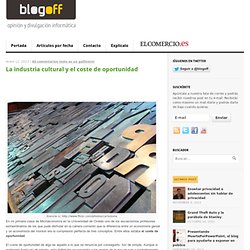 La industria cultural y el coste de oportunidad
licencia cc http://www.flickr.com/photos/carlosluna En mi primera clase de Microeconomía en la Universidad de Oviedo uno de los escasísimos profesores extraordinarios de los que pude disfrutar en la carrera comentó que la diferencia entre un economista genial y un economista del montón era la compresión perfecta de tres conceptos. Entre ellos estaba el coste de oportunidad.
The Unnatural Enquirer: Perspiring Minds Want To Know!
Encyclopedia.com | Free Online Encyclopedia
SoYouThinkYouKnowItAll
Copyright and Creative Commons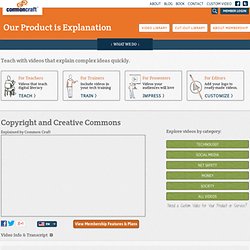 Julia's dream is to make a living as a photographer. In this dream, she takes amazing photos, people buy them, and their purchases fund her future work. But it's not that simple. Julia wants to publish some of her photos to help spread the word, but she's concerned because photos are easy to copy. She could lose control and not be able to make a living from her talent. So she does some research and learns that in the U.S., as with other countries, we have laws that give creators of materials like books, images, movies, artwork and music a way to own and protect their creations.
General Knowledge 2011 Current Affairs 2011 Questions Answers Latest General Knowledge India Online GK Awareness
La industria cultural y el coste de oportunidad
General Knowledge Today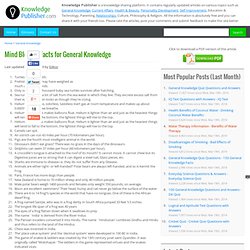 Mind Blowing Facts for General Knowledge
Last updated on 1 Jul, 2010 by Editor Turtles have no teeth. Prehistoric turtles may have weighed as much as 5,000 pounds.
The People History Our Online Modern History Project featuring News and Events, Prices and Popular Culture in history from 1920 to modern day. that in 1977 the Average Price of a house in the UK was £13,650 rough equiv in dollars $23,341 and in the US was $49,300.00. Less than 1/2 price In March 2010 the UK average was £234,837 rough equiv in dollars $350,000 and the US average is $258,600 nearly 1 1/2 time more expensive From The People History Check out the average price for a house in your county in the UK Average UK House Price By County
Trivia Questions General Knowledge 10 quizzes with 50 questions for each quiz
Questions & Answers | ChaCha
Encyclopedia.com | Free Online Encyclopedia
FACTS / THEORIES / KNOWLEDGE
KNOWEB: Gain Knowledge through Web
Photos + Movement = Photeo (Part 1 of 3) by Stephen Haskin & Megan Torrance
"In eLearning, the idea is to create the opportunity for the learner to have an "ah-ha!" moment. Ah-ha! moments are the parts of learning that stick, and you can't give yourself more opportunity to create an ah-ha! moment than by using all the visual elements and techniques at your disposal."
Centro Cultural de España – Santiago
Destacados | Anilla Cultural MAC Chile
Anilla Cultural | Latinoamérica-Europa
Homepage
Ideame - La plataforma latina de financiamiento colectivo
inicio | Plataforma Cultura Digital
Cultura Libre Universidad de Chile
Online dictionnaries, encyclopedias
Centre National de Ressources Textuelles et Lexicales
Kalipedia
Mashpedia: Real-time Dashboards
Internet Archive: Wayback Machine
Scholarpedia
ideacious | homepage
Spanish culture industry becomes bank collapse casualty | World news
Amid all the talk of bailouts and sovereign debt, less attention has been paid to another victim of the financial crisis – the arts.
Explicando Creative Commons
Kalipedia
La lettre de Gallica n°29 - mars 2012 - newsletter mensuelle de Gallica
Dans le cadre du Tribunal pour les générations futures organisé mardi par le magazine Usbek et Rica, Lionel Maurel a tenté de convaincre le public qu'il est possible d'étendre la culture libre, mais que cela a un petit coût : la mise en place d'un système du type licence globale, où chaque internaute paye une contribution de quelques euros. Les intervenants du Tribunal des générations futures à la Gaîté Lyrique mardi 17 avril 2012 - © Jacob Khrist pour Owni Mardi soir, le magazine Usbek et Rica organisait une conférence à la Gaîté Lyrique sur le thème "la culture doit-elle être libre et gratuite ?".
Plaidoyer pour une culture libre
IRI - Institut de recherche et d'innovation du centre pompidou, Accueil
Nos archives conservent les documents qui permettent au détenteur de démontrer ses droits d'auteur et d'éventuellement réclamer légalement une compensation financière contre toute personne ayant utilisé une de ses créations sans autorisation. Ces documents sont notariés, à nos frais, dans la ville et dans le pays de résidence du détenteur en cas de procès pour violation de droits d'auteur. Une jurisprudence sur la reconnaissance de nos documents par la justice française, dans les causes gagnées par nos utilisateurs, est aussi un outil dont dispose l'auteur pour défendre ses droits.
droit d'auteur
co-creatingcultures
Tucamon.es
Anilla Cultural | Latinoamérica-Europa
LAB » Arxiu del Bloc » MuseumNext Barcelona: usuarios que cambian museos, museos que cambian con los usuarios
GESTIÓN+MEDIACIÓN CULTURAL
Helium - Where Knowledge Rules
Library of Congress Home
Utilitaires - Culture anglosaxonne
Désencyclopédie
Creative Commons : dossier explicatif
Michigan Cultural Alliance
Centre de Connaissances et de culture
Encyclopédie de L'Agora |
l'encyclopédi@ - ERPI
Programacion Medialab Invisible 7º Festival de Cultura Libre.