Figurative
Space-invaders. Ioanaiacob. Spray Paint Genius. Extraordinary Brush-Less Paintings. Amy Shackleton, who is only 25-years-old, is a unique artist.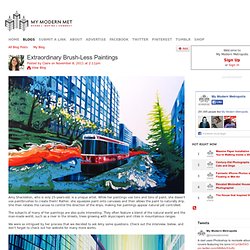 While her paintings use tons and tons of paint, she doesn't use paintbrushes to create them! Rather, she squeezes paint onto canvases and then allows the paint to naturally drip. She then rotates the canvas to control the direction of the drips, making her paintings appear natural yet controlled. John Currin 1962- « Femme Femme Femme. Doit-on penser aux Cranach, à Hans Baldung Grien ou à Albrecht Dûrer devant les peintures de John Currin?
The old fence 1999 The pink tree. Galleries that show the works of Joseph Zbukvic, master watercolor painter. Jenny Pihan Fine Art's philosophy of 'excellence' as an art dealership of repute, specializing in national and international art, is equally reflected in its strong emphasis on providing a high quality friendly client-based service aimed at fulfilling each individual collector's visual dreams…expressed as 'Quality works – very happy clients'.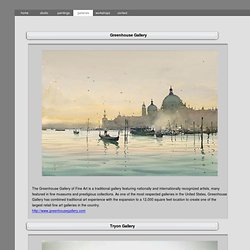 Whether a first time buyer, corporation, collector or simply browsing for that 'special' piece for a wall at home, the gallery's caring and knowledgeable staff are happy to assist, offering personalized and professional service…including stock room enquiries. Textorizer. Textorizer allows you to make pictures formed with text.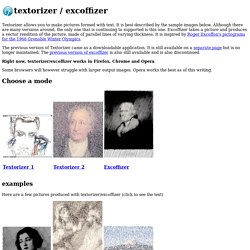 It is best described by the sample images below. Although there are many versions around, the only one that is continuing to supported is this one. Excoffizer takes a picture and produces a vector rendition of the picture, made of parallel lines of varying thickness. Artodyssey. Hyperrealism.
Main : Mr.Glaubitz. Hossegor @ Bay of Biscay, France. DVOJEXPOZICE | Zdeněk Jizera VONÁSEK. Exhibitions: Amy Bessone: Hit Your Head! - Images | VeneKlasen Werner. Artists Series - Steve Payne. Anthropomorphism. Anthropomorphism, or personification, is attribution of human form or other characteristics to anything other than a human being.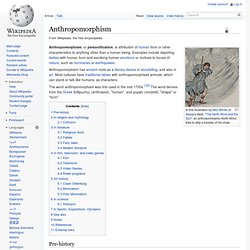 Examples include depicting deities with human form and ascribing human emotions or motives to forces of nature, such as hurricanes or earthquakes. Anthropomorphism has ancient roots as a literary device in storytelling, and also in art. Most cultures have traditional fables with anthropomorphised animals, which can stand or talk like humans, as characters. The word anthropomorphism was first used in the mid-1700s.[1][2] The word derives from the Greek ἄνθρωπος (ánthrōpos), "human", and μορφή (morphē), "shape" or "form". Dirt Art. Paintings - GENTRY. 049.
Ralph Steadman -|- A R T. Carp Crazy Carp originated in China and Eastern Siberia and are now jumping in the rivers of Illinois.
How they got there is open to speculation. Most things seem to originate in China - so you would think that they are a far more successful nation than the United States. However, I think that America celebrates success more personally and I presume that the Chinese do not reward their citizens quite so generously. The Surreal Paintings of Vladimir Kush | Designerscouch #thecritiquenetwork - StumbleUpon. The Surreal Paintings of Vladimir Kush posted by Damian M. under Photography on Mar 21st, 2010 with 32 Comments 21 Mar.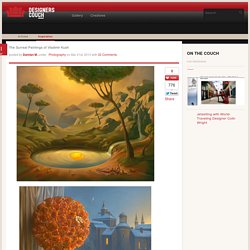 Herakut - Happy Doubt Day. WilliamBusch.com. Shintaro Ohata. Japanese Artist Shintaro Ohata has a unique approach in blending his mediums… Physical sculptures painted with painted canvas backgrounds.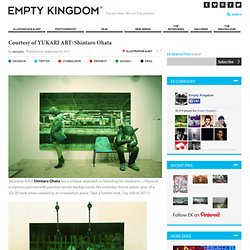 His everyday theme pieces give of a 3D/2D look when viewed as an installation piece. Take a further look, Top 100 of 2011? Www.yukariart-contemporary.com/en/shintaro_ohata Posted in: Drawings, Featured, Illustration, Illustration & Art, Installation, Mixed Media, Painting, SculptureTags: art blog, artist, empty kingdom, gallery, installation, japan, Painting, Sculpture, Shintaro Ohata, website. Susan Nally: A Painter's Journal. Mark Ryden. John currin. Small Favors Catalog. Here are the pieces I'm showing at the Giant Robot NY Small Favors show, up from March 27th to April 14th, 2010.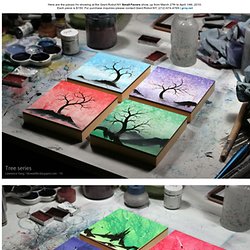 Each piece is $150. For purchase inquiries please contact Giant Robot NY: (212) 674-4769 | grny.net "Island Tree" - watercolor and gouache on paper, mounted on board - 5" x 5" (tabletop background saturation bumped back in Photoshop) 3D Paintings. Dream Worlds Revealed On Canvas. Along with some magnificent dreams, Jacek Yerka finds inspiration for his masterful paintings from his childhood memories: the places, remembered feelings and smells of 1950′s Poland.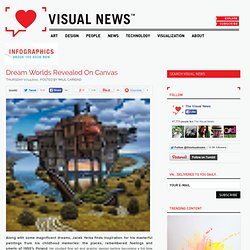 He studied fine art and graphic design before becoming a full time artist in 1980… and we're glad he did. His paintings will take you through incredible worlds of imagination, bending reality in captivating and clever ways fit to inspire a novel or film. Painting Intoxicated at 100 MPH (10 pieces) Eric Grohe Murals and Design. Matthew Cusick. Ana Teresa Fernandez Oil Paintings.
---