Cocktails, Wine, Coffee
WINE. Beer. Homebrewing. Grow Your Own Coffee. GAULTMILLAU. Stoquage. Nestl Nespresso: The Art of Espresso, Exclusive Coffee ... Repeal the Drinking Age - Jeffrey A. Tucker.
Somehow, and no one seems to even imagine how, this country managed to survive and thrive before 1984 without a national minimum drinking age.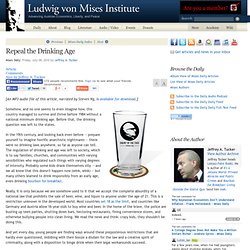 Before that, the drinking question was left to the states. In the 19th century, and looking back even before — prepare yourself to imagine horrific anarchistic nightmares — there were no drinking laws anywhere, so far as anyone can tell. Drinking. Espresso, símbolo de la modernidad. Por Magdalena Tortosa Durante el transcurso del siglo XIX el café y los cafés como lugares de reunión se extendían por Europa ganando popularidad y fieles adeptos.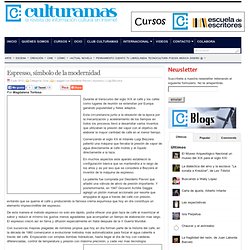 Esta circunstancia junto a la obsesión de la época por la mecanización y aceleramiento de los tiempos en todos los procesos llevó a desarrollar varios inventos que utilizaban la presión del vapor con el objetivo de elaborar la mayor cantidad de café en el menor tiempo. Comenzando el siglo XX el milanés Luigi Bezzera patentó una máquina que llevaba la presión de vapor de agua directamente al café molido y el líquido directamente a la taza.
En muchos aspectos este aparato estableció la configuración básica que se mantendría a lo largo de los años y es por eso que se considera a Bezzera el inventor de la máquina de espresso. La patente fue comprada por Desiderio Pavoni que añadió una válvula de alivio de presión importante. F.A.Q. - Kombucha America - Frequently Asked Questions Page. What is a Kombucha Mushroom?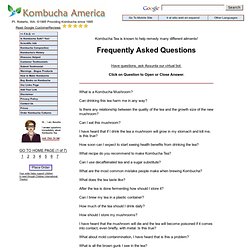 The Kombucha Mushroom is not a true mushroom but pseudo lichen. It is a fibrous cellulose spongy membrane that is formed by the various Kombucha bacteria and yeast cells that live in the liquid sugary tea. It is primarily grown to act as an evaporation cap to keep the tea from evaporating and also to prevent other microorganisms from getting to the sugary tea.
It has no sex, and produces no seeds or spores for the purpose of reproduction but within the cells of the membrane are contained the same bacteria and yeasts cells that exist within the tea. When your transfer a newly formed mushroom to a new batch of tea you introduce these bacteria and yeasts to the new tea which quickly colonize it, cause the tea to ferment, and grow a new membrane on the surface. Kombucha. Kombucha including the culture Etymology[edit] In Japan Konbucha (昆布茶?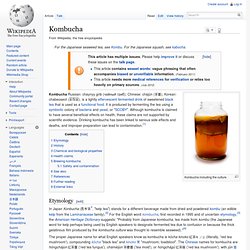 , "kelp tea") stands for a different beverage made from dried and powdered kombu (an edible kelp from the Laminariaceae family).[2] For the English word kombucha, first recorded in 1995 and of uncertain etymology,[3] the American Heritage Dictionary suggests: "Probably from Japanese kombucha, tea made from kombu (the Japanese word for kelp perhaps being used by English speakers to designate fermented tea due to confusion or because the thick gelatinous film produced by the kombucha culture was thought to resemble seaweed) How to Make a Big Batch of Kombucha. Kombucha is a fermented tea beverage popular in Russia, China, and elsewhere.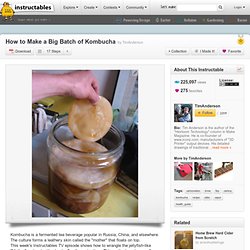 The culture forms a leathery skin called the "mother" that floats on top.This week's Instructables TV episode shows how to wrangle the jellyfish-like "Mother" and make Kombucha 5 gallons at a time. This method produces a fizzy carbonated kombucha that tastes very much like hard apple cider. For background on this bizarre beverage, read Arwen's Making Kombucha Instructable and the Wikipedia Kombucha article. Some confusion arises from the existence of a Japanese kelp tea also called "kombucha". Back to the blob:For me it all started when my friend Anne Harley went to Russia, made herself fluent in the language, joined a band of gypsy musicians, and went on tour with them.Did you know Russian Gypsies have a caste system that dates back to their origins in India?
Stock Your Bar for $100. The Internet Cocktail Database | Welcome to CocktailDB! Bar Tools, Bar Accessories. Kombucha Remix. New methods of brewing, mixing, and imbibing put the fun back into this fermented favorite.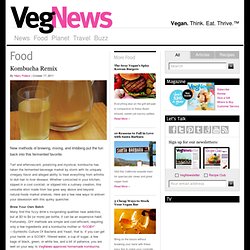 Tart and effervescent, polarizing and mystical, kombucha has taken the fermented beverage market by storm with its uniquely vinegary flavor and alleged ability to treat everything from arthritis to dull hair to liver disease. Whether concocted in your kitchen, sipped in a cool cocktail, or slipped into a culinary creation, this versatile elixir made from tea goes way above and beyond natural-foods market shelves. Here are a few new ways to enliven your obsession with this quirky quencher. Brew Your Own BatchMany find this fizzy drink's invigorating qualities near addictive, but at $3 to $4 (or more) per bottle, it can be an expensive habit. WineLoversPage.com. De cócteles por Barcelona#more236543. Una gira por algunas de las mejores coctelerías de Barcelona.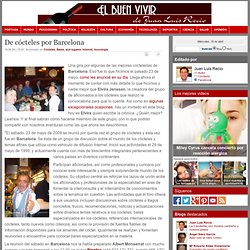 Eso fue lo que hicimos el pasado 23 de mayo, como les anuncié en su día. Llega ahora el momento de contar con más detalle lo que hicimos y nadie mejor que Elvira Jenssen, la creadora del grupo de aficionados a los cócteles que realizó la convocatoria para que lo cuente. Mixed Drink Recipes. Mixed Drinks Mixology Guide. Bar Tricks. Mixology. Drinks. Alcohol. Drinking games. The Portal Two (Portal 2 Cocktails) Ingredients:... The Portal Two (Portal 2 cocktails) Ingredients:Blue CuracaoVodkaLemonade CointreauRum Orangina Small tumblers Directions: "This drink is, of course, designed to resemble the two coloured portals from the excellent sci-fi puzzle game.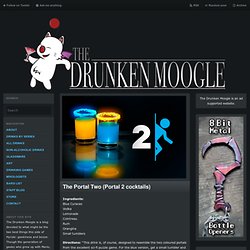 For the blue version, get a small tumbler and pour in 10ml of Blue Curacao, 10ml of vodka and top up with lemonade. For orange you'll need another tumbler, this time filled with 10ml of Cointreau, 10ml of rum and Orangina. If you fancy, you can jazz the glasses up with coloured sugar rims. The Sangria Diaries. Eat Drink Chic. Beer. Wine. 1001Cocktails. 15 ways to use vodka. Keyboard: S - next A - previous R - random 15 ways to use vodka Share on FB 55920 Below Random Pics.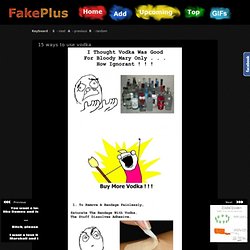 How to Make Milk Foam (Without a Frother or a Machine!) Home Hacks. Previous image Next image A creamy spoonful of foam We love a bit of creamy foam topping our morning coffee, but haven't really wanted to invest the funds or the counterspace in an actual milk steamer.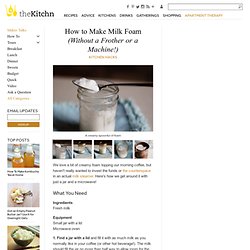 Here's how we get around it with just a jar and a microwave! Our office at CellarVie Wines is very much founded on an Anglo-French axis. Christopher's wife Dominique, our graphic designer Emeline, her predecessor Sophie, and Cordellia, who is currently on work experience, are all French. Jonathan is moitié français (half French…according to Google Translate). Mr Robins and I are quintessentially English (in desperate need of sunshine) and therefore none the wiser when the office breaks into in a crescendo of French vocabulary. Yet the phonetics of the language is something I have always enjoyed being surrounded by; words like cambrioleur and asperges, never to my knowledge used in the same sentence, roll beautifully off the tongue.
Lo único bueno que trajo una guerra. Tags: Beer LaneGin ActGIn LaneGuillermo III de OrangePlymouth GInWilliam Hogarth O por qué cada vez que se pide un gintonic se debe brindar por la ya extinta salud de Guillermo III de Orange, la Guerra de los 30 Años, los ilustradores pioneros y el peligro que suponía beber agua en el siglo XVII. El siglo XXI es el siglo de la ginebra. Al menos, en España, lo que constituía una bebida purgante para acólitos de bar de plaza de pueblo es ahora objeto de selecto consumo en vasos que se visten con los más dicharacheros aderezos. CLICK FOR MORE DRINKS | The Drunken Moogle : 9 of 14. Ifeelthecosmos: Margarita Surprise (GrimGrimoire cocktail) Ingredients:1 1/2 oz Tequila1 oz Cointreau1 oz Strawberry red pepper puree*1/4 oz Lime juiceDirections: Shake all ingredients with ice, double strain into a cocktail glass and garnish with a slice of lime and jalapeno, or a frog gummy. *To make the strawberry red pepper puree, blend 1/4 cup red bell pepper, 1/4 strawberries, and 1/4 cup simple syrup (or two tbsp each of sugar and water).
Power Hower: The World's Most Advanced Power Hour Timer. 21st Birthday Shots That Taste Good. Face it, on their 21st birthday, most people celebrate by going out and having a few drinks. Shots, inevitably, will be part of that. While the trend of drinking 21 shots is dangerous and not recommended, having one or two commemorative shooters can be fun. However, the urge to stick newly of-age friends with a disgusting or bad shot is common, and can lead to some good stories, but many bad memories. There are some shots, though, that taste good and won't leave you running from the bars. Wine and food. Beer Universe | The Very Many Varieties of Beer Poster. Vin, Champ & Spiritueux. El blog de Dolce Gusto | Nescafé Dolce Gusto. Iced Coffee How-To - Imbibe Magazine. Perfect Iced Coffee. Coffee.
Handmade_gifts: Skittles Vodka. Vodka Infused Gummi Bears "Drunken Gummies" Hack | The Daily Hack. 15 Things Worth Knowing About Coffee. Cocktails. Wine. Mixing Drinks. Coffee. Boissons. Cocktail Guide. Poland Spring Water - Bottles. Un estudio vincula el café con un menor riesgo de muerte. Les spiritueux - Whisky : Le monde des vins et spiritueux. La historia de una bebida llamada Gin Tonic.
15 Things Worth Knowing About Coffee. Champagne. WHISKY DU MONDE www.lepalaisdesgourmets.com. Gourmets et Vins. Eaux.minerales.oubliees. Les eaux minerales, eau de source, eau, minerales, bouteilles d'eau, volvic, vittel, evian, contrex, perrier, eau de source, sources, mineraux, pure, montagne, La diététique du sportif : dossier nutri site : l'alimentation du sportif, les regles alimentai. Site officiel ABSOLUT France. Popular Vegetarian Spirits. Jolly Rancher Vodka Tutorial. Cold-brewed iced coffee. Enogastronomia e viaggi. République du Vin - des bons vins à des prix toujours abordables ! - République du Vin. SCANDYBARS. Drinking Games | What To Drink.
Drinkify. Buttered Beere 1588 Recipe. The Ultimate Movie Drinking Game List! | MovieBoozer - StumbleUpon. Drinkify. Peregrinos del 'gin tonic', la bebida de moda – Gastronomía, restaurantes y cocina – Noticias, última hora, vídeos y fotos de Gastronomía, restaurantes y cocina en lainformacion.
---