Around Social Networks
Cambiar la manera de cambiar el mundo: un festival para activistas sociales  | La vuelta al mundo TIC de Francis Pisani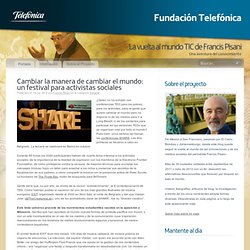 Publicado en 18. jul, 2012 por Francis Pisani en la categoría General ¿Quién no ha soñado con conferencias TED para los pobres, para los activistas, para la gente que quiere cambiar el mundo pero no dispone ni de los medios para ir a Long Beach ni de los contactos para participar en las versiones TEDx que se organizan casi por todo el mundo? Pues bien, unos serbios las llaman las conferencias SHARE. Las dos primeras se llevaron a cabo en Belgrado. La tercera se celebrará en Beirut en octubre.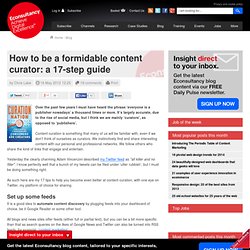 Over the past few years I must have heard the phrase 'everyone is a publisher nowadays' a thousand times or more. It's largely accurate, due to the rise of social media, but I think we are mainly 'curators', as opposed to 'publishers'. Content curation is something that many of us will be familiar with, even if we don't think of ourselves as curators. We instinctively find and share interesting content with our personal and professional networks. We follow others who share the kind of links that engage and entertain.
How to be a formidable content curator: a 17-step guide
"We know what you're doing…" No es una amenaza, es el título de un proyecto cuyo objetivo es concienciar a los usuarios de lo importante que es la privacidad en las redes sociales y el cuidado que hay que tener a la hora de compartir datos en ellas. Bajo ese nombre se esconde una web creada por un estudiante de 18 años que lo que hace es recoger las actualizaciones de estado poco apropiadas entre los usuarios de Facebook y Foursquare que tienen sus perfiles abiertos. La web rastrea los estados públicos de los usuarios y los ordena en cuatro categorías: "Quién quiere ser despedido", "Quién está con resaca", "Quién se está drogando" y "Quién tiene nuevo número de teléfono". En cada uno de estos apartados se listan, a modo de timeline que se actualiza al instante, los usuarios cuyas actualizaciones de estado se corresponden con alguna de estas situaciones comprometidas.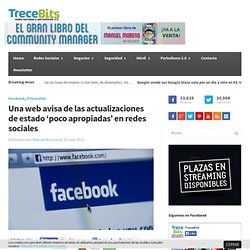 Una web avisa de las actualizaciones de estado 'poco apropiadas' en redes sociales
Does precision decrease with set size?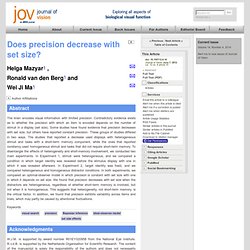 Abstract The brain encodes visual information with limited precision. Contradictory evidence exists as to whether the precision with which an item is encoded depends on the number of stimuli in a display (set size). Some studies have found evidence that precision decreases with set size, but others have reported constant precision. These groups of studies differed in two ways.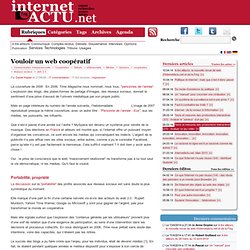 Par Daniel Kaplan le 27/06/08 | 17 commentaires | 17,522 lectures | Impression En 2006, Time Magazine nous nommait, nous tous, "personnes de l'année". L'explosion des blogs, des plates-formes de partage d'images, des réseaux sociaux, donnait le sentiment d'une prise d'assaut de l'univers médiatique par son propre public. Mais en page intérieure du numéro de l'année suivante, l'hebdomadaire reproduisait presque la même couverture, avec un autre titre : "Personne de l'année : Eux", eux les médias, les puissants, les influents.
Vouloir un web coopératif | InternetActu.net
Spain Top 20
est la première web-TV orientée B2B véritablement collaborative
Confirmado: si estás buscando empleo, cuidado con lo que subes a tus redes sociales
Tags: EmpleoRedes sociales La duda nos asalta. ¿Cómo será Fulanito? La respuesta está en su posible perfil en Facebook. ¡Eureka! Lo encontramos y, por suerte (para nosotros), no tiene ningún tipo de restricción por lo que podemos saber dónde nació, las empresas en las que ha trabajado, qué tipo de música escucha, lo que ha comido al mediodía o cómo acabó su última juerga… Todo puede quedar en una simple anécdota cuando 'el curioso' es un usuario más.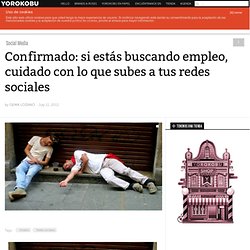 En la Red, hasta hace poco, siempre habían quedado bien diferenciados los roles de productor y consumidor de contenidos, pero con la aparición de los sistemas de publicación personal y otras aplicaciones, esos papeles ya no están tan claros y ha empezado a surgir el prosumidor como rol paradigmático en un ecosistema tecnosocial. Todo apunta que la amplificación de la componente participativa en la Red es parte de un fenómeno de socialización económica, impulsado por la innovación de usuario, que promueve el consumo productivo de una actitud que puede ser categorizada como la de infociudadano. Prometeus – The Media Revolution. Junio, 2007 Es una actitud que puede tener amplias repercusiones sociales, económicas y culturales y que marca un elemento diferencial con otras épocas y ciclos tecnológicos.
Prosumidor. Los usuarios se apropian de la Red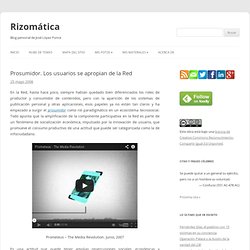 10 servicios para curar contenido de social media y noticias
Estamos en un punto en que la curación de contenidos es sumamente importante. La información fluye por todos los rincones de la web y a veces se nos hace difícil poder ver todo, por lo que es necesario utilizar algún programa o servicio que ayude en esta tarea de seleccionar la información más importante y en especial la que es útil para nosotros. Aunque no todos los curadores son del mismo tipo, unos se pueden configurar e indicarle nuestros gustos, nuestro interés. Otros en cambio nos envían las noticias más importantes de acuerdo a distintas variables como popularidad, RT's, Likes y otras. Dejando de lado servicios como Paper.li y Scoop.it, que son muy populares y por ende la mayoría los conocen, quiero mostrarles una compilación que hice de curadores de contenido, algunos de los cuales todavía están en la fase beta y si quieren probarlos deberán de dejar su dirección de email para que les envíen una invitación.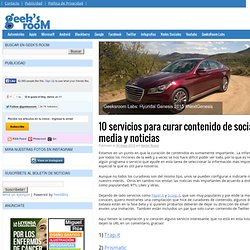 Je reprend ici un article d'Anil Dash qui pense que des comptes Twitter avec des millions de followers ne servent à rien. Il prend son propre exemple en disant qu'il avait environ 18 000 followers en Octobre 2009, aussi espérait-il en avoir environ 25 000 dans les prochains mois, et pourtant, il affiche aujourd'hui environ 284 000 followers ! Comment l'expliquer, la principale raison est les Listes de Twitter, il est actuellement dans 1202 listes. Ces dernières générant des followers supplémentaires, mais qui n'apportant rien de concret. Ce blogueur rapporte que même si ses followers ont étés multipliés par 20, le nombre de Retweet et de Replies restent les mêmes que quand il était à 18 000.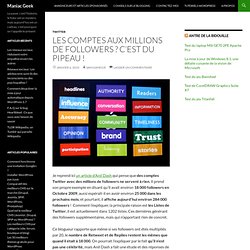 Les comptes aux millions de followers ? C'est du pipeau ! « Mani
Los tres beneficios más importantes del SOCIAL MEDIA | Escuela Discovery | Social Media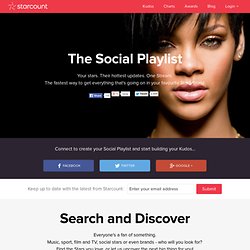 starcount ★ Discover today's most popular stars in social media, on the biggest charts on earth
Search and Discover Everyone's a fan of something.Music, sport, film and TV, social stars or even brands - who will you look for?Find the Stars you love, or let us uncover the next big thing for you! Create Your Social Playlist
Les réseaux sociaux provoquent des changements jusque dans la culture
Bonjour ! si vous venez sur notre site pour la première fois, vous voudrez peut-être souscrire à notre flux RSS pour être tenu informé des nouveaux articles. Merci d'avoir consulté Culture-Conseil.com.
Espra Trustmap :: Trending tags
Flipboard — Your Social Magazine
#masacritica |
cápsula 2: Crowdfunding fuente original CCCB LAB #2 Crowdfunding from zzzinc on Vimeo. Lanzamos la segunda cápsula del proyecto #masacritica. Si en la anterior nos centramos en el crowdsourcing, mostrando sus ambivalencias y los... Los relatos (en movimiento) del #15M originalmente en CCCB LAB Escribimos sobre el 15M un 28 de junio. Hace poco más de un mes que empezó un movimiento para muchos inesperado, pero se ha escrito, dicho,... Debate sobre Crowdsourcing en ZZZINC #masacritica es una investigación realizada por ZZZINC hospedada en el CCCBLab El próximo viernes 10 de junio a las 19h os invitamos a una nueva actividad pública en ZZZINC...
Howard Gardner, professeur de psychologie cognitive à Harvard, a contesté la vision réductrice qui assimile l'intelligence à ce que mesure le QI, qui ne prend en compte que les intelligences logique et verbale, par ailleurs valorisées par l'enseignement traditionnel. En 1983, par sa théorie des Intelligences Multiples, il propose une vision élargie de notre potentiel humain, en émettant l'hypothèse que plusieurs types d'intelligences se combinent et interagissent en chacun de nous. Ainsi, chacun possède un profil d'intelligence unique, qui résulte de cette combinaison, qu'il continue à développer pendant toute sa vie...
Intelligences Multiples
Sightsmap
The heatmap shows the places people like, based on the number of panoramio photos at each place in the world. The dark areas have few photos, the red areas have more and the yellow areas have a large number of photos geotagged. The hottest places have markers linking photos, streetview, wikipedia, wikivoyage, foursquare and google plus articles about the site. The place names are selected by the wikipedia readership numbers and foursquare checkins. Area populations are based on the geonames database.
La théorie des intelligences multiples suggère qu'il existe plusieurs types d'intelligence chez l'enfant d'âge scolaire et aussi, par extension, chez l'Homme. Cette théorie fut pour la première fois proposée par Howard Gardner en 1983. L'origine de la théorie
Théorie des intelligences multiples
How Peer to Peer Communities will change the World – Interview with Michel Bauwens, P2P Foundation founder. «
Top 100 Articles of 2010
Cómo crear una red social con Elgg | El blog de Miguel Ángel García Guerra
Redes Sociales y Educación: debate Dentzel – Hernández
Ciudadano 2.0
Informe resumen ¿Están los Aprendices del Nuevo Milenio alcanzando el nivel requerido?
Define tu identidad digital « Titonet
De la jerarquía a la redarquía: las organizaciones colaborativas | El Management según Deming, por Jordi Cabré
La audiencia social ya tiene medidor: 'Tuitele' « 140 y más
Las redes sociales, un año más en el podio
Multi Platform Social Media – diagram-by-diagram
TICbeat
Gary's Social Media Count
Social-Media-Campaign | Flickr : partage de photos !
This is what online harassment looks like
A quand un observatoire des média sociaux ? » Article » owni.fr,
storify
Guide réseaux sociaux 2012
Seven Social Sins
The Psychology Of Going Viral: 12 Proven Ways to Craft Content That Gets People Talking (About You)
Google+ se integrará en Flipboard
A new web paradigm: Pearltrees
Olivier Tripet | There are only two kinds of people: connectors and dividers
presenta la segunda versión del Mapa de las Redes Sociales
Internet: alguien nos sigue
Descary
Protecting Your Online Reputation: 4 Things You Need to Know
CaddE-Réputation
This Guy Has My MacBook
Jean Michel Billaut
» Le social-bookmarking, quel intérêt ? WebNotes
The Social Media Bible: Tactics, Tools, and Strategies for Business Success - Lon Safko - Google Libros
Les réseaux ont la fibre de l'information
Outils Froids
tomkuhlmann
What the web COULD look like without Net Neutrality
Techmeme
social_media_monopoly_board4.jpg (JPEG Image, 1440x1440 pixels) - Scaled (37%)
Social Network Sites: Definition, History, and Scholarship
The De-Branding of BP on the Social Web | - SmedioSmedio
Social Media and the Millennial Brain
Network Information Levees
EXISTE ALGUÉM DO OUTRO LADO DA SUA REDE SOCIAL?
Usage, sécurité et e-réputation (à classer)
Infographie sur médias sociaux
Gestion multiple des réseaux