Ipads and mobile devices
A4 Sedan | Audi Australia
My students love using their iPads in the classroom!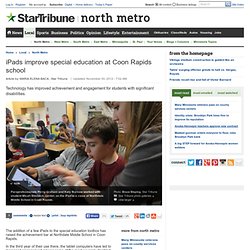 The addition of a few iPads to the special education toolbox has raised the achievement bar at Northdale Middle School in Coon Rapids. In the third year of their use there, the tablet computers have led to increased engagement among some of the most severely disabled students and have accelerated their learning. Other schools have made use of technology in special education, but Northdale is the "grass roots" of the iPad initiative in Anoka-Hennepin, said teacher Mary Fleegel, who has led the program along with speech language pathologist Kathryn McLachlan.
iPads improve special education at Coon Rapids school
In my last post, I shared what we learned last year during our 1:1 iPad and Google Apps for Education launches. In this post, I'd like to dispel myths about 1:1 environments.
Dispelling the Myths About 1:1 Environments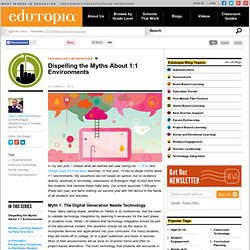 Some Schools Actually Want Students To Play With Their Smartphones In Class : All Tech Considered
hide captionIn Durham, N.H., Oyster River Middle School seventh-graders Patrick Beary and Morgan Bernier play with StoryKit, a free app that helps middle-schoolers put together simple presentations, and elementary students make storybooks.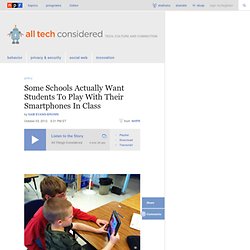 iPad is gaining momentum in the educational sphere and might , in the near future, be integrated as a leading learning method. iPad is part of the gesture-based technology that is widely embraced by teens and which has pushed some school districts especially here in Canada and also in the States to start using the BYOD approach, for the costs of iPad and their apps is still relatively high. As a teacher who has not yet tried mobile technology in his teaching, you might be wondering where and how to start.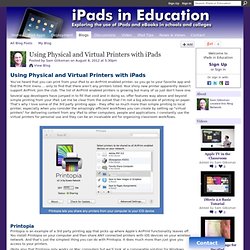 Using Physical and Virtual Printers with iPads You've heard that you can print from your iPad to an AirPrint enabled printer, so you go to your favorite app and find the Print menu ... only to find that there aren't any printers listed. Your shiny new printer apparently doesn't support AirPrint.
Using Physical and Virtual Printers with iPads
It has been but a few hours since ripping open the Google Nexus tablet and
Apple iPad vs. Google Nexus in Education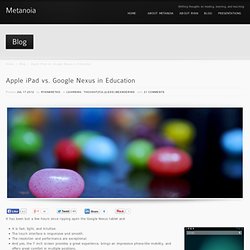 In a recent article on edutopia.org, experienced administrator Ben Johnson shares how he feels the iPad can transform classroom learning. Computers allowed students to word process rather than type, to do media presentations instead of show and tell, to find information on the Internet instead of encyclopedias, and to graph data electronically instead of with magic markers.
Transform Classroom Learning with iPads | Atomic Learning Blogs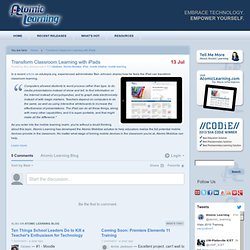 What are these tablets good for?
Drills and skills ... pupils at St Luke's Catholic Primary School in Revesby.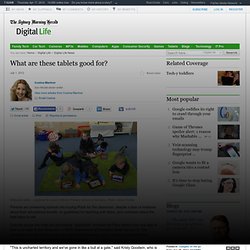 Using iPads in the Primary Grades
Recently, I was given the opportunity to go one-to-one in my first grade classroom with iPads.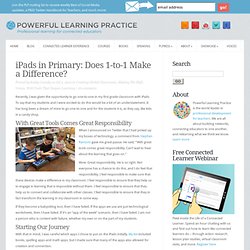 iPad Implementation Questionsw
Updated 06/23/2012A Texas colleague recently shared the following list of questions relevant to iPad implementation...rather than respond to them in a "closed" environment, i thought I'd post them here and invite folks to pitch in and help sharing their approaches. I like going through questions like this because it helps unearth questions that my team and I haven't considered, as well as revisit questions and responses we have.Here's the original prompt: Our district has purchased a number of iPads over the past year.
iPad is a cool versatile tool that has a huge potential in education. It is widely believed that iPad has started tranforming the face of education and revolutionizng modes of learning. Results coming out of pilot studies on the integration of iPads in the classroom seem to be promising.
I know that most of you have got a tablet device of some sort but if it happens that you have an iPad then this post will relate to you more. Below is a set of resources dedicated exclusively to the educational uses of the iPad. Emerging Ed Tech has done a great job in providing this list.
The iPad is a wonderfully easy and intuitive device to use.
ipadspectrum
Education Week Teacher: Redefining Instruction With Technology: Five Essential Steps
Preparing Your School for an iPad Implementation
Asking "why" you want iPads is a critical question...