Science & Technology
Your Age on Other Worlds | Exploratorium - StumbleUpon. Looking at the numbers above, you'll immediately notice that you are different ages on the different planets.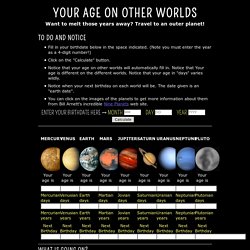 This brings up the question of how we define the time intervals we measure. What is a day? What is a year? Big data: Drowning in numbers. Space Shuttle Discovery - 360VR Images - StumbleUpon. 11 cheap gifts guaranteed to impress science geeks | DVICE - StumbleUpon. Science comes up with a lot of awesome stuff, and you don't need a Ph.D, a secret lab, or government funding to get your hands on some of the coolest discoveries.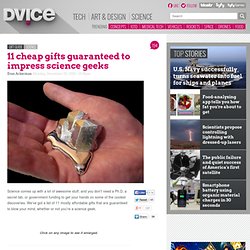 We've got a list of 11 mostly affordable gifts that are guaranteed to blow your mind, whether or not you're a science geek. Click on any image to see it enlarged. 1. Aerogel Also known as frozen smoke, Aerogel is the world's lowest density solid, clocking in at 96% air. Shuttle-Endeavour-sts130-nuit.jpg from laboiteverte.fr - StumbleUpon. Armstrong.jpg from harvard.edu - StumbleUpon. AP15_8.jpg from usgs.gov - StumbleUpon.
Hires.jpg from harvard.edu - StumbleUpon. Systemesolaire2.jpg from wikimedia.org - StumbleUpon. Binary - its digitalicious! - StumbleUpon. How binary works: The binary number system (aka base 2) represents values using two symbols, typically 0 and 1.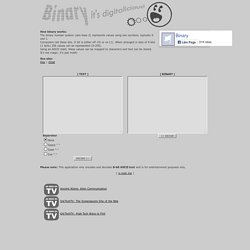 Computers call these bits. A bit is either off (0) or on (1). When arranged in sets of 8 bits (1 byte) 256 values can be represented (0-255).
---