DIY
Bottle Cutting. I have found that the use of a turntable during the heating process makes a significant difference.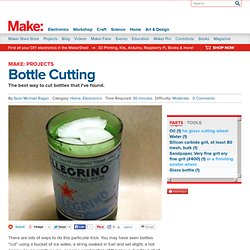 Attempting to manually rotate the bottle never works so well for me, but if I use a turntable the breaking process is quite reliable. The turntable I use is the bottom part of a cheap plastic rotating shelf intended to keep spices in the kitchen cupboard. If you want a neater polished edge, you can use a series of grits of increasing fineness to do the lapping. Living on the Chic: DIY Pin Tucked Duvet Cover. A New Year brings new things.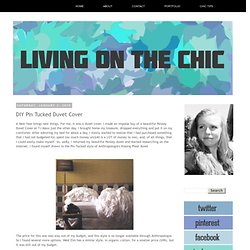 For me, it was a duvet cover. I made an impulse buy of a beautiful Paisley Duvet Cover at TJ Maxx just the other day. I brought home my treasure, dropped everything and put it on my comforter. 8 smart organizing tips for the kitchen. Do it yourself divas. Make Your Own Pet Food. 99 Things You Probably Didn't Know You Can Compost. Anybody who has a composting bin or compost pile at their house knows that old apple cores, banana peels and potato skins can be composted.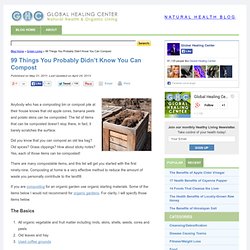 The list of items that can be composted doesn't stop there, in fact, it barely scratches the surface. Did you know that you can compost an old tea bag? DIY Home Gifts - iVillage. Simple Ideas That Are Borderline Crafty - 31 Pics.
16 DIY Home Décor Ideas From Our Fave Bloggers. Waterproof Your Canvas Shoes | Ahoy! | Portland Maine DIY Blog. Printables. High Functioning Coat Hooks. Back in Los Angeles, any old coat rack or a few hooks by the door would do.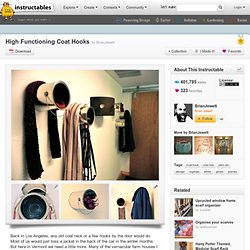 Most of us would just toss a jacket in the back of the car in the winter months. But here in Vermont we need a little more. Many of the vernacular farm houses I visit have at least a half dozen hooks per person lined up in their mud rooms. 7 Ideas For Storing and Organizing Your Beauty Loot Like a Champ: Girls in the Beauty Department. Oh, Pinterest, that loveable holder of great ideas—it's full of inspiration that'll get your beauty loot under control.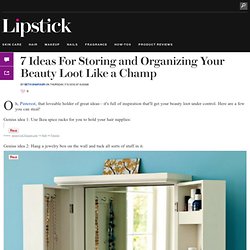 Here are a few you can steal! Genius idea 1: Use Ikea spice racks for you to hold your hair supplies: Source: suiterevival.blogspot.com via Beth on Pinterest. DIY Fashion-Forward Bracelets. When money is tight, but fabulous fashion is a necessity, try out your crafting skills to make something new and fantastic.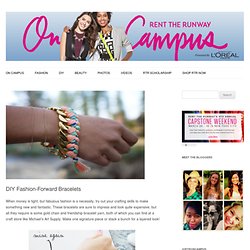 These bracelets are sure to impress and look quite expensive, but all they require is some gold chain and friendship bracelet yarn, both of which you can find at a craft store like Michael's Art Supply. Make one signature piece or stack a bunch for a layered look! Style Scrapbook: DIY: YELLOW CLUTCH. March 19, 2011 in Uncategorized by Andy And because I like keeping my word, here is the how.to.make.this.bag step-by-step… C'mon, its Saturday, you have no school, no work, you probably have a party later today, but you are free right now, so get the fabric, scissors, pins and let the party begin!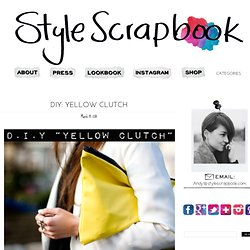 , then, you take your new clutch to tonight's party? How does that sound? Prevent painted items from sticking while drying. I was repainting some large wooden letters for my daughter's new "big girl room" the other night while Chica was over.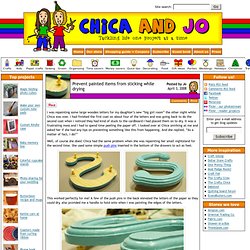 I had finished the first coat on about four of the letters and was going back to do the second coat when I noticed they had kind of stuck to the cardboard I had placed them on to dry. It was a frustrating mess and I had to spend time peeling the paper off. I looked over at Chica smirking at me and asked her if she had any tips on preventing something like this from happening. And she replied, "As a matter of fact, I do!" Well, of course she does! Home - How Clean Is Your Home? DIY Woven Chain Collar Necklace. Earlier this month Lauren and I escaped city life with our dear friend Grace, of Stripes & Sequins, for a weekend chock-full of sun and DIY.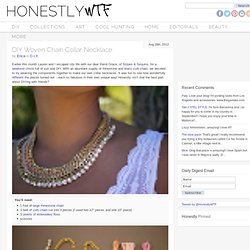 With an abundant supply of rhinestone and brass curb chain, we decided to try weaving the components together to make our own collar necklaces. It was fun to see how wonderfully different the pieces turned out - each so fabulous in their own unique way! Honestly, isn't that the best part about DIYing with friends? You'll need: 50 Tools Everyone Should Own (With Tips!) Man is "weak in himself, and of small stature," wrote 19th-century essayist Thomas Carlyle.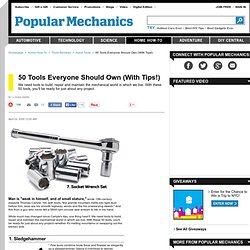 Yet, with tools, "the granite mountain melts into light dust before him, seas are his smooth highway, winds and fire his un­wearying steeds. " And this from a guy who never felt a 5800-rpm circular saw scream to life in his hand. While much has changed since Carlyle's day, one thing hasn't: We need tools to build, repair and maintain the mechanical world in which we live. With these 50 tools, you'll be ready for just about any project--whether it's melting mountains or swapping out the kitchen sink. 1. Gift Ideas for Poor Creative Souls (21)
Posted by: Cathy on Oct 06, 2012 Tagged in: Untagged I saw this idea a few times on the Martha Stewart site and I would really like to make these as stocking stuffers this Christmas.
Natural Solutions. Projects. Cleaning. Vehicle How Toos. Music. Decorating. A beginners Guide to Learn Telekinesis. Many people wish they had telekinesis abilities, but most people have been told all of their lives that telekinesis does not exist.
The truth of the matter is anyone can learn telekinesis. In fact, you already have telekinetic abilities, but they are laying dormant in the vast majority of people and they can be brought to the surface which is what this article is about. First however, let's look at what telekinesis is all about. How to Paint Laminate or Particleboard Furniture | Altar'd: Custom Hand Painted & Refinished Furniture and Vintage Home Décor. Ikea Particleboard Dresser This has to be the most commonly asked question we get.. How do I paint laminate furniture? Aka: Target, Ikea, and sadly even most Pottery Barn furniture is pressed particle board or laminate over particleboard.
How to Develop a Photographic Memory. Recycled Old Book into a Laptop Case DIY. Do you guys remember the geeky laptop case I made? Well, the picture I had ironed on to it was beginning to fall apart, so I decided to make me a new one... from an old book. I also took pictures while I was making it so that I could do a tutorial for you guys. My laptop is an Aspire Netbook, which means its small and was easy enough to find a book that would fit it.
I don't know if you can find a large enough book for a large laptop, but if you make one of these I would love to see your version!! Supplies- Felt & Fabric (I used tan so it would look kinda like book pages) an old book (big enough to fit your laptop in) zipper, and some strong glue. How to Cover a Book. Book into a laptop case. Of course you need a book for the case. I bought a used, hard cover kids book that I thought was quite funny to have as a case. Just measure your laptop and add about half an inch to both the width and heigth to have some safety space.
31 How to Sites Must Check. How To Draw. Lessons. Quick hand-legs-foot tutorial by `Hellobaby on deviantART. Sitemap.
---