Cultural Pursuits
Most Popular Content on HBR.org
See, Search, and Share your life.
Join the Free Group of Discussion Teaching Hmong Culture and Language "Wherever countries we may live either in the East, in the Southeast or in the West, whatever word we may use to call ourselves, either "Miao", "Hmong"(Hmoob), "Mong"(Moob), or "Méo", we all shall remember and cherish our common cultural heritage made of sub-cultures and of divers dialects, and the fragments of our history that we have kept in memory. Whatever good relationship we may maintain within our community, whatever ideology, beliefs or lifestyle we may seek to promote, how acculturated in the Western cultures we may become, we all shall protect and preserve the unity of our ethnic group as a necessity to enhance our kind so that our descendants will have better opportunities to appear and voice as one unique group before the challenges of modern societies." Kao-Ly Yang PhD Foreword for the article " Common Basis and Characteristics of Miao and Hmong Identity ."
Hmong History Timeline - Chronologie de l'Histoire des Hmong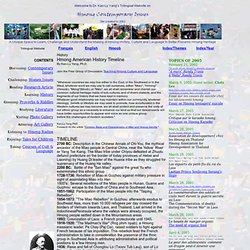 Classical Live Online Radio Onepage. Free Classical Music
Chicago Law School, The John Marshall Law School, Chicago Illinois -- legal education
Jimenez IP Law Firm l Minneapolis, MN 55438
Northern Illinois University
Top 50 Best Rated Documentaries - Movies Found Online
Our Lady of Good Counsel High School - Olney, MD
Eric Wiechert Law Office
Ongo | Welcome to Ongo. Your news like never before.
The Corner Office | BNET
The proprietary Predictive Index System consists of a powerful combination of assessment, educational training and consulting. Our unique model empowers managers with the instruments, knowledge and expert support to drive organizational performance by understanding what can influence and drive their employees to perform at work. Assessment - It starts with the Predictive Index (PI ® ) The Predictive Index is a scientifically validated behavioral assessment that accurately predicts workplace behavior.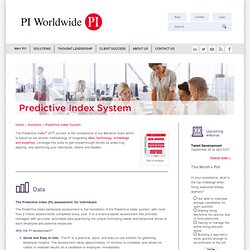 Predictive Index Assessment Tool | PI Process | Behavioral Assessments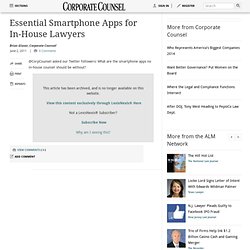 Essential Smartphone Apps for In-House Lawyers
@CorpCounsel asked our Twitter followers: What are the smartphone apps no in-house counsel should be without? The ALM ® and LexisNexis ® Content Alliance LexisNexis ® is now the exclusive third party online distributor of the broad collection of current and archived versions of ALM's legal news publications. LexisNexis ® customers will be able to access and use ALM's content by subscribing to the LexisNexis ® services via lexis.com ® and Nexis ® . This includes content from The National Law Journal ® , The American Lawyer ® , Law Technology News ® , The New York Law Journal ® and Corporate Counsel ® , as well as ALM's other newspapers, directories, legal treatises, published and unpublished court opinions, and other sources of legal information. ALM's content plays a significant role in your work and research, and now through this alliance LexisNexis ® will bring you access to an even more comprehensive collection of legal content.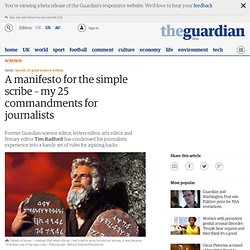 A manifesto for the simple scribe – my 25 commandments for journalists | Tim Radford | Science
I wrote these 25 commandments as a panic response 15 or more years ago to an invitation to do some media training for a group of Elsevier editors. I began compiling them because I had just asked myself what was the most important thing to remember about writing a story, and the answer came back loud and clear: "To make somebody read it." Ultimately, there's no other reason for writing. Journalists write to support democracy, sustain truth, salute justice, justify expenses, see the world and make a living, but to satisfactorily do any of these things you have to have readers. Fairness and accuracy are of course profoundly important.
The Massachusetts Securities Division has filed a regulatory action against LPL Financial, LLC ("LPL"), seeking full restitution and other relief for investors residing in Massachusetts who were sold non-traded real estate investment trusts (REITs) in violation of Massachusetts law. The regulatory action stands out because it finds fault with sales of several non-traded-REITS, more as a category criticism. This approach contrasts with efforts of other regulators, such as FINRA's regulatory actions and sanctions imposed upon David Lerner Associates for its sale of just one non-traded REIT product, known as the Apple REITs. Let's examine the common threads that bind the multiplicity of non-traded REITs products which Massachusetts securities regulators allege as being problematic.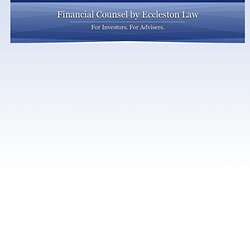 Financial Counsel by Eccleston Law
FASB Updates Standards for Troubled Debt Restructurings
The Financial Accounting Standards Board has revised its accounting standards to provide greater consistency in the treatment of various types of debt restructuring. Leslie Seidman Accounting Standards Update No. 2011-02 , "Receivables (Topic 310): A Creditor's Determination of Whether a Restructuring is a Troubled Debt," clarifies which loan modifications constitute troubled debt restructurings.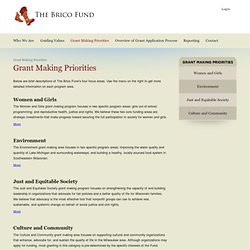 The Brico Fund - Grant Making Priorities
Grant Making Priorities Below are brief descriptions of The Brico Fund's four focus areas. Use the menu on the right to get more detailed information on each program area. Women and Girls The Women and Girls grant making program focuses in two specific program areas: girls out-of-school programming; and reproductive health, justice and rights.
The Arts Map: Connecting Artists and the Community