Clay Shirky - cognitive surplus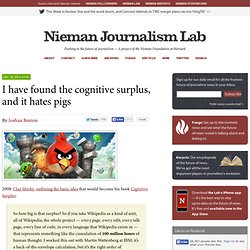 2008: Clay Shirky , outlining the basic idea that would become his book Cognitive Surplus : So how big is that surplus? So if you take Wikipedia as a kind of unit, all of Wikipedia, the whole project — every page, every edit, every talk page, every line of code, in every language that Wikipedia exists in — that represents something like the cumulation of 100 million hours of human thought. I worked this out with Martin Wattenberg at IBM; it's a back-of-the-envelope calculation, but it's the right order of magnitude, about 100 million hours of thought. And television watching?
I have found the cognitive surplus, and it hates pigs » Nieman Journalism Lab » Pushing to the Future of Journalism
L'auteur, consultant et professeur qui a le don de la formule choc s'intéresse à l'impact social d'Internet sur les entreprises et sur la société.
" Internet nous rend généreux parce qu'il réduit les coûts du partage " - archives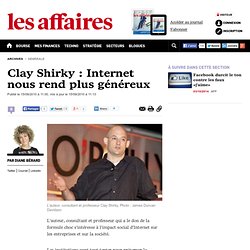 Web 2.0 Expo SF 2008: Clay Shirky - Web2Expo - blip.tv
Web 2.0 Expo is a global annual gathering of technical, design, marketing, and business professionals who are building the next generation web. Web 2.0 Expo features the most innovative and successful Internet industry figures and companies providing attendees with examples of business models, development paradigms, and design strategies to enable mainstream businesses and new arrivals to the Web 2.0 world to take advantage of this new generation of services and opportunities. Web 2.0 Expo is co-produced by O'Reilly Media and TechWeb.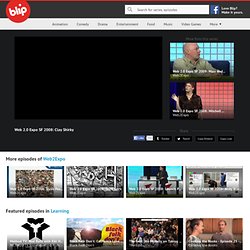 Clay Shirky (cshirky) on Twitter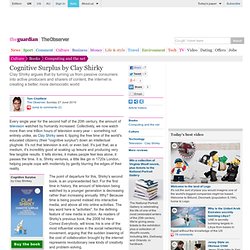 Cognitive Surplus by Clay Shirky | Book review | Books | The Observer
Every single year for the second half of the 20th century, the amount of television watched by humanity increased. Collectively, we now watch more than one trillion hours of television every year – something not entirely unlike, as Clay Shirky sees it, tipping the free time of the world's educated citizenry (their "cognitive surplus") down an intellectual plughole. It's not that television is evil, or even bad. It's just that, as a medium, it's incredibly good at soaking up leisure and producing very few tangible results.
Fifteen years ago, a research group called The Fraunhofer Institute announced a new digital format for compressing movie files. This wasn't a terribly momentous invention, but it did have one interesting side effect: Fraunhofer also had to figure out how to compress the soundtrack. The result was the Motion Picture Experts Group Format 1, Audio Layer III , a format you know and love, though only by its acronym, MP3. The recording industry concluded this new audio format would be no threat, because quality mattered most. Who would listen to an MP3 when they could buy a better-sounding CD at the record store? Then Napster launched, and quickly became the fastest-growing piece of software in history.