UFO
UFOs and the governments of the USA and UK. Researchers who ask for pertinent records from the US Air Force about UFOs are provided with a 'Fact Sheet' which states that since the closure of Project Blue Book in 1974, the USAF has no interest in, and does not study, the subject.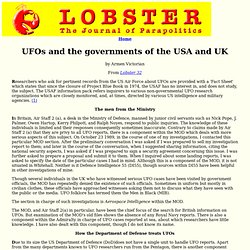 The USAF information pack refers inquirers to various non-governmental UFO research organizations which are closely monitored, and, at times, directed by various US intelligence and military agencies. (1)The men from the Ministry In Britain, Air Staff 2 (a), a desk in the Ministry of Defence, manned by junior civil servants such as Nick Pope, J. Palmer, Owen Hartop, Kerry Philpott, and Ralph Noyes, respond to public inquiries. Spectacular UFO photographed over Milan. Extraterrestrial Contact - Scientific Study of the UFO Phenomenon - StumbleUpon. UFOs in Earths History. UFOs and Extraterrestrials in Art History The Historical Record of Planet Earth speaks of ongoing contact with extraterrestrials as found in oral traditions, tablets, stone monuments, petroglyphs, and art forms found throughout the planet.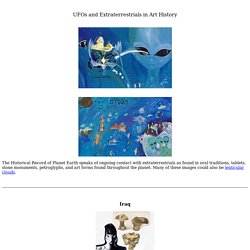 Many of these images could also be lenticular clouds. Iraq Reptilian looking entities found in Iraq - 5,000-4,500 BC. UFO Casebook, UFO Sightings, UFO Case files, UFO Photos, UFO Pictures, UFO... - StumbleUpon.
National UFO Reporting Center. Alien Species On MAAR. Use menu below to read about various alien species.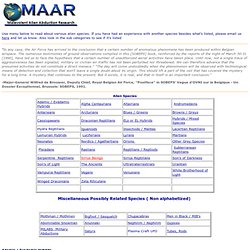 If you have had an experience with another species besides what's listed, please email us here and let us know. Also look in the sub categories to see if it's listed. UFOs &the Bible: Genesis 6 &Nephilim Angels Aliens &Demons, 2012... From noted author and UFOlogist John Keel, Operation Trojan Horse p. 215, 216: "Throughout most of history, the manifestations of demonology and demonopathy have been viewed from a religious perspective and explained as the work of the Devil.The bizarre manipulation and ill effects described in the demonological literature are usually regarded as the results of a great unseen conflict between God and the Devil.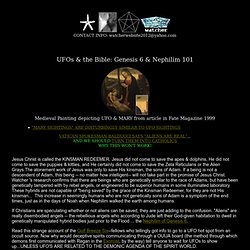 In UFO lore, the same conflict has been observed and the believers have explained it as a space war between the "Guardians" (good guys from outer space), who are protecting our planet, and some evil extraterrestrial race. The manifestations are the same, only the referenceis different. Did ancient man misinterpret UFO manifestations by placing them in religious context? UFOs/Interdimensional/Ultraterrestrials.
---