UFO
UFOs and the governments of the USA and UK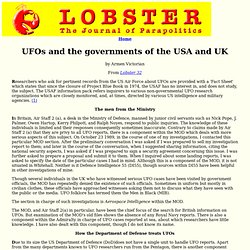 R esearchers who ask for pertinent records from the US Air Force about UFOs are provided with a 'Fact Sheet' which states that since the closure of Project Blue Book in 1974, the USAF has no interest in, and does not study, the subject. The USAF information pack refers inquirers to various non-governmental UFO research organizations which are closely monitored, and, at times, directed by various US intelligence and military agencies. (1) The men from the Ministry I n Britain, Air Staff 2 (a), a desk in the Ministry of Defence, manned by junior civil servants such as Nick Pope, J. Palmer, Owen Hartop, Kerry Philpott, and Ralph Noyes, respond to public inquiries.
Out There | Spectacular UFO photographed over Milan | unknowncountry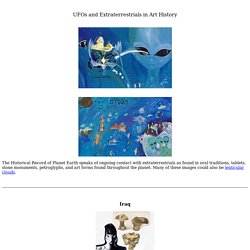 UFOs and Extraterrestrials in Art History The Historical Record of Planet Earth speaks of ongoing contact with extraterrestrials as found in oral traditions, tablets, stone monuments, petroglyphs, and art forms found throughout the planet. Many of these images could also be lenticular clouds . Iraq Reptilian looking entities found in Iraq - 5,000-4,500 BC.
UFOs in Earths History - Crystalinks
Use menu below to read about various alien species. If you have had an experience with another species besides what's listed, please email us here and let us know. Also look in the sub categories to see if it's listed
Alien Species On MAAR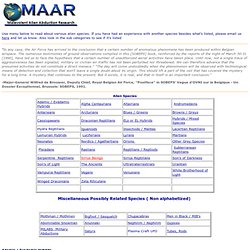 CONTACT INFO: watcherwebsite2012@yahoo.com UFOs & the Bible: Genesis 6 & Nephilim 101 Medieval Painting depicting UFO & MARY from article in Fate Magazine 1999 VATICAN SPOKESMAN BALDUCCI SAYS "ALIENS ARE REAL"... AND WE SHOULD TURN THEM INTO CATHOLICS WHY THIS WON'T WORK! Jesus Christ is called the KINSMAN REDEEMER. Jesus did not come to save the apes & dolphins, He did not come to save the puppies & kitties, and He certainly did not come to save the Zeta Reticulans or the Alien Grays.The atonement work of Jesus was only to save His kinsman, the sons of Adam. If a being is not a descendent of Adam, this being -- no matter how intelligent-- will not take part in the promise of Jesus Christ.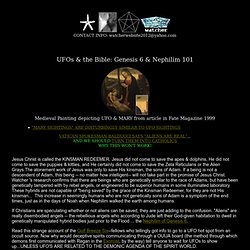 Videos: I See Fake People ~ 9/11 Paradox Deception ~ Traumatic Conditioning forms Optical Illusion (4:02) 'A Machine to Die For' - Full Documentary (54:59) 'Alien Harvest: Cattle Mutilation' - Full Film (44:43) 'Alien Planet' - Full Documentary (1:33:43) 'Astrobiology' - Full Film (44:29)