S'organiser et gérer son temps
Remarques sur la mesure du temps de travail
La gestion du temps, une affaire de méthodes
La gestion du temps est un exercice particulièrement ardu et on peut convenir avec Jules Renard qu'« il n'y a que le temps qui ne perde pas son temps ».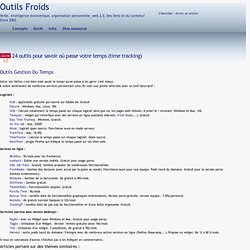 Outils Gestion Du Temps Gérer ses tâches c'est bien mais savoir le temps qu'on passe à les gérer c'est mieux. Il existe dorénavant de nombreux services permettant cela.
24 outils pour savoir où passe votre temps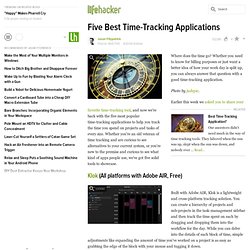 SExpand
Five Best Time-Tracking Applications
Au sein de la série de billets que je compte consacrer à la gestion du temps et à l'organisation du travail, j'aimerais parler d'une facette bien connue même de ceux qui sont réfractaires à l'idée de planification : les listes. Et en particulier les listes de choses à faire (ou « to do lists »). Il existe de très nombreuses manières de les faire et de les rendre accessibles, qui gagnent à être connues.
L'organisation du travail en listes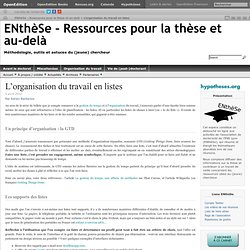 Un article de Wikipédia, l'encyclopédie libre.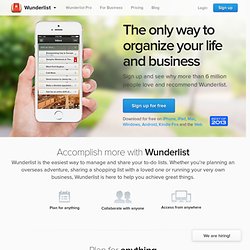 Recurring to-dos Capture your daily, weekly and monthly to-dos. Subtasks
Makagiga - To-do manager, notepad, RSS reader...
Getting Things GNOME!
GTG-Win
I come across many services a day while researching for Solution Watch, and as many of you know, I take a lot of notes to organize my thoughts about them. Until recently, the only method that I used to keep organized with the services I wanted to write about was by reviewing my notes and email, then selecting one from the list. Now, I've learned to review all my notes at the end of the day and add each service that I would like to review to an organized to do list.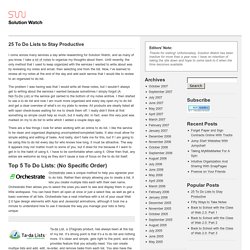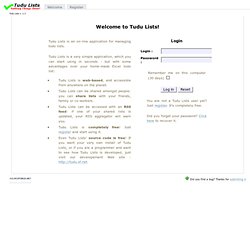 Tudu Lists is an on-line application for managing todo lists. Tudu Lists is a very simple application, which you can start using in seconds - but with some advantages over your home-made Excel todo list: Tudu Lists is web-based, and accessible from anywhere on the planet.
Tudu Lists
Todoist
Le papier et l'écran ou le doctorant et le classement des données
Dudle (version "libre")