Recipes
WHERE THE FUCK SHOULD I GO FOR DRINKS? Dinner in 15 Minutes Flat - Make Your Selections. Spice "Cake Batter" Shots Recipe. Now you're cooking with comics. How to Make Caramel Apple Shots. Photo: Michelle Oddis Once in a while, a party trick comes along that grabs our attention.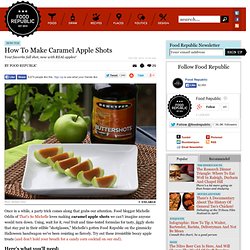 Food blogger Michelle Oddis of That's So Michelle loves making caramel apple shots we can't imagine anyone would turn down. Using, wait for it, real fruit and time-tested formulas for tasty, jiggly shots that stay put in their edible "shotglasses," Michelle's gotten Food Republic on the gimmicky Halloween bandwagon we've been resisting so fiercely.
Easy After School Snack: PB Apple Sandwiches. Earlier we shared some Lunch Box Ideas like: "APPLE" POCKET PIES & NUTELLA "SUSHI" .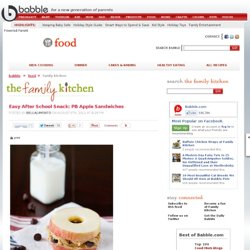 Now we're sharing a quick and easy snack that's perfect for after school noshing. Peanut Butter with Chocolate Chips Apple Sandwiches or PBCC Apple Sandwiches as we call them in our house. Apple Nachos! I have no clue where I originally saw this idea years ago–but in today's blogging world, apple nachos have become just about as ubiquitous as raw ballz… But, there may still be a few folks remaining who aren't tuned into all the apple nacho hoopla.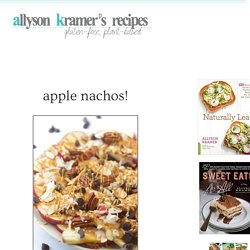 If you've never tried them, give 'em a whirl! They are ridiculously easy and taste much more awesome than they sound. Plus, my kids LOVE them as a midday snack. And did I mention how silly easy these are to toss together? I can't wait to try this !! The Incredible Noodle Weenie. Eat at allie's: Red Velvet Cheesecake Brownies. The Pastry Affair - Home - Butterbeer. This is part III in a mini-series of Harry Potter snacks from the books brought to life (part I is on Honeydukes treats, part II is all about the cauldron cakes, and part IV showcases decadent butterbeer cupcakes).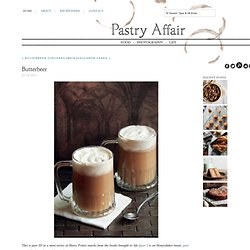 Last August, my family made the two thousand mile journey to the Wizarding World of Harry Potter at Universal Studios. Orlando has always been one of my family's favorite vacation destinations. Add in my love (and obsession) with Harry Potter and we all knew that once the park officially opened I couldn't be kept away for long. Harry Potter. For our Harry Potter edition of Friday Food Craft we have some super yummy Shortbread cookies made to look like the Deathly Hallows symbol (the triangle represents the cloak, the circle is the stone and the line is the wand).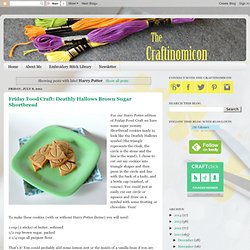 I chose to cut out my cookies into triangle shapes and then press in the circle and line with the back of a knife, and a bottle cap (washed, of course). You could just as easily cut out circle or squares and draw on a symbol with some frosting or chocolate. Yum! To make these cookies (with or without Harry Potter theme) you will need: Rainy day gal » buffalo chicken mac and cheese. Yummly | The best site for recipes, recommendations, food and cooking.
The Pastry Affair - Home - Cauldron Cakes. This is part II of my mini-series on Harry Potter snacks from the books brought to life (part I is on Honeydukes treats, part III features every wizard's favorite drink—butterbeer!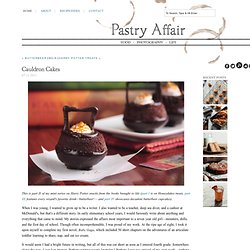 — and part IV showcases decadent butterbeer cupcakes). When I was young, I wanted to grow up to be a writer. I also wanted to be a teacher, deep sea diver, and a cashier at McDonald's, but that's a different story. In early elementary school years, I would furiously write about anything and everything that came to mind. Make-your-own-pizza party - hollywood housewife. When we have the whole extended family at the lake each July, we each take a night to provide dinner, because otherwise trying to coordinate dinner for 25 people every evening is too arduous.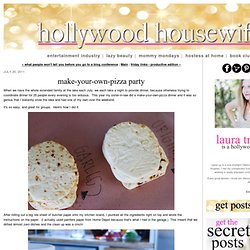 This year my sister-in-law did a make-your-own-pizza dinner and it was so genius that I blatantly stole the idea and had one of my own over the weekend. It's so easy, and great for groups. Here's how I did it: After rolling out a big 'ole sheet of butcher paper onto my kitchen island, I plunked all the ingredients right on top and wrote the instructions on the paper. (I actually used painters paper from Home Depot because that's what I had in the garage.) Mexican Pulled Chicken Stuffed Peppers | Life As A Plate. I had peppers.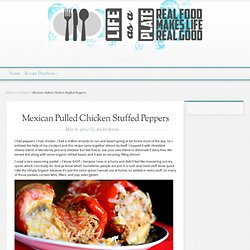 I had chicken. I had a million errands to run and wasn't going to be home most of the day. Panda CupCake. Check out my new ible : Vote me for the Play With your Food Contest ;) Kisses Mary ........................................................................................................................................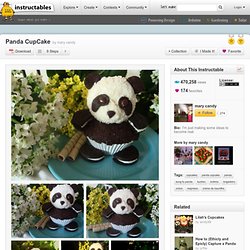 Once upon a time, there was a little panda... Not long ago he ceased exhisting, because I ate him. Recipe: Black Bean and Beef Chili. Are you sufficiently tired of turkey and Thanksgiving leftovers?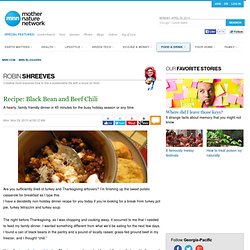 I'm finishing up the sweet potato casserole for breakfast as I type this. I have a decidedly non-holiday dinner recipe for you today if you're looking for a break from turkey pot pie, turkey tetrazzini and turkey soup. The night before Thanksgiving, as I was chopping and cooking away, it occurred to me that I needed to feed my family dinner. I wanted something different from what we'd be eating for the next few days. I found a can of black beans in the pantry and a pound of locally raised, grass-fed ground beef in my freezer, and I thought "chili." Chicken Parmigiana. This is one of the go-to dishes I make for my family of six. Rich, flavorful, and totally satisfying, we all love it, including my big, strapping cowboy of a husband. And that's a very, very good thing. Break out the good Parmesan for this one, my friends. It's the right thing to do. Peanut butter pretzel bites & Two Tiny Kitchens. Salty and sweet. Crunchy and melt-in-your-mouth. Peanut butter and chocolate.
Freezer Friendly/Make Ahead. Julie said... 1 Have been planning to make a freezer full of oven meals for my grandparents and came across your blog. Thanks! I have a quick question-I want to make these in foil pans so it will be easy for them to pop into the oven. How do you avoid freezer burn? Pull Apart Lemon Coffee Cake. The title says "cake" but I really feel that "bread" better describes what this is. Sweet yeasty dough cut and slathered with butter and lemon infused sugar is baked and then spread with lemon cream cheese icing. Once its iced you can just peel the slices off, no need to cut (who has time to find a knife anyways??) Cruft: Lasagna Cupcakes. When Intelligentsia Coffee opened in Pasadena recently, I was intrigued the lasagna cupcakes they served. The cupcakes are made by Heirloom LA, a catering business. About the size of a muffin, a single lasagna cupcake was a delicious meal. White chicken chili. Grilled Sweet Potato Fries Recipe :
Hash-brown casserole | The Wanna be Country Girl.
---