Digital Pearltree
Digital Pearltree is an aggregate of websites of interest which do not appear on popular timelines for blogs and other social platforms.

Digital Pearltree collects and shares. You are welcome to pearl along with me. Feb 18
www.jeffbullas.com/2012/05/29/4-reasons-why-brilliant-communities-are-more-valuable-than-your-social-media-strategy/
Ever feel like you're just going through the motions with your social media strategy? You aren't alone. Marketers are finally understanding the bigger picture: how many 'likes' you get doesn't necessarily translate to more sales. As a result, savvy social media strategists are measuring engagement metrics—how often their audience members interact with posted content and each other through their channels. But when it comes to Facebook and Twitter, you're still presented with some pretty clear obstacles.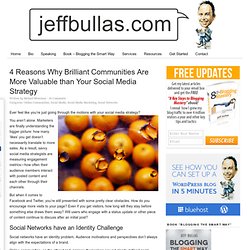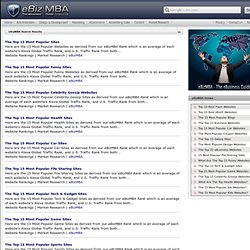 Article Directory - eBizMBA
The Top 15 Most Popular Sites Here are the 15 Most Popular Websites as derived from our eBizMBA Rank which is an average of each website's Alexa Global Traffic Rank, and U.S. Traffic Rank from both... Website Rankings | Market Research | eBizMBA The Top 15 Most Popular Funny Sites Here are the 15 Most Popular Funny Websites as derived from our eBizMBA Rank which is an average of each website's Alexa Global Traffic Rank, and U.S. Traffic Rank from both...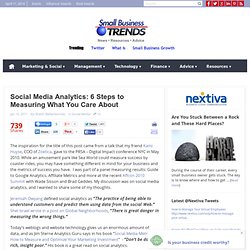 The inspiration for the title of this post came from a talk that my friend Kami Huyse, COO of Zoetica, gave to the PRSA – Digital Impact conference NYC in May 2010. While an amusement park like Sea World could measure success by coaster rides, you may have something different in mind for your business and the metrics of success you have. I was part of a panel measuring results: Guide to Google Analytics, Affiliate Metrics and more at the recent Affcon 2010 Summit with Wade Sisson and Brad Geddes.
Social Media Analytics: 6 Steps to Measuring What You Care About
Everything you need to deliver Exceptional Customer Support We were testing a lot of Helpdesk systems, but Freshdesk was clearly the best. We now offer multi-brand support to our customers in Slovakia, the Czech Republic, Poland and Russia! Jana Kalasova Biznisweb.sk Sign up now, it's Free!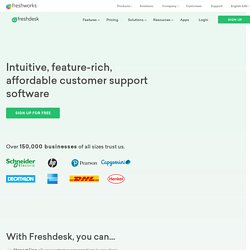 Help Desk Software for Customer Support | Online Help Desk - Freshdesk
Invalid quantity. Please enter a quantity of 1 or more. The quantity you chose exceeds the quantity available. Please enter your name. Please enter an email address.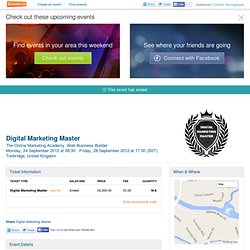 Digital Marketing Master - Eventbrite
html - How to add a browser tab icon for a website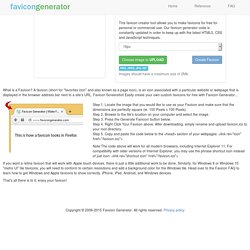 A favicon (short for "favorites icon" and also known as a page icon), is an icon associated with a particular website or webpage that is displayed in the browser address bar next to a site's URL. Easily create your own custom favicons for free with Favicon Generator... Step 1. Locate the image that you would like to use as your Favicon and make sure that the dimensions are perfectly square (ie. 100 Pixels x 100 Pixels). Step 2.
Favicon Generator | Make Free Favicons | Create a Favicon.ico Design
Free Cloud Storage - MediaFire
Steve RecommendsHere are my recommendations for products and services I've reviewed that can improve your results. This is a short list since it only includes my top picks. Free Mindfest - Enjoy Paul Scheele's Ultimate You Mindfest for FREESite Build It! - Use SBI to start your own money-making websiteGetting Rich with Ebooks - Earn passive income from ebooksLefkoe Method - Permanently eliminate a limiting belief in 20 minutesPhotoReading - Read books 3 times fasterParaliminals - Condition your mind for positive thinking and successThe Journal - Record your life lessons in a secure private journalSedona Method (FREE audios) - Release your blocks in a few minutesLife on Purpose - A step-by-step process to discover your life purpose Get Steve's Free Newsletter to stay in touch and receive the newest updates An extensive list of personal development books across a broad spectrum of topics: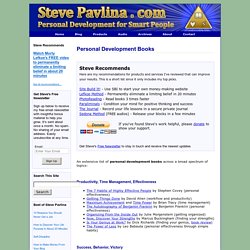 Personal Development Books
Products and Services
by Cathy Zimmermann With more and more employers using social media to screen and recruit candidates, jobseekers need to incorporate the same strategy in their job search. Here are five ways you can put the power of social networking to work for you. LinkedIn is and always has been a professional network, and for many people a LinkedIn profile is a must-have, not just for finding a job, but for building a career. A full LinkedIn profile is essentially an online resume, with a tool for requesting and posting online recommendations from people who can speak for your work at companies or colleges listed in your profile.
5 Ways to Use Social Media in Your Job Search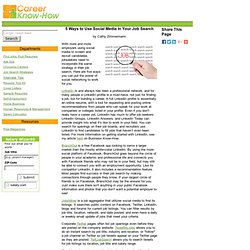 Instant Customer Revolution: Become a Highly-Paid Business Marketing Consultant, Free Book and Video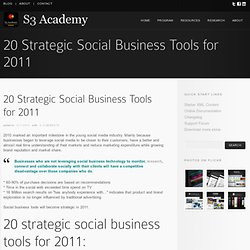 2010 marked an important milestone in the young social media industry. Mainly because businesses began to leverage social media to be closer to their customers, have a better and almost real time understanding of their markets and reduce marketing expenditure while growing brand reputation and market share. Businesses who are not leveraging social business technology to monitor, research, connect and collaborate socially with their clients will have a competitive disadvantage over those companies who do. * 60-80% of purchase decisions are based on recommendations * Time in the social web exceeded time spend on TV * 16 Million search results on "has anybody experience with…" indicates that product and brand exploration is no longer influenced by traditional advertising
20 Strategic Social Business Tools for 2011
Free Call with DeAnne Pearson Owner and Career Coach of Deliberate Careers, LLC Thursday, May 31st, 2012 Want a career change, but don't know where to start? Maybe your last job "left you at the curb" or you have been away from the professional scene for a while and need to restart? Maybe you don't feel confident that you can fit into your old field, or if you even want to? Do you feel like you are being called to do something different, something more fulfilling that speaks to your core?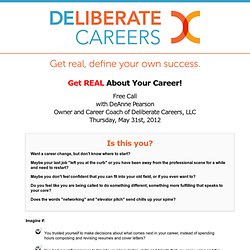 Deliberate Careers
THE FLOW CORPORATE AUDIO GROUP
Wireless Presenter with Laser Pointer and Memory Take Control of Your Presentation The Kensington Wireless Presenter with Red Laser Pointer puts you in control of your presentation and your audience.
Kensington Wireless Presenter with Laser Pointer and 2 GB Built-in Memory (Black): Electronics
Time Zone Converter – Time Difference Calculator
+1 this page: Follow us on Google+: Like/share this page:
Wedding jewellery, bridal jewellery and bridal hair accessories by Yarwood-White, handmade in Cobham, Surrey
Mobile phones and particularly the increasing adoption of smartphones, continue to change how people receive information, consume content and engage with others. To take advantage of the opportunities presented by these mobile devices and their expanded functionality and create an effective mobile marketing strategy, marketers must understand how consumers use them and what the implications are for content marketing, promotions, communications and purchase channels. Here are twenty-five charts of the latest research sourced from a variety of organizations to enable you to better understand how the mobile landscape has evolved so you can incorporate these changes into your marketing plans. US Smartphone penetration
25 Mobile Research Charts to Guide Your 2012 Marketing
59 Internet Marketing Life Lessons For Success, Fun & Profit
I have been doing Internet marketing for just over 7 years, I have created a lot of websites and learned a lot of lessons. Today I'd like to share some of the lessons I have learned along the way. These 'lessons' may not be politically correct. They also may not work for everyone but I have found that they work for me. Some of these points will contradict each other, that is life and that is business. Of course I'd love to hear about your lessons and of course whether you agree or not with my lessons in the comments below.
7 Steps To Getting Paid More And Promoted Faster
There are methods and techniques used by the highest-paid and most successful people in our society to get paid more money for what they do and get promoted faster to higher levels of authority and responsibility. When you begin to use them yourself, you put your entire life and career onto the fast track. You will make more progress in the next couple of years than the average person makes in 10 or 20 years. Here are 7 ways to get started: 1. Find a High-Growth Industry
industry: Definition, Synonyms from Answers
The Business of Revenue Models - Woman Entrepreneurs | Business Mentor | Marketing | Simple | Solutions | Business Coaching | Woman Entrepreneurs | Business Mentor | Marketing | Simple | Solutions | Business Coaching
78 Resources For Every Internet Marketer's Toolkit
Pitch Girl--Marketing World Widget
Make an HTML5 Mobile App for iPhone & Android in Minutes
Facebook is preferred social network of marketing, ad execs
This Is Generation Flux: Meet The Pioneers Of The New (And Chaotic) Frontier Of Business
Working Bees - Spread the word, Get more jobs, Make extra money
Lifecycle Of An Enterprise Social Community (So Far) - The BrainYard - InformationWeek
The Last Temptation Of Social Media
Business Buzz
Help
How to Create a Cron Job (Scheduled Task) for Your Website or Blog
Completed Campaigns
Codename "Social Analytics" | SQL Azure Labs
The Science of Social Media: Engineering Contagious Ideas
How to Start Using Google+ for Your Business Before It's Too Late
Featured Users
How Content Marketing is Changing Everything, and How Social Media Group Can Help
Featured Users
What's Your Social Media Signature?
Six Social Media Trends for 2012
How to make the most of a Twitter chat
Mercedes-AMG :: Razorfish
whitepapers.virtualprivatelibrary.net/Online Social Networks.pdf
Could Gamification Replace Management?
SBI! - All the Tools
7-Zip | The Best Zip Compression Utility
The Brief History of Social Media
A Short History Of Social Media (1978-2011) [INFOGRAPHIC]
Insight Center: Growing The Top Line - Sponsored by SAS
it
» Symphony No. 25 in g minor, K. 183 - 1. Allegro con brio by Mozarteum-Orchester Salzburg | AccuRadio
The Reach Multiplier | Triberr
Social Commerce Statistics | Bazaarvoice
CMOs share top insights on the bottom line of social | Bazaarvoice
The Conversation Index | Bazaarvoice
Your Tweeter Karma
Thinkbot - Freedom of Thought