Books / Read
Get flash to fully experience Pearltrees
Sitting on my dining room table, I currently have half a dozen projects in various states of doneness. Some involve vivisected computer parts, others will eventually be wearable and a few are just cool things I've ran across on the internet. I like doing things myself — I think the DIY bug is one of the best communicable diseases in the lifehack community.
post written by: Marc Email The web is a powerful resource that can easily help you learn new skills. You just have to know where to look. Sure, you can use Google, Yahoo, or Bing to search for sites where you can learn new skills , but I figured I'd save you some time.
1. Are you working on your chosen field? 2. How many hours a week do you work? 3. What does your job entail?
Anybody remember how anxious and thrilled we were in those last months of the 20th century? When we weren't at war and we had a budget surplus and it looked like Al Gore would be president? The prospect of a 21st century filled with new technologies, new art and literature loomed large and bright. But now, as we look back at what was decidedly a shitty decade for an incredible variety of people in an equally incredible variety of ways (evictions/invasions/bombings/etc), it's surprisingly hard to be pessimistic about the books that assessed, satirized, dramatized and distracted us from the events of the past 10 years.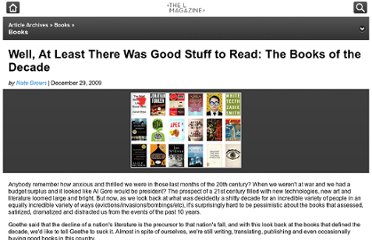 Recently, someone asked Reddit for a list of the best science fiction books of all time. Being a fan of sci-fi, and wanting to expand my own reading list, I thought it would be helpful to tally the results and preserve them here for future reference. I've also included selected quotes from the comments, as well as my own notes on the books I've already read. PS: All book images in this post are copyright Amazon, and were retrieved using my Big Book Search Engine .
Chris Silas Neal More than 5,000 of you nominated . More than 60,000 of you voted . And now the results are in. The winners of NPR's Top 100 Science-Fiction and Fantasy survey are an intriguing mix of classic and contemporary titles.