History, People, and the World
Rethinking Schools - Just For Fun - Map Game. Maps. Home page Down to: 6th to 15th Centuries | 16th and 19th Centuries | 1901 to World War Two | 1946 to 21st Century The Ancient World ... index of places Aegean Region, to 300 BCE.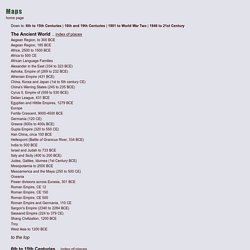 THEOI GREEK MYTHOLOGY, Exploring Mythology & the Greek Gods in Classical Literature & Art. EMPIRE17.swf (application/x-shockwave-flash Object) Charity Navigator - America's Largest Charity Evaluator | Home. Ecovolunteer nature travel.
---