QR-code
QR код в образовательном процессе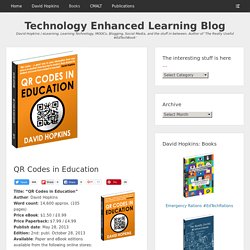 QR Codes in Education
Title : "QR Codes in Education" Author : David Hopkins ISBN : 9781628470277 Word count : 13,800 (approx.)
I have been pondering how to use QR codes in the classroom. My favorite use being to tape QR codes into old textbooks to make them relevant. The code pictured below goes to a YouTube video with directions on how to do those math problems. Note: I used a super sticky post it label so I wouldn't damage my book and then taped the QR code on top of that. While brainstorming ways QR codes can be used in the classroom I started making posters. I was thinking I can make some sort of visual that would make a nice info poster for any subject… which is when I thought it would be fun to make samples.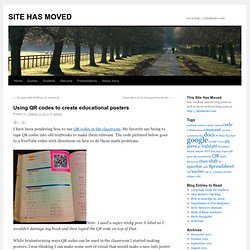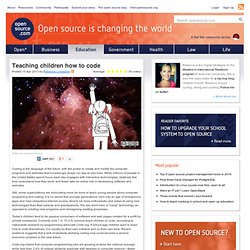 Code.org's video with Bill Gates, Mark Zuckerberg, and Will.i.am | opensource.com
Image by opensource.com
We've still got a few kids working to learn the teen numbers. I came up with one more activity to help them master this skill. We're also knee deep in our farm unit, so I added some cute pigs to the activity to make it a little more fun.
QR Codes for practicing the teens: Farm style! | Technology In Early Childhood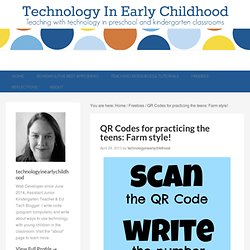 One of the first obstacles I encountered as I was thinking about ways to use QR codes with preschoolers was using information that didn't require reading.
QR Codes for Sight Words: Attaching audio files | Technology In Early Childhood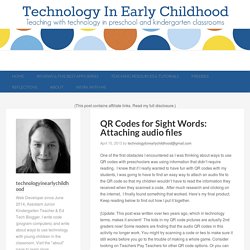 QRpedia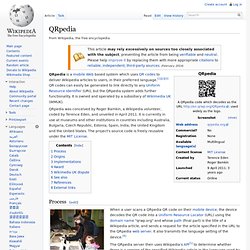 QRpedia is a mobile Web based system which uses QR codes to deliver Wikipedia articles to users, in their preferred language.[1][2][3] QR codes can easily be generated to link directly to any Uniform Resource Identifier (URI), but the QRpedia system adds further functionality. It is owned and operated by a subsidiary of Wikimedia UK (WMUK). QRpedia was conceived by Roger Bamkin, a Wikipedia volunteer, coded by Terence Eden, and unveiled in April 2011.
coolcatteacher.sharedby.co/share/zRy67y
QR codes are a great and easy way to share digital materials and resources within your classroom.
2 Simple Ways To Use QR Codes In Education
Cool Cat Teacher Blog: QR Code Classroom Implementation Guide
QR Code Mysteries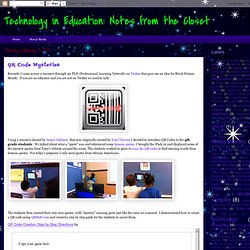 Recently I came across a resource through my PLN (Professional Learning Network) on Twitter that gave me an idea for Black History Month. If you are an educator and you are not on Twitter we need to talk!
QR Codes (Quick Response Codes) are just barcodes. There is nothing fancy about them. Just like the grocery store clerk uses barcodes to look up the product and scan the price into the computer, your mobile device or computer can look up QR codes to: take you to a website, read some text, give you a phone number, or generate a text message. QR Codes are barcodes of information that hardlink the physical world with the online world. They are considered a form of simple augmented reality.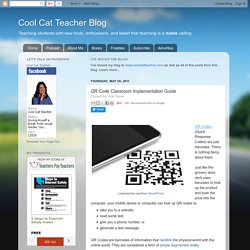 20 умных способов использования QR-кода.
Творческое применение QR-кодов
САНКТ-ПЕТЕРБУРГ, 28 декабря.
Солнечный QR-код в память о Стиве Джобсе откроют в Петербурге 9 января - в день презентации первого iPhone
Блог преподавателя Петровой Натальи Захаровны
Senior education editor Melissa Greenwood is blogging this week from ACTE's CareerTech VISION 2012 conference in Atlanta, Ga. Here is a blog inspired by a recent conference session on student engagement. Does school have to be fun?
QR codes in education SmartBlogs
I've written previously about QR Codes, what they are, and how we might use them. I've met and chatted with Andy Ramsden of Bath University and seen how they have integrated them into the assignment and feedback process. I saw two links this morning on Twitter that sparked my interest again, both from @psychemedia which has made me realise that I need to brain-dump my thoughts on how these wonderful little codes can be utilised in the classroom.
I've had some amazing discussions with some colleagues recently about QR Codes and how we can use them. When I got over the initial "huh?" response as to what they are, and they understood that the code can contain type of data, we started to get somewhere really quite quickly. So, this post is really to consolidate my previous posts and to make it slightly more graphical – images are often easier to follow. What is a QR Code?
QR Codes: The nuts and bolts #QRCode #edtech #ukedchat – Technology Enhanced Learning Blog
Революционный генератор QR-кодов — разработка для ярких и креативных
50 Interesting Ways to Use QR Codes to Support Learning
QuickMark QR Code Reader - Barcode Scanner - Read barcode from WebCam.
Этой осенью на улицах города появятся необычные афиши киноконцертного зала «Космонавт».
Афиша из QR-кода — Look At Me — Посты — поток «Наука и Технологии»
20 способов использования QR-кодов — Look At Me — Посты — поток «Интернет»
Павлозавр: бизнес-ископаемое… » Blog Archive » 8 простых способов использования QR-кодов для рекламы в малом бизнесе
Павлозавр: бизнес-ископаемое… » Blog Archive » КРЕАТИВНЫЙ QR-КОД
Create a Mobile Language Lesson With QR Voice
QR коды в образовании
14 полезных для маркетолога фактов о QR-кодах
2012: QR Codes in Higher Education
Poster: QR Codes in Education – the Business School Experience (@milenabobeva)
2012: ABS Learning & Teaching Conference
Presentations
QR Codes
HR&Trainings EXPO & Центр eLearning - sibelena - Почта Mail.Ru
Блог о QR-маркетинге, QR-кодах и мобильных технологиях
Генератор QR-кодов со сливками
Преобразование документов или презентаций в QR-коды
Цветной QR-код