Emprendedurismo
TED: Ideas worth spreading. Brian Armstrong. 46 Ways To Start A Business With No Money. Most people who want to start their own business don't have a ton of money laying around and it's probably one the most common questions I get emailed about: How can I get started without a lot of cash?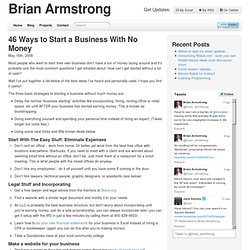 Well I've put together a list below of the best ideas I've heard and personally used. I hope you find it useful! The three basic strategies to starting a business without much money are: Jason Nazar's Blog. Venture Hacks - Good advice for startups. How to pick a co-founder. Naval · November 12th, 2009 Update: Also see our 40-minute interview on this topic.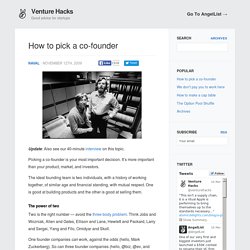 Picking a co-founder is your most important decision. It's more important than your product, market, and investors. The ideal founding team is two individuals, with a history of working together, of similar age and financial standing, with mutual respect. One is good at building products and the other is good at selling them.
---