Emprendedurismo
March 17th, 2010 Most individuals in the business world are aware of Twitter and know the myriad of ways it can be used to promote a brand, product or personal work. What some may not yet be using it for is to learn about the business world itself. After all, even the most experienced professionals, accredited online college grads and business prodigies always have room for improvement.
100 Business Experts You Should Follow on Twitter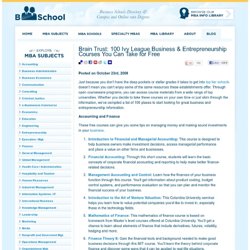 Brain Trust: 100 Ivy League Business & Entrepreneurship Courses You Can Take for Free Posted on October 23rd, 2008 Just because you don't have the deep pockets or stellar grades it takes to get into top tier schools doesn't mean you can't enjoy some of the same resources these establishments offer. Through open courseware programs, you can access course materials from a wide range of top universities. Whether you decide to take these courses on your own time or just skim through the information, we've compiled a list of 100 places to start looking for great business and entrepreneurship information.
Brian Armstrong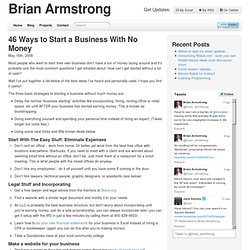 Most people who want to start their own business don't have a ton of money laying around and it's probably one the most common questions I get emailed about: How can I get started without a lot of cash? Well I've put together a list below of the best ideas I've heard and personally used. I hope you find it useful! The three basic strategies to starting a business without much money are:
Jason Nazar's Blog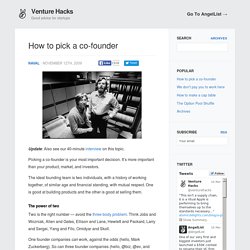 Update : Also see our 40-minute interview on this topic. Picking a co-founder is your most important decision. It's more important than your product, market, and investors. The ideal founding team is two individuals, with a history of working together, of similar age and financial standing, with mutual respect. One is good at building products and the other is good at selling them. The power of two