Food!
Onion & Cheese Bread. This bread is simply delicious.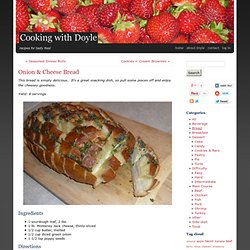 It's a great snacking dish, so pull some pieces off and enjoy the cheesey goodness. Yield: 8 servings Ingredients 1 sourdough loaf, 2 lbs.1 lb. Monterey Jack cheese, thinly sliced1/2 cup butter, melted1/2 cup diced green onion1 1/2 tsp poppy seeds. Chocolate Chip Cookie Dough Dip - What Megans Making - StumbleUpon. Chocolate Chip Cookie Dough Dip It's time for a little confession.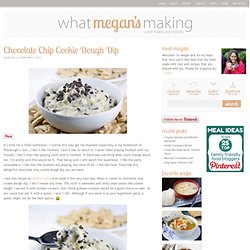 I realize this may get me shunned (especially in my hometown of Pittsburgh!) , but….I don't like football. Mac and Cheese Cups - Cupcakes and Cashmere - StumbleUpon. Share this image Share It Pin It When I first graduated from college, and was living in a dreary little apartment, mac and cheese was one of my few specialties.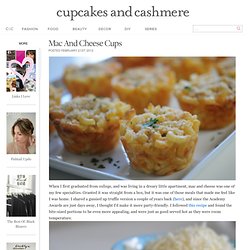 Granted it was straight from a box, but it was one of those meals that made me feel like I was home. I shared a gussied up truffle version a couple of years back (here), and since the Academy Awards are just days away, I thought I'd make it more party-friendly. Baked Eggs with Bacon and Spinach. Do y'all remember the scene in Runaway Bride (that's an Oscar contender if I've ever seen one…) where Julia Roberts realizes that she doesn't know how she likes her eggs?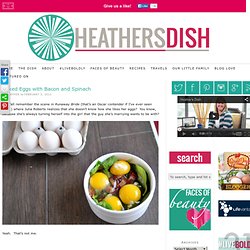 You know, because she's always turning herself into the girl that the guy she's marrying wants to be with? Yeah. That's not me. I know how I like my eggs, although I will say that it depends on the day. - StumbleUpon. I went to see tUnE-yArDs on Monday night with some friends, and as always we wanted to cook a meal that somehow related to the show we were heading to.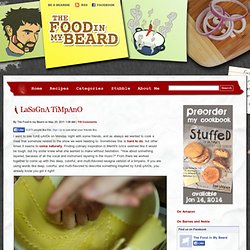 Sometimes this is hard to do, but other times it seems to come naturally. Finding culinary inspiration in Merrill's lyrics seemed like it would be tough, but my sister knew what she wanted to make without hesitation. "How about something layered, because of all the vocal and instrument layering in the music? " How To Make Perfect Brownies | How To Cook Like Your Grandmother - StumbleUpon. I've tried lots of brownie recipes: Boxes, scratch, frosted, plain, nuts, chips, fudge … Each of them has something to like, but depending on my mood I might want a change of pace.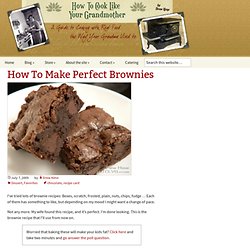 Not any more. My wife found this recipe, and it's perfect. I'm done looking. This is the brownie recipe that I'll use from now on. Graham Cracker S'mores Cookies | Sweet Pea's Kitchen - StumbleUpon. Graham Cracker S'mores Cookies Graham Cracker S'mores Cookies with a graham cracker base, topped with a chocolate chip marshmallow cookie and chopped Hershey's bars on top.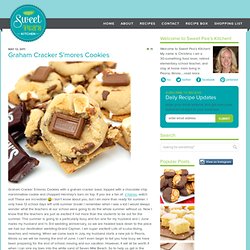 If you are a fan of s'mores, watch out! These are incredible!
---