Duli
Uzziel
I´m graphic designer I´m a guy very fun
3D Technology
Origo 3D Printer Origo 3D printer can transform any children's drawings to 3D plastic objects. Current 3D printers in the market are expensive and hard to operate machines, you have to be a designer to make things, you need to spend months learning how to 3D model. These modern industrial designers wanted to create a 3D printer that would let people to create whatever they want to make, on their own terms, the 3D printer had to be easy enough even kids could use it. Click here to read more»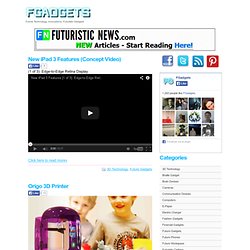 Kigurumi – Pijamas Kawaii cosplay « Kazumi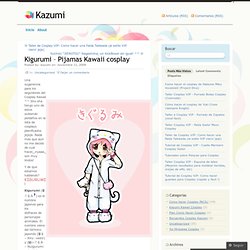 Las pijamas de cuerpo entero con capuchas o sombreros estilizados de animales se llaman también Kigurumi, pero no tienen la misma connotación de "disfraz" como los trajes de cuerpo entero, son llevados en la calle con fines no comerciales como parte de la moda callejera japonesa. Las personas que escogen llevar kigurumi en público a menudo son llamados "kigurumin", y los disfraces que tienden a llevar son conocidas como "disguise pajama" ("pijama de disfraz"). Fuente (para saber mas al respecto): wikipedia
COMO HACER LOS ZAPATOS DE MIKUComo todo, acá toca utilizar nuestro ingenio.. les puse una foto de los zapatos que ofrecen en HelloCosplay... los zapatos de pic25 serán nuestro modelo a seguir. Si analizamos bien esos zapatos, vemos que la parte verde-azulada se trata de un forro especial que le colaron al zapato; Un método sería exactamente ese..conseguir un color que sea similar al resto de vivos que le agregamos al traje y cortarle la forma de la plataforma del zapato e irla pegando con silicona o mejor aun clefa al zapato (no se si el nombre "clefa" les es familiar, es un pegamento que utilizan los zapateros en Bolivia para pegar el cuero del zapato) Pero se me ocurrión mas bien pintarlo (despues de todo hice esta part ya en la noche y quería algo rápido jejej)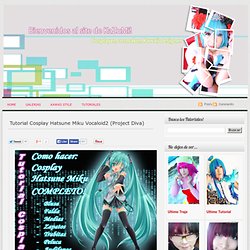 KaZuMi Kawaii Cosplay: Tutorial Cosplay Hatsune Miku Vocaloid2 (Project Diva)
Photos courtesy the artist; version at The Roundhouse. Digital artist and imagineer Memo Akten, known for beautiful work like his dazzling, sparkling open source fluid library, has lately turned his attention to intersections of visual motion and musical pattern. In a series of etudes, he applies simple, sinusoidal motion to musical patterning. That is, as abstract waves flow on the screen, they trigger overlaid patterns of rhythm, notes spilling out as waves intersect. Experimenting with an idea and iterating in simple form helps Memo develop the idea here – and gives us a chance to experience that evolution by browsing the variations, as seen in splendid form below.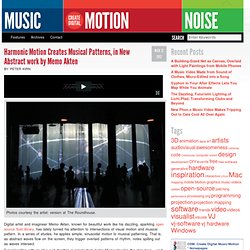 Harmonic Motion Creates Musical Patterns, in New Abstract work by Memo Akten
Luo Yang es una fotógrafa china que vive en Beijing. Al ver sus imágenes no pude evitar pensar en el cine oriental, cada una de sus fotografías bien podría ser un still de alguna película de Wong Kar Wai. En sus imágenes vemos adolescentes frágiles y confundidos, en espera de que algo suceda.
Luo Yang | Fotografía Contemporánea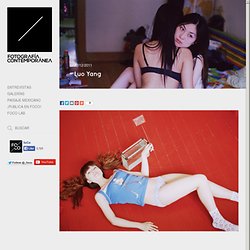 Industrial Design Served :: Gallery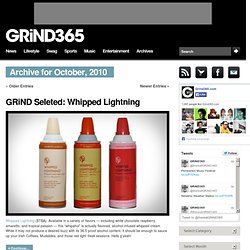 October « 2010 « Grind365
Archive for October, 2010 Thursday, October 28th, 2010 GRiND Seleted: Whipped Lightning Whipped Lightning ($TBA).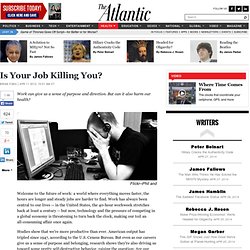 Work can give us a sense of purpose and direction. But can it also harm our health? Flickr--Phil and Pam
Is Your Job Killing You? - Atlantic Mobile
Beware ! Lots of my self taken photos !! Cutie bear that i got for sha ♥ I worked with Galperti, it's origin from Italy ! The bosses are very nice
December 2010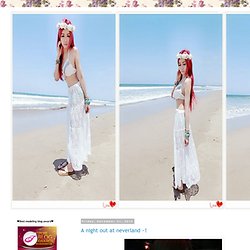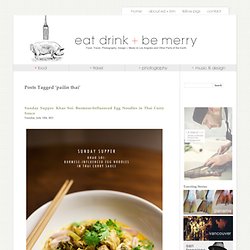 Eat, Drink + Be Merry. Food, Travel, Photography, Design + Music in Los Angeles and Other Parts of the Earth. » pailin thai
Have you ever eaten khao soi – Chiang Mai Thailand's signature dish? Typically overshadowed by noodle dishes in Thai restaurants like pad thai, rad nar and pad kee mow, this is something I recommend to you for its beautiful colors and flavor profile. You've got tender chicken swimming in a rich and silky coconut curry with slippery egg nooodles, topped with Chinese pickled mustard greens and tear-inducing shallots to balance out everything.
1on1 Poster - Twistedfork = Dan Matutina
PSLAB, a Lebanese company who design and build site-specific lighting, have completed a lighting project for the Burgundy wine bar/restaurant in Beirut, Lebanon. Description from PSLAB: A lighting project for a wine bar/restaurant having a substructure of wooden arched beams cutting through a wire mesh covering the ceiling. The setting of the space underneath the substructure is functionally divided into two sections: a bar area and a dining area. Highlighting the dual function, the lighting objects are set on two parallel axes over these two sections. Suspended from the arcs, each light object is a set of conical tubes conceived to fill a circular-shaped area.
We Love Beautiful Things | Restaurant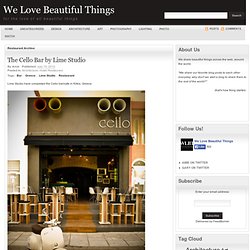 KaranaK on deviantART
Uma™ Font on the Behance Network
Foggernauts are just as happy exploring underwater as they are on the battlefield. Not only do these harpoon-artists know how to harness the power of the ocean; they're also fine defenders and masters of movement. >> More...
MMORPG DOFUS :: Massive Multiplayer Online Role Playing Game
VERY SPECIAL PORN
Zoe is dead
Moja, la lluvia,cuando cae sobre mi pelo.Derrite, el sol,el hielo de de tu corazón.Una palabra gritadasilenciosa, casi mudaque lo dice todo sin decir nada.Y mi cama está vacíay caliente y todavía huele a ti.***Ya no recuerdo las mañanasdespertando a tu ladoni el color de la piel detus labios.Imagino esos detallesque mi cerebro borró,que mi corazón añora sin quererloy que mi voz cantainventándose la música.Llueve sobre nuestras caras,pez de agua dulce,y el huracán que esperabasdesde la otra orillaya fuey no lo viste pasar.Ahora el viento se ha calmado y no queda mucho por decir."Las cosas que empiezan, acaban".Y a esto nuestro, tan bonito,no le ha quedado otra que morir.Suena "Lullaby" versionada por Boatlina (Havalina + Boat Beam)
MMORPG - DOFUS Character Page : Tery-Rock (Bowisse) - Activity
Texture
Toggle navigation What are you working on? Dribbble is show and tell for designers. Learn more Sign up
talk.cil.ca » CIL Blogs
Want some gold-medal decorating ideas? Take a cue from the international winter games and bring colours from around the globe into your home. From antique golds, vibrant reds and spicy oranges to jewelled blues, emerald greens and rose-infused violets, this year's hottest international hues create an ambiance that is out of this world. Far East, Mediterranean and South America are among the most popular in home décor this year. While many people opt for neutral tones as the safest bet, those who go with lively shades of paint often never look back.
Popular iOS App UI Design Shots for iPhone and iPad
Camila (milalone) on we heart it / visual bookmark
Luz Carrillo (Lucesita) on we heart it / visual bookmark
∞DAGOU∞ (Dagou) on we heart it / visual bookmark
michitecture :: January 2011
Posts for July 2011
Dragon Tattoo Collection by Trish Summerville for H&M | nitrolicious.com
HANG OUT W/ ALLYSHA BERGADO @ B4BC's VEGGIE GRILL FUNDRAISER DEC. 8 | MAHFIA
LittleTechGirl.com | Mom Blog | Geek Mom | Nerd Mom | Tech Mom Blog | Social Media Mom | Twin Mom | Tech Mom Blogger
Geek & Video Game Blog for Gaming, Gadgets, Technology, & Everything Geek - GeekGods.net
inspirations and graphic design
what to wear today ... "must have for the summer 2010" (intro)
animation and postproducción