News
Build interactive charts and visualizations] - StumbleUpon
Alternative News Links! The mainstream media IS NOT going to tell us what is really going on in today's society. We are spoon fed corporate propaganda by TV, "newspapers", etc. every day.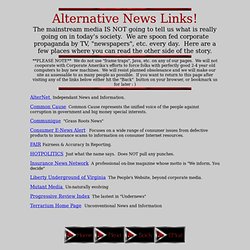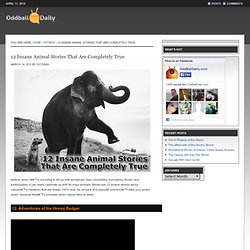 12 Insane Animal Stories That Are Completely True
Nature: when it's not trying to kill us with tornadoes, fires, mudslides, hurricanes, floods, and earthquakes, it can really captivate us with its crazy animals. Below are 12 insane stories about nature's creatures that are totally, 100% true. So sit back and enjoy—just don't take your guard down, because that's precisely when nature likes to strike.
It all started when Karl Szmolinsky won a prize for breeding Germany's largest rabbit, a friendly-looking 10.5 kilogram "German Gray Giant" called Robert, in February 2006. Images of the chubby monster went around the world and reached the reclusive communist state of North Korea, a country of 23 million which according to the United Nations Food Programme suffers widespread food shortages and where many people "struggle to feed themselves on a diet critically deficient in protein, fats and micronutrients." Szmolinsky, 67, from the eastern town of Eberswalde near Berlin, recalls how the North Korean embassy approached his regional breeding federation and enquired whether it might be willing to sell some rabbits to set up a breeding farm in North Korea. He was the natural choice for the job.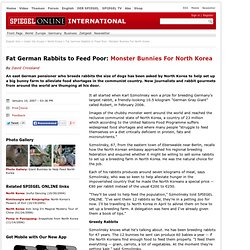 Fat German Rabbits to Feed Poor: Monster Bunnies For North Korea - SPIEGEL ONLINE - News - International
Down To Business: Dont Dismiss The iPad And Other Tablets As Just Hype --...
5 Absurd Ways Comic Books Have Resurrected Dead Superheroes | Cracked.com
Superhero comics have an inherent problem. They are intended to run indefinitely, so you can't really kill off characters. Yet we the reader need to fear for the character's lives when danger is about.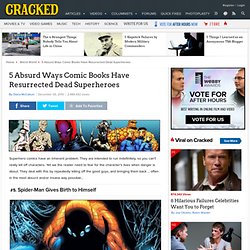 These corporations, if they were individual human beings, would be locked up for life. Instead, they continue raking in the big bucks. Human rights abuses, murder, war, eco disasters, and animal exploitation keep these evil companies raking in the green. Prepare to be disgusted. Chevron