UI / UX / Usability
Overcoming Halfhearted User Adoption
In 1996, I was a database developer at AT&T Solutions (now defunct). AT&T Solutions had two separate payroll systems, one for AT&T Solutions and one for AT&T corporate. Both were excruciatingly slow. My colleagues used to joke that we needed a separate accounting code for the time it took to enter our hours into both systems.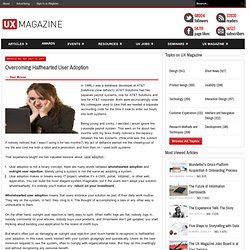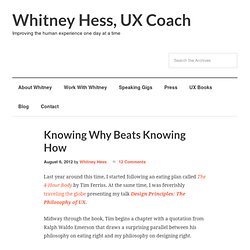 Last year around this time, I started following an eating plan called The 4-Hour Body by Tim Ferriss. At the same time, I was feverishly traveling the globe presenting my talk Design Principles: The Philosophy of UX. Midway through the book, Tim begins a chapter with a quotation from Ralph Waldo Emerson that draws a surprising parallel between his philosophy on eating right and my philosophy on designing right. "Without ambition one starts nothing. Without work one finishes nothing.
Knowing Why Beats Knowing How | Pleasure & Pain ☯ by Whitney Hess
The Elements Of Navigation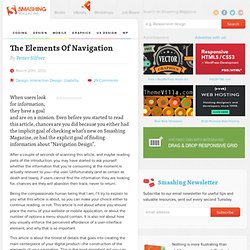 Advertisement When users look for information, they have a goal and are on a mission. Even before you started to read this article, chances are you did because you either had the implicit goal of checking what's new on Smashing Magazine, or had the explicit goal of finding information about "Navigation Design".
Guide to Website Navigation Design Patterns
In web design, there are certain common design patterns that are used for interaction. Site navigation has a wide variety of common and familiar design patterns that can be used as a foundation for building effective information architecture for a website. This guide covers popular site navigation design patterns. For each site navigation design pattern, we will discuss its common characteristics, its drawbacks, and when best to use it. Top Horizontal Bar Navigation Top horizontal bar navigation is one of the two most popular kinds of site navigation menu design patterns out there.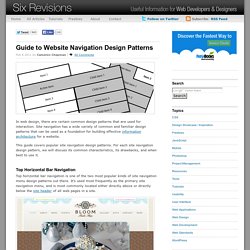 Guide to Website Navigation Design Patterns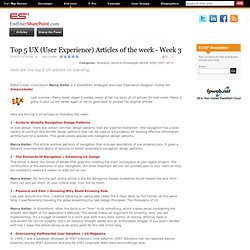 Top 5 UX (User Experience) Articles of the week - Week 3
Editor's note: Contributor Marcy Kellar is a SharePoint Strategist and User Experience Designer. Follow her @marcykellar Last summer, Marcy Kellar began a weekly series of her top picks of UX articles for that week. Marcy is going to pick up the series again so we've gone back to publish her original articles.
It's easy to get caught up in the private world of web design, spending too much time playing with the latest CSS tricks, or flipping through the coolest design showcases. You start forgetting that your work isn't all about being on the cutting edge and snagging a web design award or two. The reality is that the latest and greatest design trends are irrelevant, and sometimes even alienating, to the majority of audiences. Unfortunately, that kind of work is often only appropriate for an audience of other designers, and those projects are rare. So take a step back from trying to one-up your peers, and consider the basics.
Good Web Design Is All About The User | Tips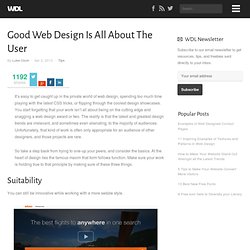 4 Reasons Your UX Investment Isn't Paying Off
Why Distinct Icon Outlines Help Users Scan Faster
by anthony on 08/04/11 at 10:05 pm Icons are visual cues that help users use interfaces more efficiently. Instead of reading each word on an interface, users can scan for the icon that represents the task they're trying to do. However, sometimes scanning icons can take longer than expected if the icons don't have distinct outlines.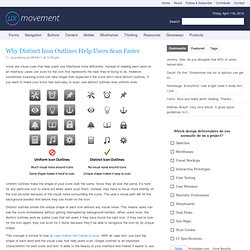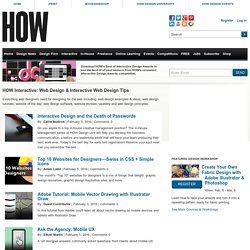 Creating a Good User Experience: Information Architecture Basics
Although I spend most of my time working out of my home studio, I recently consulted onsite at a large New York City interactive agency. At this agency, they had two soda machines from two popular soda companies. With the agency subsidy, a can of soda was only 25 cents, and I was a frequent customer. Most days, I stuck with my favorite soda, putting in a dollar, hitting the button, waiting, reaching down to get the drink, then reaching off to the right to get my change. Simple.
Learn from your customers for usable Web apps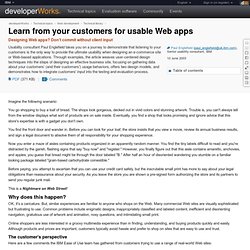 Imagine the following scenario: You go shopping to buy a loaf of bread. The shops look gorgeous, decked out in vivid colors and stunning artwork.
Designing a website user interface can be a struggle match. If you're building a small portfolio or simple blog layout there isn't as much to worry about. However an entire magazine requires featured stories and sidebar widgets and author profiles.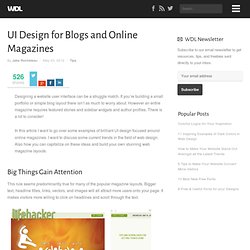 UI Design for Blogs and Online Magazines | Tips
In recent years, the aesthetic of UIs has followed a dominant ideology that attempts to replicate the physical world. With a handful of software/product updates and new releases in the last few months, we've begun to see how it might be time to find a new balance (see Clive Thompson's article in Wired and Sam Biddle's on Gizmodo. As both Thompson's and Biddle's articles describe, the philosophy that drives the majority of contemporary UIs is called skeuomorphism.
Can We Please Move Past Apple's Silly, Faux-Real UIs?
Taking this need to create personas that represent real people, with all their quirks and eccentricities and also their varied professions, to an extreme, is the technique of Design for Extreme Characters. Djajadiningrat, Gaver and Frens, in their paper Interaction Relabelling and Extreme Characters: Methods for Exploring Aesthetic Interaction present the case of creating a persona and resulting scenarios when designing a PDA. The scenario may be very detailed in terms of lifestyle. Jack likes wearing Hugo Boss suits and driving his BMW. However, from an emotional point of view Jack seems shallow and completely out of touch with the real world — apart from work, Jack is always keen to go to his next appointment, he is never tired, never bored.
Past issue - UI Design Newsletter
Get To Know Your Users
It's crucial for start-ups to know who uses their application and how. One of our goals with Intercom has been to surface this information, and have a single authoritative screen that tells you everything you'd like to know about a customer. Today, we launched that screen. You need to know your users Customer development, pro-active engagement, price testing, and surveys all work best when you have a good understanding of your customer.
The closer you are to your customers, the more relevant your product will be and the more likely you make it for people to choose you. It may seem obvious, but the gap between those that do and those that talk is widening, despite the immediate bottom-line benefits. But more than this, companies that put usefulness at the heart of what they do become part of their customers' lives.
User Experience Is The Heart Of Any Company. How Do You Make It Top Priority?
Insights for optimizing communication EyeTrackShop is powered by Sticky. Contact Sticky today to access the API Read about how we use the technology Adding Visual Performance Research to all our digital campaigns is helping us to evaluate our marketing investments in a rapidly changing environment. Krister Karjalainen, Head of Digital, Procter & Gamble Scandinavia
Cost effective Webcam eye tracking surveys | EyeTrackShop
The Anatomy of an Experience Map
Dollars And Sense: The Business Case For Investing In UI Design
A 7 Step Guide to Website Usability
What Does a UX Strategist Do?
Tools to Make You a Stronger UX Pro
Gifts for User Experience Geeks 2011
The Key To A Consistent Brand Experience: A Consistent UI
5 Ways That Your Crappy Co-Worker Is Like A Crappy UI
Nick Diakopoulos
Gifts for User Experience Geeks 2011
Why Johnny can't build a decent user interface. | The Thinker
6 health IT usability myths and realities
How to Design a Better UX Resume
Veracity Solutions Blog » UX Methodology
UI Toolkit: 300 Resources for Only $8
Design Nav Bar for Web
Best Free UI PSDs of 2011 | Freebies
10 Heuristics for User Interface Design
Guiding Principles for UX Designers
Usability Is King For Your Product. Here's How We Can Finally Measure It
DOME
CultureLab: Designs for eradicating medical mistakes
Making the Switch To Agile
Why most UX is shite
Do complex user experiences really cause 50% of product returns? - Customer Experience LabsCustomer Experience Labs
Laws of interaction design « Interaction design
Foursquare Solves A Basic UI Problem That Eludes Google Maps And Yelp
Paper and computer workarounds challenge but may improve health IT
Making Clients Part of the Design Process
The Anatomy of an Experience Map
The dangerous decade -- Coiera et al. 19 (1): 2
Computer-based safety surveillance and patient-centered health records -- Ohno-Machado 19 (1): 1
Sending the Questions to the Data
Product Development: 9 Steps for Creative Problem Solving [INFOGRAPHIC]
Idolize Bill Gates, Not Steve Jobs - Maxwell Wessel
Usability consulting and training with Human Factors International--ensuring user satisfaction through user-centered design, user experience design, human factors, and software ergonomics
The UX of User Stories, Part 1 - Anders Ramsay.com
The UX of User Stories, Part 2 - Anders Ramsay.com
Tilt Gives You 3D Visualization of a Webpage
www.ualberta.ca/~sruecker/links/07_Shiri_Thesaurus.pdf
UI Design Pattern Library
Interaction Design Association - Homepage
Impact of culture on user interface design
UXmatters :: Insights and inspiration for the user experience community
Social Patterns
UI-Patterns.com
OK and Cancel Buttons: What's the Right Order?