UI / UX / Usability
Overcoming Halfhearted User Adoption
In 1996, I was a database developer at AT&T Solutions (now defunct).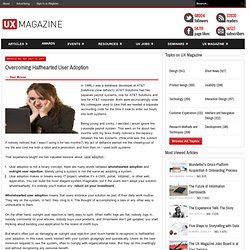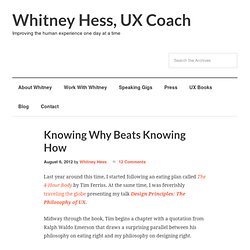 Last year around this time, I started following an eating plan called The 4-Hour Body by Tim Ferriss.
Knowing Why Beats Knowing How | Pleasure & Pain ☯ by Whitney Hess
The Elements Of Navigation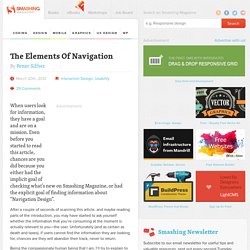 Advertisement
Guide to Website Navigation Design Patterns
In web design, there are certain common design patterns that are used for interaction. Site navigation has a wide variety of common and familiar design patterns that can be used as a foundation for building effective information architecture for a website.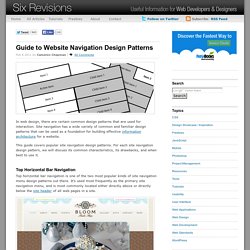 Guide to Website Navigation Design Patterns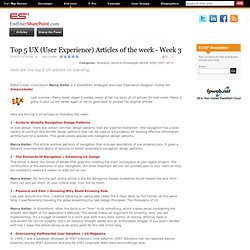 Top 5 UX (User Experience) Articles of the week - Week 3
Editor's note: Contributor Marcy Kellar is a SharePoint Strategist and User Experience Designer.
It's easy to get caught up in the private world of web design, spending too much time playing with the latest CSS tricks, or flipping through the coolest design showcases.
Good Web Design Is All About The User | Tips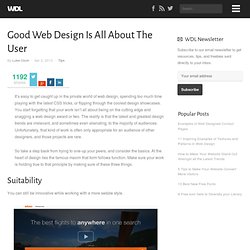 4 Reasons Your UX Investment Isn't Paying Off
Why Distinct Icon Outlines Help Users Scan Faster
by anthony on 08/04/11 at 10:05 pm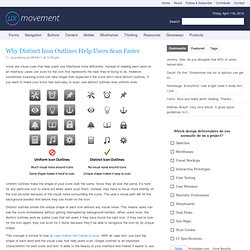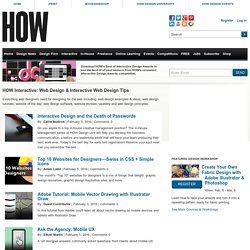 Creating a Good User Experience: Information Architecture Basics
Although I spend most of my time working out of my home studio, I recently consulted onsite at a large New York City interactive agency.
Learn from your customers for usable Web apps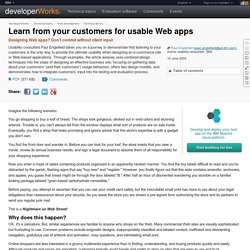 Imagine the following scenario:
Designing a website user interface can be a struggle match. If you're building a small portfolio or simple blog layout there isn't as much to worry about. However an entire magazine requires featured stories and sidebar widgets and author profiles.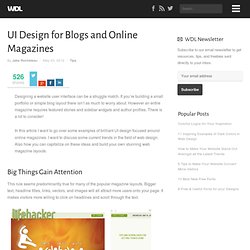 UI Design for Blogs and Online Magazines | Tips
In recent years, the aesthetic of UIs has followed a dominant ideology that attempts to replicate the physical world. With a handful of software/product updates and new releases in the last few months, we've begun to see how it might be time to find a new balance (see Clive Thompson's article in Wired and Sam Biddle's on Gizmodo. As both Thompson's and Biddle's articles describe, the philosophy that drives the majority of contemporary UIs is called skeuomorphism.
Can We Please Move Past Apple's Silly, Faux-Real UIs?
Taking this need to create personas that represent real people, with all their quirks and eccentricities and also their varied professions, to an extreme, is the technique of Design for Extreme Characters.
Past issue - UI Design Newsletter
Get To Know Your Users
It's crucial for start-ups to know who uses their application and how.
The closer you are to your customers, the more relevant your product will be and the more likely you make it for people to choose you. It may seem obvious, but the gap between those that do and those that talk is widening, despite the immediate bottom-line benefits. But more than this, companies that put usefulness at the heart of what they do become part of their customers' lives.
User Experience Is The Heart Of Any Company. How Do You Make It Top Priority?
Cost effective Webcam eye tracking surveys | EyeTrackShop
The Anatomy of an Experience Map
Experience maps have become more prominent over the past few years, largely because companies are realizing the interconnectedness of the cross-channel experience. It's becoming increasingly useful to gain insight in order to orchestrate service touchpoints over time and space. But I still see a dearth of quality references. When someone asks me for examples, the only good one I can reference is nForm's published nearly two years ago.
Dollars And Sense: The Business Case For Investing In UI Design
A 7 Step Guide to Website Usability
What Does a UX Strategist Do?
Tools to Make You a Stronger UX Pro
Gifts for User Experience Geeks 2011
The Key To A Consistent Brand Experience: A Consistent UI
5 Ways That Your Crappy Co-Worker Is Like A Crappy UI
Nick Diakopoulos
Gifts for User Experience Geeks 2011
Why Johnny can't build a decent user interface. | The Thinker
6 health IT usability myths and realities
How to Design a Better UX Resume
Veracity Solutions Blog » UX Methodology
UI Toolkit: 300 Resources for Only $8
Design Nav Bar for Web
Best Free UI PSDs of 2011 | Freebies
10 Heuristics for User Interface Design
Guiding Principles for UX Designers
Usability Is King For Your Product. Here's How We Can Finally Measure It
DOME
CultureLab: Designs for eradicating medical mistakes
Making the Switch To Agile
Why most UX is shite
Do complex user experiences really cause 50% of product returns? - Customer Experience LabsCustomer Experience Labs
Laws of interaction design « Interaction design
Foursquare Solves A Basic UI Problem That Eludes Google Maps And Yelp
Paper and computer workarounds challenge but may improve health IT
Making Clients Part of the Design Process
The Anatomy of an Experience Map
The dangerous decade -- Coiera et al. 19 (1): 2
Computer-based safety surveillance and patient-centered health records -- Ohno-Machado 19 (1): 1
Sending the Questions to the Data
Product Development: 9 Steps for Creative Problem Solving [INFOGRAPHIC]
Idolize Bill Gates, Not Steve Jobs - Maxwell Wessel
Usability consulting and training with Human Factors International--ensuring user satisfaction through user-centered design, user experience design, human factors, and software ergonomics
The UX of User Stories, Part 1 - Anders Ramsay.com
The UX of User Stories, Part 2 - Anders Ramsay.com
Tilt Gives You 3D Visualization of a Webpage
www.ualberta.ca/~sruecker/links/07_Shiri_Thesaurus.pdf
UI Design Pattern Library
Interaction Design Association - Homepage
Impact of culture on user interface design
The Language of Interfaces
UXmatters :: Insights and inspiration for the user experience community
Social Patterns
UI-Patterns.com
OK and Cancel Buttons: What's the Right Order?