mHealth
3 mHealth changes in developing nations. Developments in healthcare are usually seen as a first-world matter.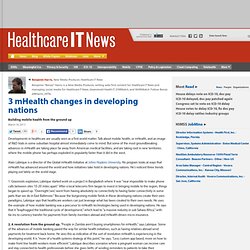 Talk about mobile health, or mHealth, and an image of R&D trials in some suburban hospital almost immediately come to mind. But some of the most groundbreaking advances in mHealth are taking place far away from American medical facilities, and are taking root in new territories where the mobile phone has perhaps exploded in popularity faster than it did in the west. Alain Labrique is a director of the Global mHealth Initiative at Johns Hopkins University. His program looks at ways that mHealth has advanced around the world and how initiatives take hold in developing nations.
He's noticed three trends playing out lately on the world stage. Topol talks healthcare's digital future. The man once hailed by GQ Magazine as one of the 12 "rock stars of science" doesn't predict a rosy future for hospitals or medical clinics.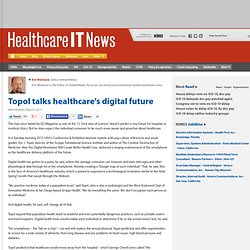 But he does expect the individual consumer to be much more aware and proactive about healthcare. In a Tuesday morning 2013 HIMSS Conference & Exhibition keynote replete with pop culture references and visual guides, Eric J. Topol, director of the Scripps Translational Science Institute and author of The Creative Destruction of Medicine: How the Digital Revolution Will Create Better Health Care, delivered a ringing endorsement of the smartphone as the healthcare delivery platform of the future.
Digital health has gotten to a point, he said, where the average consumer can measure and track vital signs and other physiological data through his or her smartphone, thereby creating a "Google map of each individual. " Mobile health won't replace need for doctors, mHealth champion says. Some fear mobile healthcare could replace the need for doctors, in some cases, but according to Patricia Mechael, executive director of the mHealth Alliance, mHealth will only help doctors make better decisions.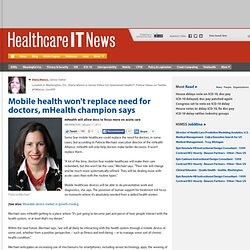 It won't replace them. "A lot of the time, doctors fear mobile healthcare will make their care redundant, but this won't be the case," Mechael says. "Their role will change and be much more systematically refined. They will be dealing more with acute cases than with the routine types. "
Healthrageous aims to bridge gap between B2B and B2C. Telcare Blood Glucose Meter Digital health management company Healthrageous is teaming with health insurer Highmark to test the latest iteration of its behavior modification program for type 2 diabetes.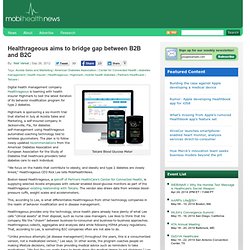 Highmark is sponsoring a six-month trial that started in July at Acosta Sales and Marketing, a self-insured company in Jacksonville, Fla., for diabetes self-management using Healthrageous automated coaching technology tied to wireless glucometers. As more consumers connect, mHealth market soars. The number of adults using mobile phones and tablets for health information has risen exponentially from last year, according to the findings of a new study conducted by Cybercitizen Health and Manhattan Research.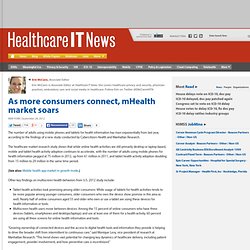 The healthcare market research study shows that while online health activities are still primarily desktop or laptop-based, mobile and tablet health activity adoption continues to accelerate, with the number of adults using mobile phones for health information pegged at 75 million in 2012, up from 61 million in 2011, and tablet health activity adoption doubling from 15 million to 29 million in the same time period. [See also: Mobile health app market in growth mode.] Other key findings on multiscreen health behaviors from U.S. 2012 study include: Tablet health activities look promising among older consumers: While usage of tablets for health activities tends to be more popular among younger consumers, older consumers who own the device show promise in this area as well. How Big Data and mHealth will help feed clinical decision support. If nationwide efforts to build out HIT infrastructure continue as policy and vendor leaders think they will, meaningful use and health reform initiatives will work in tandem to support health information exchange.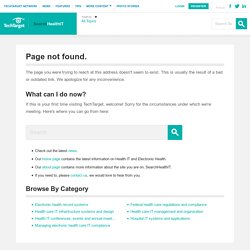 This will enable accountable care organizations and other programs, through which patients have a "medical home" where their primary care physicians manage care. This will require complex IT underpinnings to manage an individual patient's care. As physicians collect data either on their own and enter it into a patient's electronic health record (EHR) or from other sources such as mHealth apps or the patient's Internet-connected home computer, software will run the data through analytics systems.
Mobile Health Revolution: Doctors And Patients Disagree - Healthcare - Mobile & Wireless. Many doctors frown on consumers' interest in mobile health, says PwC report.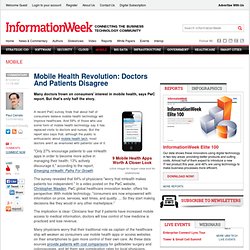 But that's only half the story. 9 Mobile Health Apps Worth A Closer Look (click image for larger view and for slideshow) VA is launching iPad patient study to evaluate healthcare benefits of tablet use. The VA administration is now testing out various applications and pilot programs that utilize tablets in different ways.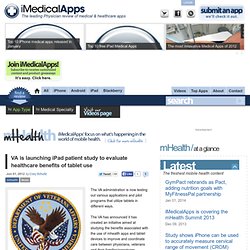 The VA has announced it has created an initiative aimed at studying the benefits associated with the use of mhealth apps and tablet devices to improve and coordinate care between physicians, veterans and their families/caregivers. The Department of Veterans Affairs has been embracing mHealth for awhile now with the goal of improving the outcomes of its veterans. In fact, we have previously reported that the VA is giving out iPhones and iPads to its hospitals for physicians to securely access patient records. 5 Ways Mobile Tech Can Improve Your Health. Edna Boone is the senior director of mHIMSS, the mobile health initiative behind HIMSS, the non-profit devoted to the improvement of health through technology.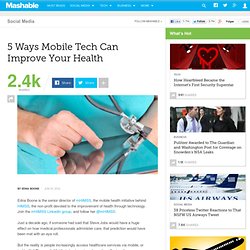 Join the mHIMSS LinkedIn group, and follow her @mHIMSS. Just a decade ago, if someone had said that Steve Jobs would have a huge effect on how medical professionals administer care, that prediction would have been met with an eye roll. But the reality is people increasingly access healthcare services via mobile, or "mHealth." The result: Mobile is having a transformative effect on the way physicians and nurses care for patients. It's also impacting how consumers manage their own health and well-being. mPowering Frontline Health Workers. Accelerating the use of cost‐effective mobile technologies to end preventable child deaths Thursday, June 14, 2012 Public Information 202-712-4810 WASHINGTON, D.C.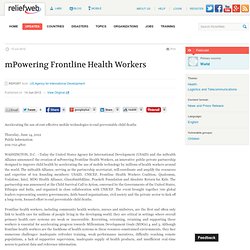 –Today the United States Agency for International Development (USAID) and the mHealth Alliance announced the creation of mPowering Frontline Health Workers, an innovative public‐private partnership designed to improve child health by accelerating the use of mobile technology by millions of health workers around the world. mHealth: There When You Need It. A couple of weeks back, Neil Versal wrote an interesting article for mobihealthnews on mHealth App development and adoption trends. While agreeing with some of the thesis of his argument, that many Apps have little relevance to the broader populace and seem to be more focused on the Quantified Self geeks, there are a couple of points he made that give a false impression of what our research and personal experience have found in this emerging market. First, there was the argument that those who may be in the greatest need of using an mHealth App to manage a chronic condition may not have the wherewithal to identify and use an App.
This is true for pretty much the entire population and not only those with a chronic disease. mHealth Infographic_Float_Final.jpg (816×2640) Smart phones, iPads may be distracting, Halamka warns. WASHINGTON | Mike Miliard | April 18, 2014 | 11:13 AM | Business Intelligence, Data Warehousing, Quality and Safety Effective use of analytics is "not something you can buy from a vendor; it's an organizational and cultural value that has to grow and mature," said James E. Gaston, speaking Thursday at the Healthcare IT News/HIMSS Media Healthcare Business... More Erin McCann | April 18, 2014 | 11:11 AM | Mobile/Wireless, Workforce Management, Financial/Revenue Cycle Management. [GRAPHIC] Don't Call The Mobile Healthcare Revolution A Revolution - Yet. Earlier this week, Float Mobile Learning released an info graphic making a promise that we've heard before: that the market for mobile health care is about to "explode.
" And why shouldn't it? See the bottom of this post for the full infographic, but some of the highlights include the fact that 80% of doctors already use smartphones, tablets and mobile apps and 40% believe the apps can reduce office visits. Before we declared yet another cancer-curing victory for mobile tech, however, we decided to check in with some third-party sources. Smartphones more accurate, faster, cheaper for disease surveillance. Public release date: 12-Mar-2012 [ Print | E-mail Share ] [ Close Window ] Contact: Jim Sliwajsliwa@asmusa.org 202-942-9297American Society for Microbiology Smartphones are showing promise in disease surveillance in the developing world.
The Kenya Ministry of Health, along with researchers in Kenya for the Centers for Disease Control and Prevention, found that smartphone use was cheaper than traditional paper survey methods to gather disease information, after the initial set-up cost. Catalyzing the mHealth ecosystem, Paul Sonnier and the Wireless Health LinkedIn Group. Paul Sonnier has established himself as one of the most influential voices in the wireless and mobile health field. He wears several hats, including mentor at health startup accelerator Blueprint Health, head of Digital Health Strategy at health consultancy Popper & Co and past VP at the Wireless-Life Sciences Alliance, an industry consortium.
However, he is probably best known for founding and nurturing the 9,000+ member Wireless Health LinkedIn Group. This remarkable aggregation of people with domain expertise in mobile health is often where the latest developments in this fast moving sector are discussed and dissected. 5 mobile trends for 2012. mHealth Summit – Striking insights on remote monitoring for patients with cardiovascular disease. McKesson's "Mobilizing For Health" research grant program accepting applicants through March 2012.
mHealth News Briefs. mHealth app market has best year yet, reaching $718 million in 2011. Bangladesh: Mobile technology boosts health care. The perils of mobile health. The perils of mobile health. Google set to revolutionize mHealth and medicine with Google Glasses? Introducing mHealth by iMedicalApps. How to get the most out of mHealth. New breakthrough allows glucose to be measured in saliva, avoiding finger sticksh. Proposed clinical trial for mobile phone app and pedometer to test effectiveness of physical intervention programs. Physicians in Australia set to launch academic journal focused on mHealth.
Physicians in Australia set to launch academic journal focused on mHealth. mHealth News Briefs. Healthbox unveils new class of health IT startups. Healthrageous is finding opportunity in the quantified self business, anticipating big 2012 #mhs11. Mobile health IT: The effect of user interface and form factor on doctor–patient communication. iPhone blood glucose monitor makes big news with FDA clearance, but where does it fit in? Docs Have iPad Fever: Is There A Cure? - Healthcare - Mobile & Wireless. Physicians in Scotland use iPhone 4 and Skype to remotely manage lung and pleural ultrasound. mHealth: Seemingly Stuck in Neutral. The nuts and bolts of how to make remote monitoring work #mHS11. Surgeon General Announces Healthy App Challenge | News | Healthcare Informatics.
HIMSS Launches Mobile Health IT Project - Healthcare - Mobile & Wireless. Venture Fair experts: The timing is right for mHealth entrepreneurs. 2011 mHealth Summit opens with all-star keynote speakers. 11 'inspiring' mhealth innovators. Sebelius lauds smartphones at mHealth Summit. Qualcomm: new mHealth company. Dr. or pt? Who will drive mHealth? Business Model Challenges for the Deployment of mHealth Solutions: The Provider Perspective. Nanotechnology Puts a Medical Lab in Your Hand. mHealth downloads expected to reach 44 million by 2012, exponentially growing to 142 million by 2016. Mobile is not the future. It's now.
---