HIT Trends
The Entrepreneurial Clinician: What Clinicians with Great Ideas for Health Care Mobile Apps Need to Know. Anne Giles Clelland, President of Handshake Media – the Home of Cognichoice by Anne Giles Clelland, President of Handshake Media, Incorporated Anne presented "The Entrepreneurial Clinician: What Clinicians with Great Ideas for Health Care Mobile Apps Need to Know" during the mHealth Summit on December 5, 2012.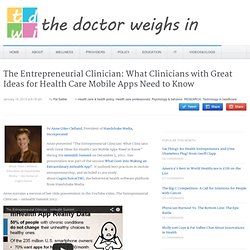 5 Steps To Designing A Better Health Care System. If you want to know what's ailing the U.S. health care system, just ask the person next to you.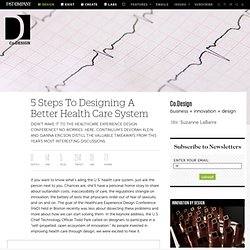 Chances are, she'll have a personal horror story to share about outlandish costs, inaccessibility of care, the regulations strangle on innovation, the battery of tests that physicians order out of fear of lawsuits, and on and on. The goal of the Healthcare Experience Design Conference (HxD) held in Boston recently was less about dissecting these problems and more about how we can start solving them. In the keynote address, the U.S. 4 keys to maintaining IT initiatives and a healthy hospital culture. It's no secret CIOs are busy as ever, dealing with everything from to ICD-10 to meaningful use to staff burnout and more.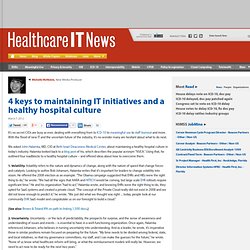 With the flood of new IT and the uncertain future of the industry, it's no wonder many are hesitant about what to do next. We asked John Halamka, MD, CIO at Beth Israel Deaconess Medical Center, about maintaining a healthy hospital culture in today's industry. Halamka looked back to a blog post of his, which describes the popular acronym "VUCA. " The Changing Priorities Of A New Generation Of Physicians. November 15th, 2011 by Shadowfax in Opinion Doctors are, famously, workaholics.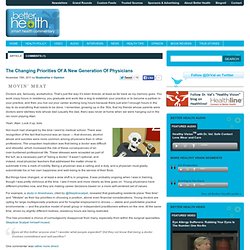 That's just the way it's been forever, at least as far back as my memory goes. You work crazy hours in residency, you graduate and work like a dog to establish your practice or to become a partner in your practice, and then you live out your career working long hours because there just aren't enough hours in the day to do everything that needs to be done. Booz Allen identifies 9 ways IT is transforming healthcare. As healthcare moves into a new era of efficiency, effectiveness and improved patient outcomes through health information technology, consulting firm Booz Allen Hamilton has identified the top nine ways health IT is transforming healthcare.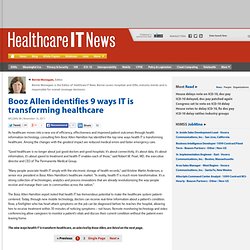 Among the changes with the greatest impact are reduced medical errors and faster emergency care. "Good healthcare is no longer about just good doctors and good hospitals; it's about connectivity, it's about data, it's about information, it's about speed to treatment and health IT enables each of those," said Robert M. Pearl, MD, the executive director and CEO of The Permanente Medical Group. 7 Observations About The Next Generation Of Physicians. November 23rd, 2011 by Berci in Opinion For the last 4 years, I've been teaching medical and public health students about the use of social media and generally digital technologies in medicine and healthcare and I got a good picture of what kind of medical professionals they would become soon.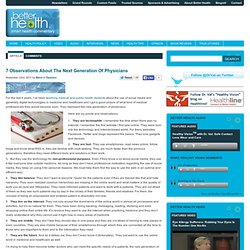 They represent the new generation of physicians. Here are my points and observations: They are technophile. I remember the time when there was no internet, I remember the first website I first saw online. One surgeon's take on need for culture change in medicine. Atul Gawande, MD, a surgeon, public health researcher and a writer for The New Yorker, advocates a mindset switch from docs as cowboys to docs as pit crews.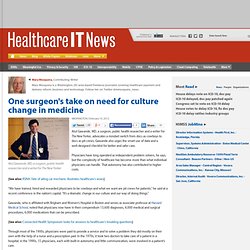 Gawande also urges the smart use of data and a well-designed checklist for better and safer care. Physicians have long operated as independent problem solvers, he says, but the complexity of healthcare has become more than what individual physicians can handle. That autonomy has also contributed to higher costs. New book, 'The Creative Destruction of Medicine,' outlines digital health care revolution.
Public release date: 18-Jan-2012 [ Print | E-mail Share ] [ Close Window ] Contact: Steve Carpowichcarpowich.stephen@scrippshealth.org 858-678-7183Scripps Health.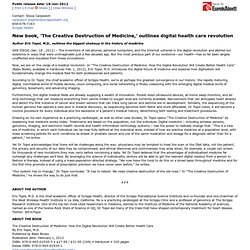 MHS glimpses HIT future. In a session so crowded that conference officials closed the doors and effectively locked attendees out, Military Health System acting CIO Karen Guice, MD, offered a glimpse of the future of MHS health IT.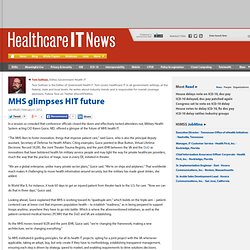 "The MHS likes to foster innovation, things that improve patient care," said Guice, who is also the principal deputy assistant, Secretary of Defense for Health Affairs. Citing examples, Guice pointed to Blue Button, Virtual Lifetime Electronic Record (VLER), the Joint Theater Trauma Registry, and the joint iEHR between the VA and the DoD as innovations that have bolstered health for military service people and may light the way for private healthcare providers, much the way that the practice of triage, now in every ER, initiated in theater.
"We are a global enterprise, unlike many private sector plans," Guice said. Natural Language Processing Takes Center Stage In EHRs - Healthcare - Electronic Medical Records. NLP tied to speech recognition software can help physicians enter structured data into computers more easily. 12 EHR Vendors That Stand Out (click image for larger view and for slideshow)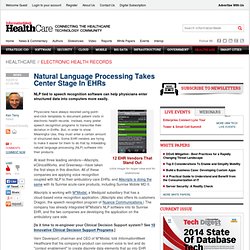 Daniel Kraft Gives You a Peek of the Future of Medicine at TEDMED. Modern healthcare is sick, but Dr. Daniel Kraft knows a little something about the cure. At the 2011 TEDMED conference in San Diego, the stem cell researcher gave a great overview on the emerging trends which are poised to play a big role in how medicine develops in the decades ahead. Mobile platforms, 24 hour at home monitoring, artificial intelligence, social networking, massive data collection, crowd-sourcing – Kraft expounds upon them all with his characteristic charm and humor.
Technological singularity. The technological singularity, or simply the singularity, is a hypothetical moment in time when artificial intelligence will have progressed to the point of a greater-than-human intelligence, radically changing civilization, and perhaps human nature.[1] Because the capabilities of such an intelligence may be difficult for a human to comprehend, the technological singularity is often seen as an occurrence (akin to a gravitational singularity) beyond which the future course of human history is unpredictable or even unfathomable. The first use of the term "singularity" in this context was by mathematician John von Neumann. PwC study spotlights key role for clinical informatics. A new report from PwC US Health Research Institute (HRI) shows how clinical informatics could be a crucial tool to fostering better population health and reducing healthcare costs. Key to those benefits is for providers to use informatics to engage patients in managing their own health, the study found.
The report also suggests that health organizations view clinical informatics – the integration of information technology into healthcare – as paramount to their financial success and ability to effectively and affordably manage patient care and wellness. [See also: Clinical informatics becomes a board-certified medical subspecialty.] Nonetheless, few health organizations have found ways of using health information to engage patients in managing their own health. Nuance offers $25,000 for medical apps that use speech recognition technology. Recently, Nuance Healthcare announced the 2012 Mobile Clinician Voice Challenge which encourages healthcare software developers to integrate speech recognition into mobile or Web-based health care applications. Nuance is a company that creates speech recognition and processing software. Their most widely recognized product includes the Dragon dictation line of speech recognition software, the family of Dragon Medical products which enables dictation and real-time transcription of medical documents.
We also recently talked about how their language processing software is being paired with IBM's Watson to revolutionize decision support. Basically, the idea of the contest is to promote the speech-enabling of web-based and mobile medical apps using the HIPAA-secure, cloud-based, Nuance Healthcare Development Platform. Developers will use the Nuance Healthcare Development Platform to integrate Nuance SpeechAnywhere into mobile health care applications. Lessons Learned from China. On Sunday I returned from a week in Shanghai and Hangzhou. A remarkable trip that included daily meetings with government, academic, and clinical leaders.
What did I learn? U.S. Leads In Healthcare IT Adoption - - HIMSS. Interactive: A status report on health information technology in the states. HIT Trends Summary for April 2011. 8 trends for a changing healthcare workforce. MHS glimpses HIT future. The Creative Destruction of Medicine by Eric Topol.
---