Typho
Galleries - Typography - Typography Friday - Fubiz™ Axytrix on deviantART. 50 New Examples Of Beautiful Typography Inspiration. As many of you know, typography represents the art and techniques of arranging type, but besides that, typography is a useful channel through which you can communicate powerful ideas thanks to the various type treatments that transform a simple text into an expressive image.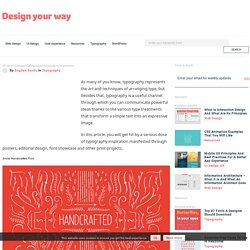 In this article, you will get hit by a serious dose of typography inspiration manifested through posters, editorial design, font showcase and other print projects. Life Hip Hop Live The city is at war. Typography Served :: Gallery. Typography Design and Inspiration | TypeInspire. Great typography inspiration. Two New Fonts! Newsletter | July 4, 2012. Meet the American type designer whose 100+ typefaces include Goudy Oldstyle, the graceful, easy-reading serif that Harpers Magazine still uses for text, and Copperplate Gothic, a gothic/serif hybrid over a century old and still on your lawyer's business card.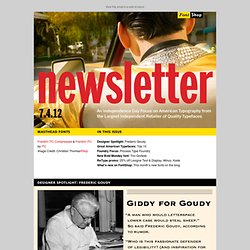 Prolific and experimental, Goudy's (b. 1865, d. 1947) life and career mirrors the period of U.S. history between the Civil War and World War II. Known as one of the world's greatest type designers in 1933, when the New Yorker profiled him as "Glorifier of the Alphabet," Goudy advocated harmony and simplicity in design. He championed beauty and refinement — but not at the expense of personality. In fact, says FontShop Type Expert David Sudweeks, "You can tell it's Goudy before you're close enough to read it." If we had our way, Goudy would be on the list of all-American highlights we cheer about at Fourth of July picnics, right up there with baseball, apple pie, and backyard fireworks. Newsletter | May 16, 2012. Stefan Claudius and Thomas Schostok's short-run PDF magazine, Beast, lived fast and died young.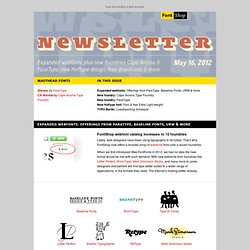 (All 12 issues, from 2001-02, are archived here.) What Frank Gehry's swooped, curvy roof lines are to architecture, Beast was to fonts. It threw the rules about spacing and kerning into a blender. It featured hand-drawn fonts so buzzy they looked like they could electrocute unprotected skin. The artists mashed their caffeinated fonts with bold doodles alluding to the industrial roots of their home city, Essen, Germany, while blazing a trail straight to the future of typography. Identifont - Identify fonts by appearance, find fonts by name.
MainType - the best font manager I've ever seen. MainType makes it simple to find, preview, organize, install, and print your fonts.
MainType supports all common font formats: TrueType, OpenType, TrueType Collections, and Postscript Type 1 fonts. Unlike simple font preview applications, MainType is designed for graphic artists, typographers, and other power users who demand high-end functionality such as network support, plug-ins, advanced categorizing, searching capabilities, and fast searches for the fonts that you need. Customizable layout MainType uses an advanced docking system that allows you to configure the layout the way you want!
Whether you want your panels hidden, docked, floating or in tabs it's all possible. 50 Inspirational Typographic Poster Designs. The art of the typeface, from the typographer who creates them down to the designer who meticulously meddles with settings to get them just right in their designs — from the size to the letter spacing to the line length — is a complicated one.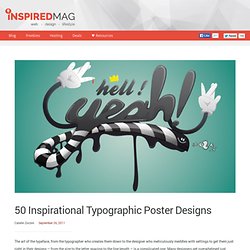 Many designers get overwhelmed just trying to get the typography right on simple websites. But here we have 50 typographic posters where the art lies in not just getting the letters right, but using them to paint the picture. These posters were made by masters of typography, and showcases the letters themselves at the forefront in a way no book or website does. Take a look at this collection of inspirational typographic poster designs for your own inspiration. Newsletter | FontFont Release 59 | May 9, 2012. Creating graphs within design applications was inherently frustrating until designer Travis Kochel got a hold of that problem, recognizing OpenType technology an opportunity to simplify the process.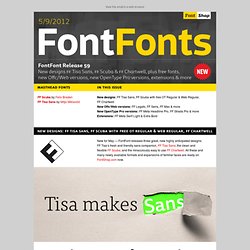 His solution, FF Chartwell, uses OpenType features and automatically transforms simple strings of numbers into charts. The data remains in a text box, allowing for easy updates and styling. Using the letters A-F, you can define the grid for Rose, Rings, and Radar. 40 Free Fonts for Big Bold Headlines. Excellent typography looks attractive while it remains completely functional.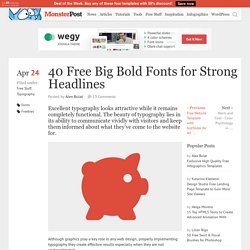 The beauty of typography lies in its ability to communicate vividly with visitors and keep them informed about what they've come to the website for. Although graphics play a key role in any web design, properly implementing typography they create effective results especially when they are not underestimated. In this post we've focused on the fonts that are best to be used for bright and snazzy headlines. Headline is the first part that makes an impression on the reader/web user.
Typography Treatment: Understanding the Basics with TemplateMonster's Templates. Typography in web design is an extremely challenging task since it involves a lot of creativity and sensibility.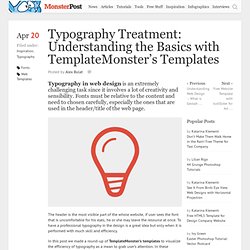 Fonts must be relative to the content and need to chosen carefully, especially the ones that are used in the header/title of the web page. The header is the most visible part of the whole website, if user sees the font that is uncomfortable for his eyes, he or she may leave the resource at once. To have a professional typography in the design is a great idea but only when it is performed with much skill and efficiency. In this post we made a round-up of TemplateMonster's templates to visualize the efficiency of typography as a mean to grab user's attention. Typographica. Type Reviews, Books, Commentary. FontShop. The World's Best Fonts. Typographer's Glossary. Serif: Serif's are semi-structural details on the ends of some of the strokes that make up letters and symbols.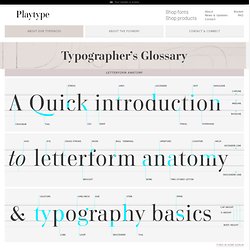 A typeface that has serifs is called a serif typeface (or seriffed typeface). Some of the main classifications of Serif type are: Blackletter, Venetian, Garalde, Modern, Slab Serif, Transitional, and Informal. Fonts in each classfication share certain similiar characteristics including the shape or appearance of their serifs. Serif fonts are widely used in traditional printed material such as books and newspapers. Show all Serif Didone is a typeface classification characterized by slab-like serifs without brackets; vertical orientation of weight axes. Typetoken® | Showcasing & discussing the world of typography, icons and visual language.
What Font is. 26+ » Melbourne. Melbourne ist eine Sans-Serif Schrift mit moderner Anmutung deren erste Entwürfe 2008 in Australien während eines Auslandssemesters entstanden.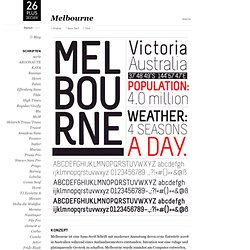 Intention war eine ruhige und platzsparende Grotesk zu schaffen. Melbourne wurde zunächst am Computer entworfen, dann von Hand überarbeitet und anschließend eingescannt und reingezeichnet. VAL Stencil on the Behance Network. Dekar Free Font. /View License/ Description: Dekar free font is applicable for any type of graphic design – web, print, motion graphics etc and perfect for t-shirts and other items like posters, logos. Languages: Afrikaans, Alsatian, Basque, Bislama, Breton, Catalan, Chamorro, Danish, Dutch, English, Faroese, Finnish, Flemish, Franco-Provencal, French, Frisian, Friulian, Galician, German, Greenlandic, Icelandic, Indonesian, Irish, Italian, Ladin, Latin, Luxembourgish, Malay, Manx Gaelic, Norwegian (Bokmål), Norwegian (Nynorsk), Occitan, Portuguese, Rhaeto-Romance, Romansh, Sami (Inari), Sami (Lule), Sami (Northern), Sami (Skolt), Sami (Southern), Scottish Gaelic, Spanish, Swahili, Swedish, Tagalog, Walloon, Welsh Format: Opentype (.otf) Compatible: PC & Mac Details: 162 Character Set, Manual Kerning, Tracking / Pairs Price: Free With your donation we'll be able to spend more time to improve and update our free fonts.
35 Vintage and Retro Free Fonts for Your Designs. One of the most important elements of the web designing is the Typography which can change a normal art into an attractive and an elegant piece of art. The most recent and the popular design trend are the retro styled fonts or elements. The right selection and the proper usage of the fonts or typography play an important role in conveying the appropriate message to the clients. The latest trend and techniques of using the retro and vintage script fonts have become very popular in the recent years almost in majority of the small and large scale corporate designs, blogs, online stores, and portfolios.
Whenever, you try to use the old style of fonts or designs in any work, it gives an appealing and a creative effect and also uniquely stands out from other works. Usually, the retro styles denote the designs that were popular during the years 1910s to 1930s and when such retro free fonts are used in recent designs, it gives old fashioned personalities, trends, or any objects of the past.
Manteka on the Behance Network. Cubic Sans | To Type Away. Arvil. Accent™ Free Display Typeface on the Behance Network. Matchbook Typefaces | One by Four. Newsletter | February 15, 2012. 20 Free Fonts Ideal For Logos And Headings. 40 Free Fonts Ideal For Retro And Vintage Designs.
Lost Type Co-op | Browse Fonts. Handpicked free fonts for graphic designers with commercial-use licenses. The League of Moveable Type. Newsletter | December 21, 2011. Smashing Magazine.
---