Social media
Solution de social CRM - Helpdesk - FAQ dynamique pour améliorer votre relation client sur internet | Smart Tribune
Social Media Club FR (SMCFrance) sur Twitter
La veille du Social Media Club France
Social CRM platform, social analytics dashboard, social monitoring
Réseaux sociaux : la parodie comme arme de dédramatisation massive ?
Cet article a été publié il y a 4 mois 5 jours, il est possible qu'il ne soit plus à jour. Les informations proposées sont donc peut-être expirées. Dans le petit monde des "gourous" du web social l'heure est grave.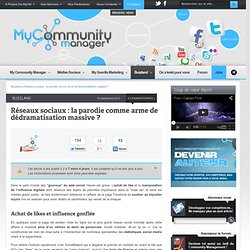 / Si vous cherchez la version française de cet article, elle est là : Panorama des médias sociaux 2013 / Every year for the last 5 years, I publish a social media landscape (see past editions from 2008, 2009, 2011 and 2012). I assume I won't teach you anything by saying social media are now part of every day life of individuals, brands, organizations and media (journalists, celebrities, politicians…). Once considered with disdain, social platform like Wikipedia or Twitter have completely changed or way to consume and interact with information. Services like YouTube or Facebook also transformed the way we entertain ourselves.
Social Media Landscape 2013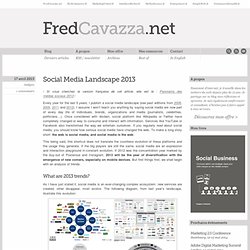 Coco Rocha (cocorocha
Our patent-pending Sonar trend visualization spotlights emerging trends and makes sense of fast-moving streams of messages and conversations. Sonar gets you up to speed immediately, reveals which trends matter most and how they are connected, and shows you new topics as they emerge and grow in real-time. Discover the "unknown unknowns" that you couldn't possibly guess or know about in advance, right at the instant they emerge and start to resonate. No more scrolling to catch up, no more searching for hashtags or topics, no more hunting for messages that matter.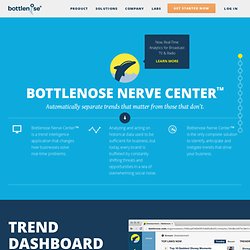 A Smarter Way To Surf The Stream
Microsoft rachète Yammer, réseau social d'entreprise, pour 1,2 milliard de dollars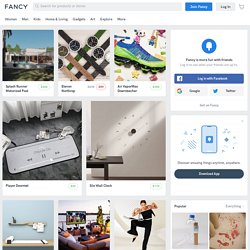 Welcome to Fancy! Discover amazing stuff, collect the things you love, buy it all in one place. Fancy it Fancy it Fancy it Fancy it Fancy it Fancy it Fancy it ronytexasranger Perfect for this summer! Fancy it Fancy it Fancy it Fancy it Fancy it Fancy it Fancy it Fancy it Fancy it Fancy it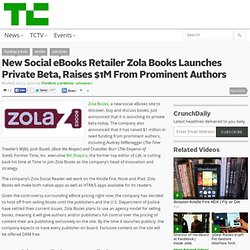 Zola Books, a new social eBooks site to discover, buy and discuss books, just announced that it is launching its private beta today. The company also announced that it has raised $1 million in seed funding from prominent authors, including Audrey Niffenegger (The Time Traveler's Wife), Josh Bazell, (Beat the Reaper) and Chandler Burr (The Emperor of Scent). Former Time, Inc. executive Bill Shapiro, the former top editor of Life, is cutting back his time at Time to join Zola Books as the company's head of innovation and strategy.
New Social eBooks Retailer Zola Books Launches Private Beta, Raises $1M From Prominent Authors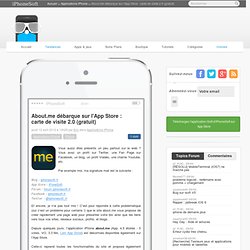 Vous aussi êtes présents un peu partout sur le web ? Vous avez un profil sur Twitter, une Fan Page sur Facebook, un blog, un profil Viadéo, une chaîne Youtube, etc. Par exemple moi, ma signature mail est la suivante : Blog : iphonesoft.frApp Store : iFoneSoftForum : forum.iphonesoft.frFacebook : iphonesoft.frTwitter : @iphonesoft_fr Et encore, je n'ai pas tout mis ! C'est pour répondre à cette problématique (oui c'est un problème pour certains !)
About.me débarque sur l'App Store : carte de visite 2.0 (gratuit) - Applications iPhone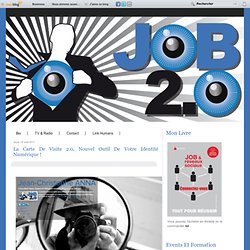 La Carte de visite 2.0, nouvel outil de votre Identité numérique
Et dire qu'il y a encore quelques années, les 2 seuls outils de communication d'un candidat étaient son CV et sa carte de visite, tous les 2 en mode papier ! Le CV permet bien entendu de faire clairement acte de candidature de façon spontanée, en réponse à une annonce ou sur un Salon de Recrutement. Trop rarement utilisée et même méconnue par les personnes en recherche d'emploi, la carte de visite est pourtant l'outil pro par excellence. Elle permet de laisser une trace à son interlocuteur lors d'un entretien Réseau ou lors d'un Salon de Recrutement quand cet interlocuteur n'a pas de besoin correspondant au profil du candidat à l'instant T du Salon. Pour rendre cette carte de visite dynamique, je recommande souvent d'y mettre l'URL de son profil Viadeo / Linkedin ou de son CV Doyoubuzz.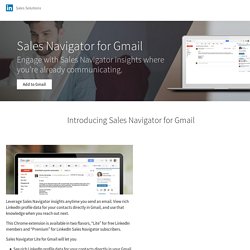 Use your favorite apps inside Rapportive. MailChimp Powerful e-mail marketing. Instantly see your members' ratings, opens and clicks. Bantam Live Team Workspace with Contact Management, CRM, and Social Network integrations.
Rapportive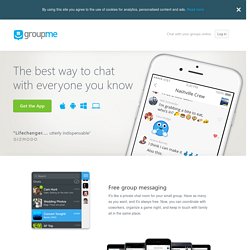 They say more than a sentence ever could. Snap a pic on the go or share an old one to relive some memories together. Share the sights and sounds of your life as it happens. Take a video right from the app, or upload an old memory to share with your friends.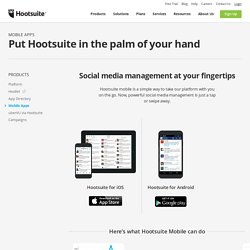 HootSuite for mobile is a simple way to take our platform with you on the go. Now, powerful social media management is just a tap or swipe away. Here's what HootSuite for Mobile can do
iPad Mobile App for Social Media Management
Description Flipboard is your personal magazine. It is the most popular way to catch up on the news you care about, discover amazing things from around the world, or stay connected to the people closest to you.
Enquête 2012 sur les community managers
Cet article a été publié il y a 1 an 11 mois 24 jours, il est possible qu'il ne soit plus à jour. Les informations proposées sont donc peut-être expirées. L'enquête sur les community managers en France avait réuni plus de 450 réponses en 2011. RegionsJob et ANOV AGENCY viennent de lancer l'édition 2012 de cette étude. L'idée est de mieux définir le profil du community manager, ses missions, son salaire, son intégration dans l'entreprise mais aussi les évolutions que le métier a connu ces derniers mois.
Path confirme la levée de 30 millions de dollars
Anybeat
Leminiréseau des enfants Les réseaux sociaux, c'est comme le vélo, il faut être accompagné avant de se lancer seul.A découvrir dès maintenant ! Leminiréseau des enseignants Leminiréseau est conçu pour vous et pour vos élèves. Découvrez comment utiliser Leminiréseau avec vos élèves et des exemples d'utilisation.
Previously, people relied almost entirely on radio announcers, TV hosts, and traditional media to shape their opinions. Today, you can drive the conversation, voice your opinion, and connect with people all over the world using social media. Social media has democratized influence. Klout was founded in 2008 to help you measure and leverage your influence. We believe influence is the ability to drive action. For example, Oprah's opinion on literature has inspired millions to read titles from her book club.
Understand Klout