Articles
The Last Question -- Isaac Asimov. The last question was asked for the first time, half in jest, on May 21, 2061, at a time when humanity first stepped into the light.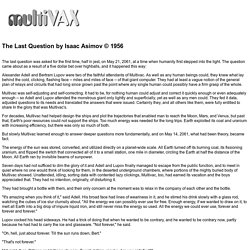 The question came about as a result of a five dollar bet over highballs, and it happened this way: Alexander Adell and Bertram Lupov were two of the faithful attendants of Multivac. As well as any human beings could, they knew what lay behind the cold, clicking, flashing face -- miles and miles of face -- of that giant computer. They had at least a vague notion of the general plan of relays and circuits that had long since grown past the point where any single human could possibly have a firm grasp of the whole. Multivac was self-adjusting and self-correcting. Top 10 Ways to Turn Your Retired Gadgetry into the Technology of the Future. SExpand I have written How-Tos for many of them, but I concentrate on the "why" answers, not the "how".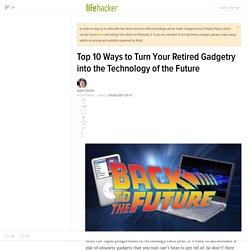 There are lots of places on the internet with step-by-step guides. Top 10 Space-Saving Household Projects. Whether you live in a tiny apartment or just have too much stuff, there's likely a lot of space you aren't using, like your walls, your ceilings, or the nooks and crannies in your furniture.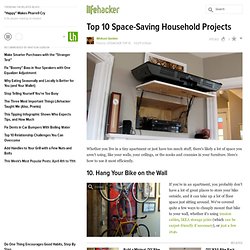 Here's how to use it most efficiently.P 10. Hang Your Bike on the WallP SExpand If you're in an apartment, you probably don't have a lot of great places to store your bike outside, and it can take up a lot of floor space just sitting around. Amusing Ourselves to Death. John Cleese on the 5 Factors to Make Your Life More Creative. By Maria Popova "Creativity is not a talent.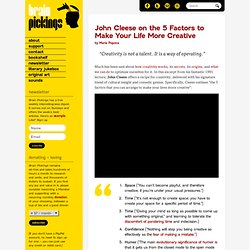 It is a way of operating." Much has been said about how creativity works, its secrets, its origins, and what we can do to optimize ourselves for it. Holon (philosophy) A holon (Greek: ὅλον, holon neuter form of ὅλος, holos "whole") is something that is simultaneously a whole and a part.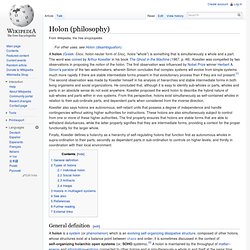 The word was coined by Arthur Koestler in his book The Ghost in the Machine (1967, p. 48). Koestler was compelled by two observations in proposing the notion of the holon. The first observation was influenced by Nobel Prize winner Herbert A. Simon's parable of the two watchmakers, wherein Simon concludes that complex systems will evolve from simple systems much more rapidly if there are stable intermediate forms present in that evolutionary process than if they are not present.[1] The second observation was made by Koestler himself in his analysis of hierarchies and stable intermediate forms in both living organisms and social organizations.
How Does Google Work? Learn How Google Works: Search Engine + AdWords. Bruce Lee Quotes (Author of Tao of Jeet Kune Do) "Be like water making its way through cracks.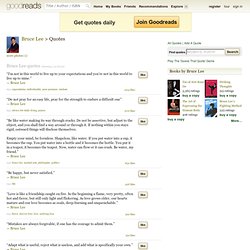 Do not be assertive, but adjust to the object, and you shall find a way around or through it. If nothing within you stays rigid, outward things will disclose themselves. Empty your mind, be formless. Shapeless, like water. If you put water into a cup, it becomes the cup. 02-2012-01-41-35-thedalailamawhenaskedwhatsurprisedhimmostabouthumanityansweredmanbecausehesacrificeshishealthinordertomakemoney.jpeg (720×490) Rules Of A Gentleman.
---