Synchron
Perplex City Exposed « Digital Worlds - Interactive Media and Game Design. Moving on from ARGs Uncovered , which reviewed the IGDA white paper on Alternate Reality Games (ARGs), this post provides you with an opportunity to find out for yourself a little more about the design of the first Perplex City ARG.
First up is a presentation by Adrian Hon (who you may remember we've come across before… ), of the game development company Mind Candy, which created the original Perplex City ARG as well as its successor…. To set the scene, you may like to read a little bit of background about the game by reading this review of Perplex City … The Wikipedia entry for Perplex City also provides a brief summary of the game.
Xenophile Media // 2007. Runes - générator. Les alphabets runiques sont le fruit d'un héritage traditionnel millénaire, utilisés par les anciens peuples des forêts.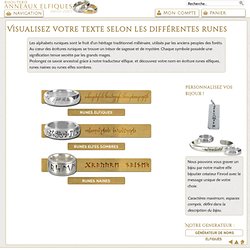 Au cœur des écritures runiques se trouve un trésor de sagesse et de mystère. Chaque symbole possède une signification tenue secrète par les grands mages. Prolongez ce savoir ancestral grâce à notre traducteur elfique, et découvrez votre nom en écriture runes elfiques, runes naines ou runes elfes sombres. Personnalisez vos bijoux ! Home :: World Without Oil. Lost Zombies. Project Abraham. ARGNet - Alternate Reality Gaming Network. Unfiction.com. Mind Candy » Home. Perplex City Season One. The motto of the story team is 'It's like we did it on purpose'.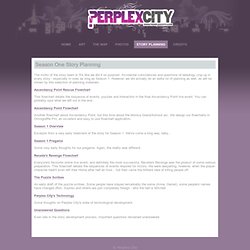 Accidental coincidences and questions of teleology crop up in every story - especially in ones as long as Season 1. However, we did actually do an awful lot of planning as well, as will be shown by this selection of planning materials: This flowchart details the sequence of events, puzzles and interaction in the final Ascendancy Point live event.
Fallen (ABC Family Miniseries) - ReGenesis. It is revealed Aaron is the Redeemer of prophecy, a Nephilim with the ability to "redeem" the fallen angels and return them to Heaven.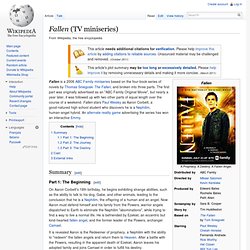 After a battle with the Powers, resulting in the apparent death of Ezekiel, Aaron leaves his adopted family and joins Camael in order to fulfill his destiny. Camael arrives to defend Aaron and Vilma from Mazarin, the leader of the Powers, and his forces, but is captured. ReGenesis. Et - Alternate Reality Gaming Network. Ocular Effect. I love bees : PuppetMaster Jane McGonigal. PuppetMastering I LOVE BEES was behold: Jane McGonigal > !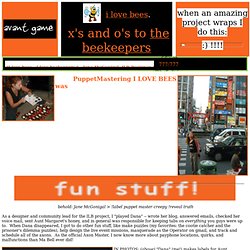 Label puppet master creepy ! Reveal truth. Majestic. Jeu en réalité alternée. Un article de Wikipédia, l'encyclopédie libre.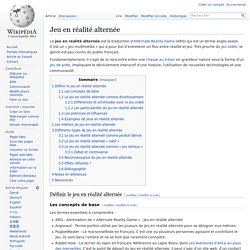 This Is Not a Game, slogan du jeu The Beast et devise d'un ARG (Trad. : Ceci n'est pas un jeu) The Lost Experience - The Lost Podcast Wiki. The Lost Experience. Lost Experience. ABC Entertainment's senior vice president of marketing, Mike Benson, described the game as a hybrid between content and marketing.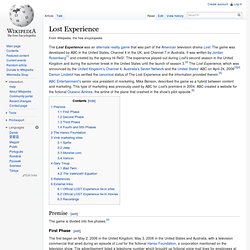 This type of marketing was previously used by ABC for Lost's premiere in 2004. ABC created a website for the fictional Oceanic Airlines, the airline of the plane that crashed in the show's pilot episode.[6] Premise[edit] L'identité numérique ? Je ne suis pas le premier à tenter de vulgariser le concept d'identité numérique, Leafar (Raphaël pour les intimes) a ainsi déjà proposé une représentation de l'identité numérique (voir son billet : U.lik unleash Identity 0.2), j'avais également déjà abordé la question dans un précédent billet.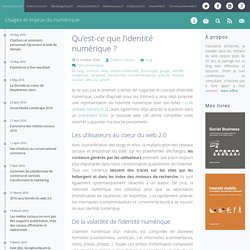 Je souhaite avec cet article compléter cette vision et y apporter ma touche personnelle. Les utilisateurs au coeur du web 2.0 Avec la prolifération des blogs et wikis, la multiplication des réseaux sociaux et l'explosion du trafic sur les plateformes d'échanges, les contenus générés par les utilisateurs prennent une place toujours plus importante dans notre consommation quotidienne de l'internet. Panorama des médias sociaux. Aviez-vous remarqué que le terme "web 2.0" n'est plus à la mode ?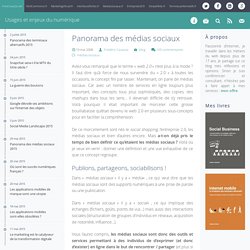 Il faut dire qu'à force de nous survendre du "2.0″ à toutes les occasions, le concept fini par lasser. Maintenant, on parle de médias sociaux. Car avec un nombre de services en ligne toujours plus important, des concepts tous plus sophistiqués, des copies, des mashups dans tous les sens… il devenait difficile de s'y retrouve. Voilà pourquoi il était important de morceler cette grosse bouillabaisse qu'était devenu le web 2.0 en plusieurs sous-concepts pour en faciliter la compréhension.
Social Media Landscape. Did you notice that the "Web 2.0" term was outdated?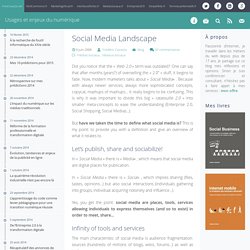 One can say that after months (years?) Of overselling the "2.0"" stuff, it begins to fade. Now, modern marketers talks about "Social Media". The da Vinci code (#1) : matt-thornton.net. As part of the release for the new book by Dan Brown, they released a sort of online challenge to crack the DaVinci Code. As I worked through it, I came across a lot of very angry, very pissed off people who couldn't crack it.
So here, for all you people who can't be arsed to figure it out, are the answers to the various riddles. If you don't want to know the answers, don't continue! Are you looking for a guide to the second da Vinci code? My guide to it is here!. The Da Vinci Code WebQuests. Original Official Promotional WebQuests[edit] The original Da Vinci Code web quest challenges were first made available via the website of the book's author, Dan Brown, as part of a promotional campaign, and both remain hosted on the publisher's website (RandomHouse.com).
In January 2004, it was announced on the live television program Good Morning America that hundreds of thousands of people had participated in the original challenge, and that 40,000 people had successfully completed it. The Beast (game) An ARG is a game which deliberately blurs the line between the game and the real world. Players investigate the world of the game using the same tools with which they interact with the real world such as websites, email, telephone conversations and even in-person discussions with actors playing game characters. The mantra of The Beast, and most other ARGs, is "This is not a game. " When a player reads a character's blog, or looks at his employer's website, or even speaks to him on the phone, the character never indicates that he is anything but what the game says he is, whether that's a professor of biology, a kidnapped child, a DP artist, or a robot bounty hunter.
The Game (treasure hunt) The Game is a non-stop 24–48 hour treasure hunt, puzzlehunt or road rally that has run in the San Francisco Bay and Seattle areas since 1973. Its teams use vans rigged with power and Internet access and drive hundreds of miles from puzzle site to puzzle site, overcoming often outrageous physical and mental challenges along the way, usually with no sleep. Teams in recent games have been required to walk around the roof of the Space Needle, find a puzzle hidden in a live rat, and circulate a petition to ban dihydrogen monoxide from local ecosystems while dressed in superhero outfits.
RadioTalkShow : Coast to Coast AM. The Game (film)-DavidFincher. ARG_Alternate reality game. Majestic (video game) TheBeast_offlineGame. The Beast Cloudmakers (Speilberg/Yahoo) cloudmakers.org. So What, Exactly, Do Online Gamers Want? Fred : Web 2.0 : un album. _vision. Video game genres.
---