Foundations
A Tribute to Keith Haring. Keith Haring. Home. The Frank Lloyd Wright Foundation maintains its international headquarters at Taliesin West, in Scottsdale, Arizona.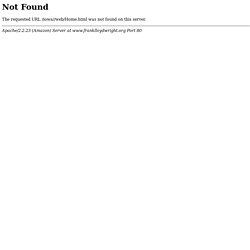 As the organization founded by Wright to be the repository of his life's work and ideas and the first to bear his name, the Foundation is engaged in a broad range of activities to preserve Wright's legacy; provide opportunities for the public to learn about the principle ideas embodied in his work; increase public awareness of the importance of architecture to society and the individual; and stimulate a demand for excellence in architecture and design.
The Foundation owns Taliesin West (designed 1937-59) and Taliesin (designed 1911-59) in Wisconsin. Frank Lloyd Wright . Life and Work. Calder Foundation. The Roy Lichtenstein Foundation. Home - Fundació Joan Miró. The Henry Moore Foundation - Home. Fundacio Sorigue.
---