Artists and Fdn.
EMPTY KINGDOM TOP 100 Artists of 2011.
Female artists
Impressionist/Post Imp. Mark Rothko. Claes Oldenburg & Coosje van Bruggen. James Rosenquist American Artist Paintings Prints. Norman Rockwell. The Gilbert Munger Site. This site documents the life and works of the American landscape painter Gilbert Munger [1837 - 1903].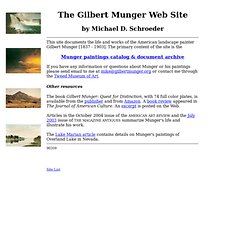 The primary content of the site is the Munger paintings catalog & document archive If you have any information or questions about Munger or his paintings please send email to me at mike@gilbertmunger.org or contact me through the Tweed Museum of Art. Other resources. Frederick Ferdinand Schafer Catalog, Home Page. By Jerome H.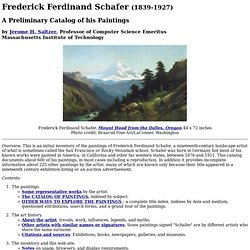 Saltzer, Professor of Computer Science Emeritus Massachusetts Institute of Technology Frederick Ferdinand Schafer, Mount Hood from the Dalles, Oregon 44 x 72 inches Photo credit: Braarud Fine Art/LaConner, Washington Overview. This is an initial inventory of the paintings of Frederick Ferdinand Schafer, a nineteenth-century landscape artist of what is sometimes called the San Francisco or Rocky Mountain school. Schafer was born in Germany but most of his known works were painted in America, in California and other far western states, between 1876 and 1911. The William Morris Society U.S.
Franz Marc Gallery 1. Rossetti Archive. The Complete Writings and Pictures of A Hypermedia Archive T HE Rossetti Archive facilitates the scholarly study of Dante Gabriel Rossetti, the painter, designer, writer, and translator who was, according to both John Ruskin and Walter Pater, the most important and original artistic force in the second half of the nineteenth century in Great Britain.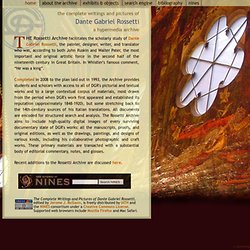 In Whistler's famous comment, "He was a king". John William Waterhouse: Comprehensive Painting Gallery of Artworks w Detail Descriptions, Location, Paintings Facts, and Poetry. « jwwaterhouse.com.
Thomas Moran: Begin Your Tour. Winslow Homer: The Obtuse Bard. Winslow Homer: The Obtuse Bard Homer viewed the world influenced by the ideas of those who surrounded him as a child in Cambridge, Massachusetts, especially the ideas of painter/poet Washington Allston, Allston's brother-in-law Richard Henry Dana Sr., and Allston's friend Benjamin Welles.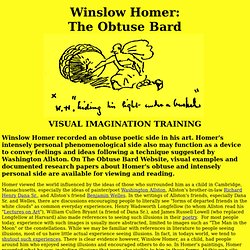 In the writings of Allston's friends, especially Dana Sr. and Welles, there are discussions encouraging people to literally see "forms of departed friends in the white clouds" as common everyday experiences. Henry Wadsworth Longfellow (to whom Allston read his "Lectures on Art"), William Cullen Bryant (a friend of Dana Sr.), and James Russell Lowell (who replaced Longfellow at Harvard) also made references to seeing such illusions in their poetry. For most people today, experience with such images is usually more abstracted, limited to images such as "The Man in the Moon" or the constellations.
Index. Le Surréalisme. Making Sense of Marcel Duchamp. Marcel Duchamp World Community - Dada - Surrealism - Art Work - Paintings - Wilson Lincoln Effect - Green Box - Bride Stipped Bare - Readymade Hatrack - Network of Stoppages - ManRay's Portraits Duchamp marcel. Welcome to Christo and Jeanne-Claude. THE WORLD´S LARGEST RODIN WEBSITE - COMPLETE OVERVIEW OF RODIN COLLECTIONS. Essential Vermeer.
---