Recipes
Ο τοματοπολτός είναι από τα βασικά βιομηχανικά προϊόντα του Νομού Σερρών. Στον σερραϊκό κάμπο καλλιεργούνται πολλά στρέμματα βιομηχανικής τομάτας και οι δύο μεγάλες μονάδες παραγωγής τοματοπολτού που υπάρχουν επεξεργάζονται ετησίως χιλιάδες τόνους βιομηχανικής τομάτας, παράγοντας τοματοπολτό και αποφλοιωμένο τοματάκι αρίστης ποιότητας. Ο Νομός Σερρών παράγει ένα σημαντικό ποσοστό του συνολικού τοματοπολτού που παράγεται στην Ελλάδα και εξάγεται στις χώρες της Ε.Ε., της Ανατ. Ευρώπης, της Ασίας κ.α.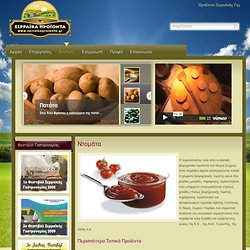 Ντομάτα
Τοπικές Παραδοσιακές
Κάντε πιο πικάντικο τον καφέ σας
Dark chocolate cake, whole oreo cookie baked into the top, vanilla buttercream mixed with crushed oreos..As you bite into the cupcake, you can see a layer of cookie under the icing Line cupcake tins with papers and place one oreo cookie in the bottom of each tin. Fill 3/4 way with chocolate cake batter (any chocolate box mix works perfectly or I love Hershey's Perfectly Chocolate Cake recipe). The cookies will float to the top. Bake according to box or recipe, normally around 15-18 minutes.
Cookies n Cream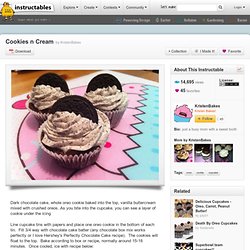 Oreo and Peanut Butter Brownie Cakes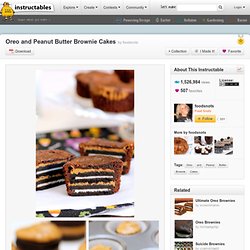 So, after being gone all last week, this has been catch up on the house week. Mostly laundry actually. Man, who knew that a weeks worth of laundry from 5 people could be so daunting. Yikes!!
Λαχταριστά οικονομικά γεύματα
Μαγειρέψτε σαν top chef με budget φοιτητή. Woman's Own, Rex Features Μπορεί να μην έχετε πολλά χρήματα ως φοιτητής, αλλά αυτό δε σημαίνει ότι πρέπει να το ρίξετε στο junk food. Υπάρχουν πολλές λαχταριστές συνταγέςπου μπορείτε γρήγορα να φτιάξετε με μερικά βασικά συστατικά.Από γαλλικές κρέπες, γιαπωνέζικη τεμπούρα μέχρι νούντλς Σιγκαπούρης υπάρχουν φθηνές και υγιεινές συνταγές για να τρώτε σαν βασιλιάδες παρά το περιορισμένο budget. Ταξιδέψτε στις γεύσεις του κόσμου απλά και οικονομικά.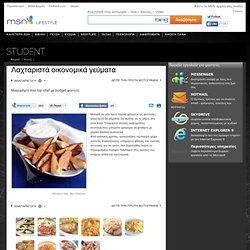 Healthy and Vegetarian - iVillage
most gawked all-time - page 20
Bacon and Cheddar Macaroni & Cheese - iVillage
1 Bring a medium (6- to 8-quart) pot of water to a boil. Salt it generously (it should taste like the sea). Stir in the pasta and cook according to the package directions. Drain (but don't rinse, or you'll rinse away starches that will help thicken the sauce) and return to the empty pot. 2 Meanwhile, place a large (12- to 14-inch) sauté pan over high heat for several minutes. When hot, add the bacon and sauté until browned and crispy (lower the heat to medium-high if necessary to prevent scorching), about 5 minutes. Remove the pan from the heat and, using a slotted spoon or spatula, remove the bacon from the pan and drain on paper towels. 3 Pour off the fat from the pan (into a metal can or heatproof cup, not down the drain or you'll potentially clog your pipes) and return the pan to medium-high heat.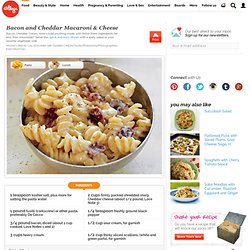 Cheese & Burger Society
Someone Left The Cake Out In The Rain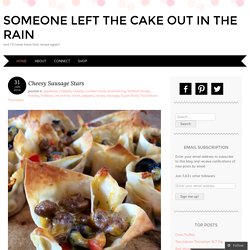 Scouring the stacks and stacks of mags and books that decorate my shelves and floors for Christmas/holiday recipes, I came across a vintage gem that was added to the "to-make" list, immediately. From a Better Homes & Gardens from 1992 had an add for Hidden Valley Sausage Stars, I followed up this discovery with a Pinterest search and saw that this recipe has been a staple in many homes for years. Oddly enough, I rarely if ever saw deviations from the original.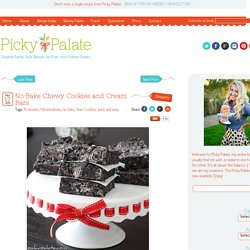 No-Bake Chewy Cookies and Cream Bars | Picky Palate
Oh how I love a treat that can be whipped up in about 15 minutes. My boys and their buddies couldn't get enough of these Chewy Oreo Bars we had as an after school snack this week. Sometimes my spontaneous recipe creations turn out to be the most fun, lol! Yes you use an entire package of Oreo Cookies, but what you get in return is a marshmallow-y Oreo treat that is worth every bite