Web 2.0 Tools
Google. 100+ Google Tricks for Teachers. It's Google's world, we're just teaching in it.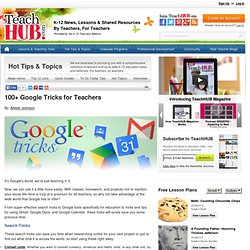 Now, we can use it a little more easily. With classes, homework, and projects–not to mention your social life–time is truly at a premium for all teachers, so why not take advantage of the wide world that Google has to offer?
Wikipedia. Embracing Wikipedia. UserID: iCustID: IsLogged: false IsSiteLicense: false UserType: anonymous.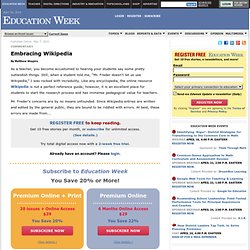 Organize your resources in an online binder - LiveBinders. LiveBinders Blog. Prezi - The Zooming Presentation Editor. Introducing: Prezi Templates. Templates Most people see Prezi's blank canvas as artistic freedom.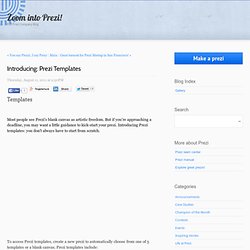 But if you're approaching a deadline, you may want a little guidance to kick-start your prezi. Introducing Prezi templates: you don't always have to start from scratch. To access Prezi templates, create a new prezi to automatically choose from one of 5 templates or a blank canvas. Secure Social Learning Network for Teachers and Students. Edmodo - Extending Learning Beyond the Classroom. Back to School with Edmodo: 5 Steps to Getting Started. Tagged with: getting started Looking to integrate Edmodo into your classroom curriculum this year?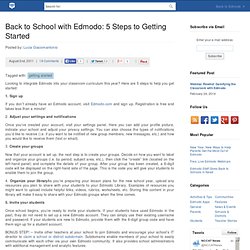 Here are 5 steps to help you get started: 1. Sign up. Dropbox - Simplify your life. 62 things you can do with Dropbox | Web. Ask Macworld editors to name our favorite apps, and most of us would mention Dropbox.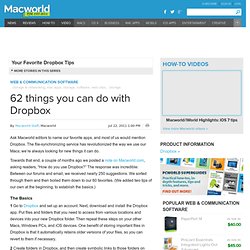 The file-synchronizing service has revolutionized the way we use our Macs; we're always looking for new things it can do. Towards that end, a couple of months ago we posted a note on Macworld.com, asking readers, "How do you use Dropbox?" The response was incredible: Between our forums and email, we received nearly 250 suggestions. How to Collect Student Files with Dropbox | K-5 Computer Lab. Collect Student Assignments and Files with Dropbox and FileStork Dropbox is a free online file storage service that students can use to upload assignments and other digital files to the teacher's Dropbox account.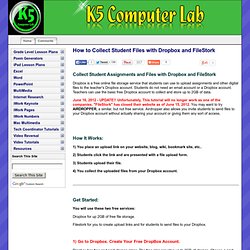 Students do not need an email account or a Dropbox account.
---