Times top 50 web sites
Wolfram|Alpha—Computational Knowledge Engine. TripIt - Travel Itinerary – Trip Planner. Academic Earth - 50 Best Websites 2009. The latest campus revolutionaries are the so-called edupunks — and their mission is to break up the ivory tower so everyone can pile into the classroom.
MIT was the first university to heed the edupunk call: it started posting syllabi, course notes and videotaped lectures on ocw.mit.edu back in 2001. Harvard, Berkeley, Yale, Princeton and Stanford soon followed suit, with their own schemes for posting videos of their most popular courses. Academic Earth | Online Courses | Academic Video Lectures. The New Testament as History | Yale Literature Lecture.
Since 2008, Academic Earth has worked diligently to compile an ever-growing collection of online college courses, made available free of charge, from some of the most respected universities.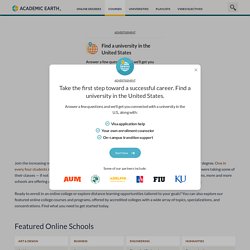 We proudly build on the precedent set forth by MIT OpenCourseware, believing that everyone deserves access to a world-class education. To facilitate this goal, we have curated links to over 750 online courses and 8,500 individual online lectures, giving students of all ages unparalleled access to college courses they may otherwise never experience. Whether supplementing existing coursework, or learning for the sake of learning, anyone with an internet connection has the freedom to learn at their own pace from world-renowned experts, without the burden of rising tuition costs. Boing Boing - 50 Best Websites 2009. Boing Boing functions as a proxy for the entire aesthetic of the Web.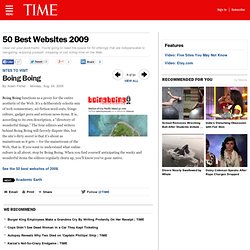 It's a deliberately eclectic mix of tech commentary, sci-fiction nerd-outs, fringe culture, gadget porn and serious news items. It is, according to its own description, a "directory of wonderful things. " The four editors and writers behind Boing Boing will fiercely dispute this, but the site's dirty secret is that it's about as mainstream as it gets — for the mainstream of the Web, that is.
If you want to understand what online culture is all about, stop by Boing Boing. When you find yourself anticipating the wacky and wonderful items the editors regularly churn up, you'll know you've gone native. Flickr - 50 Best Websites 2009. Computers don't handle visual imagery with the same native ease with which they parse text or crunch numbers.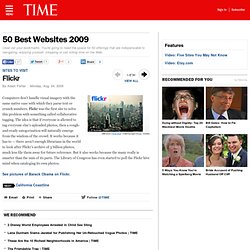 Flickr was the first site to solve this problem with something called collaborative tagging. The idea is that if everyone is allowed to tag everyone else's uploaded photos, then a rough-and-ready categorization will naturally emerge from the wisdom of the crowd. It works because it has to — there aren't enough librarians in the world to look after Flickr's archive of 3 billion photos, much less file them away for future reference.
Grammarly - English grammar checker, proofreader & plagiarism scanner. Product Reviews and Reports - ConsumerSearch.com. Popurls - 50 Best Websites 2009. The hardest thing about getting news from the Net is keeping up with it.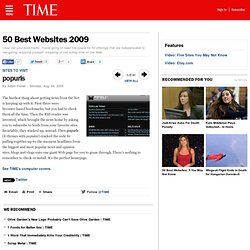 First there were browser-based bookmarks, but you had to check them all the time. Then the RSS reader was invented, which brought the news home by asking you to subscribe to feeds from your favorite sites. Invariably, they stacked up, unread. Then popurls (it rhymes with popular) cracked the code by pulling together up-to-the-moment headlines from the biggest and most popular news and opinion sites, blogs and vlogs onto one giant Web page for you to graze through.
Internet Archive: Digital Library of Free Books, Movies, Music & Wayback Machine. Metacritic - Movie Reviews, TV Reviews, Game Reviews, and Music Reviews. Simple private real-time sharing and collaboration by drop.io. Visuwords™ online graphical dictionary and thesaurus. Photosynth - Use your camera to stitch the world. Get High Now (without drugs) Vimeo, Video Sharing For You. Free Personal Finance Software, Budget Software, Online Money Management and Budget Planner.
Supercook: recipe search by ingredients you have at home. Loans that change lives. You Publish. Videos on the People, Issues, and Ideas Changing the Planet. Musicovery.
---