Good Visuals
Ccreport.update.indd - vital-climate_change_update.pdf. f14ec01e-d1ed-11e3-8cc1-22000ab31218-original.jpeg (JPEG Image, 600 × 900 pixels) Access To Justice & Technology: Everyone, Anytime, Anywhere | Expert Thinking @ Neota Logic. "Eighty percent of low income people have trouble obtaining legal representation or otherwise accessing the civil court system to protect their property, family, and livelihood."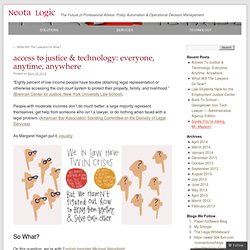 (Brennan Center for Justice, New York University Law School). People with moderate incomes don't do much better; a large majority represent themselves, get help from someone who isn't a lawyer, or do nothing when faced with a legal problem. (American Bar Association Standing Committee on the Delivery of Legal Services). As Margaret Hagan put it, visually: So What? Collaborative Fund. International Women's Day: political rights around the world mapped | World news. Discover the Böll Stiftung. BuildingOS — The Future of Energy Management — Lucid. CUP: Public Access Design. Public Access Design is CUP's new series of projects that use design to make complex urban issues accessible to the New Yorkers most affected by them.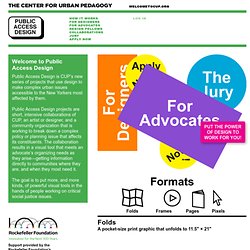 Public Access Design projects are short, intensive collaborations of CUP, an artist or designer, and a community organization that is working to break down a complex policy or planning issue that affects its constituents. The collaboration results in a visual tool that meets an advocate's organizing needs as they arise—getting information directly to communities where they are, and when they most need it. Housing_court_help.pdf. No_me_han_pagado.pdf. Community Development Project. The Top 20 Interactive Visualizations of 2013. Interactive websites are a great way to communicate visually.
With modern browsers like Chrome, Firefox, and Safari, they now provide a nearly limitless multimedia canvas for designers, developers, journalists and animators to build interactive experiences. News organizations, non-profits, companies, and even ambitious individuals are producing incredible digital multimedia experiences as ways to get their message seen. Here are 20 of the best interactive projects we discovered on Visual.ly this year, in five categories: maps, visual reports, data explorers, timelines and scrollers. Maps are a great way to showcase data that has any sort of location associated with it. The best maps help show spatial patterns or trends. Where everyone in the world is migrating—in one gorgeous chart - Quartz. These flows represent 75% of human migration from 2005-2010.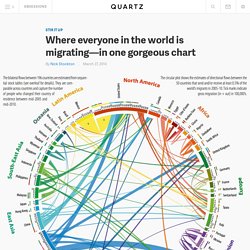 (NB only flows over 50,000 are displayed.) Circos/ Krzywinski, M. et al. Is personal. The Economic Policy Institute (EPI), a non-profit, non-partisan think tank, was created in 1986 to broaden discussions about economic policy to include the needs of low- and middle-income workers.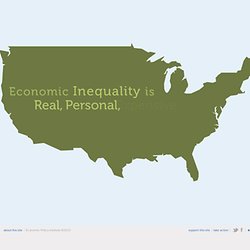 EPI believes every working person deserves a good job with fair pay, affordable health care, and retirement security. To achieve this goal, EPI conducts research and analysis on the economic status of working America. EPI proposes policies that protect and improve the economic conditions of low- and middle-income workers and assesses policies with respect to how they affect those workers. EPI was founded by economists who felt that the story of the economy is best told through the lens of working people and their families: if they are suffering, the economy is suffering, no matter how high the stock market soars.
This is why the Institute has always focused attention on trends in living standards, including employment, income growth, work hours, wage and benefit trends. Inter-American Human Rights System. The Inter-American System for the protection of human rights is one of the world's three regional human rights systems, and is responsible for monitoring and ensuring implementation of human rights guarantees in the 35 independent countries of the Americas that are members of the Organization of American States (OAS).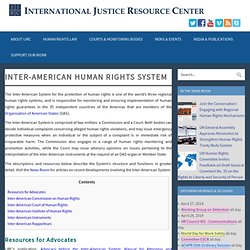 The Inter-American System is comprised of two entities: a Commission and a Court. Both bodies can decide individual complaints concerning alleged human rights violations, and may issue emergency protective measures when an individual or the subject of a complaint is in immediate risk of irreparable harm. The Commission also engages in a range of human rights monitoring and promotion activities, while the Court may issue advisory opinions on issues pertaining to the interpretation of the Inter-American instruments at the request of an OAS organ or Member State.
Conference 2014 | Conference. Shine on the web | Scoop.it. Legal information design. Lincoln Memorial Interactive Gill_Lyons. They Killed Sister Dorothy. Writing an Argument. Flowchart-short-movie.jpg (JPEG Image, 1556 × 2200 pixels) - Scaled (41%) LoPucki's Bankruptcy Procedure Charts. 2013: The Year in Interactive Storytelling. To Russia With Love. Mass Ideation. Introduction to Circos, Features and Uses // CIRCOS Circular Genome Data Visualization. Sagmeister & Walsh - About Us. Clients include: Corporate – Function Engineering, Standard Chartered Bank, Aishti Department Stores, 20/30 Apartment Building Beirut, Levis, P.F.O., Lobmeyer, Joik, HBO Studio productions, Toto, Energias de Portugal, AutoDesk, Adobe, Kunsthaus Bregenz, BBH ad agency, Publicis ad agency, IDEO, Sappi Paper, Red Bull, Vitra, Droga 5 ad agency, Crown Plaza, TBWA ad agency, Droog, BMW, Zumtobel Light systems 2003 Arts – Institute of Contemporary Art Philadelphia, Deitch Projects, Museum Plaza, Guggenheim Museum, Vilcek, Casa da Musica, Art Center Pasadena, NYC, Olympic committee, Public Art Fund, Dakis Jouannou, Arup, Dakota Jackson, Museum of Modern Art, Vorarlberger Landes Museum, AIGA, Design Exchange Toronto, Les Arts Decoratifs Publishing & Editorial – Other Criteria, ArtAsiaPacific Publishing, Random House Publishing, Departure Vienna, Abrams publishing, Seed Magazine, The New York Times, .copy Magazine, Appleton Paper, Annual Reviews/MIT Press, NYTimes Magazine, Technology Review.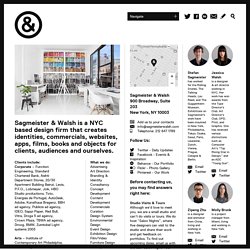 Why Consumers Turn To Small Dollar Credit Infographic | CFSI. Fan the flame on Behance. Invisible Child: Dasani's Homeless Life. Using Infographics to Educate the World About Human Rights. As individuals, we may disagree on many issues, from philosophy to politics, to what constitutes proper nutrition.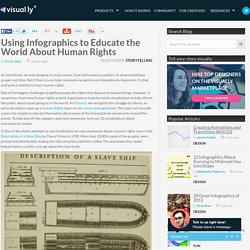 But if there is one topic everyone recognizes as tremendously important, it's that everyone is entitled to basic human rights. One of the biggest challenges to getting people the rights they deserve as human beings, however, is awareness. And many human rights activist organizations have turned to visualization to help inform the public about issues going on in the world. LIFT Impact Report 2013: Building Strong Foundations–Working to LIFT people out of poverty for good. This Brilliant Visualization Could Build A Better Reddit. There are places on reddit that you might never discover.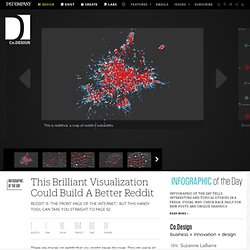 Though we're all familiar with the main pages, there are countless subreddits--niche interests hiding a sub-URL away from plain sight. So while you could be the biggest fan of watching pus drain (reddit.com/r/popping for those with a strong stomach), you might never actually discover the like-minded community just waiting for you by visiting reddit.com/r/news.
In response, Randy Olson and MSU Assistant Professor Zachary Neal have created redditviz, a map of subreddits connected, not by the obvious related reddits you might spot on a sidebar, but actual reddit user behavior. For eight months, their algorithm tracked where users posted across the network. And given enough of a trend--say, 1,000 people regularly posted to both r/diablo and r/starcraft--the team made a connection between those subreddits on their map. About BKLYNR. All the Stops. These days, the NYPD's "stop, question, and frisk" tactic is under fire.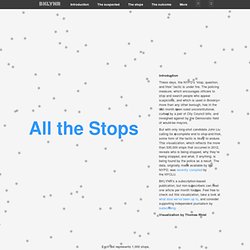 The policing measure, which encourages officers to stop and search people who appear suspicious, and which is used in Brooklyn more than any other borough, has in the last month been ruled unconstitutional, curbed by a pair of City Council bills, and inveighed against by the Democratic field of would-be mayors. But with only long-shot candidate John Liu calling for a complete end to stop-and-frisk, some form of the tactic is likely to endure. This visualization, which reflects the more than 530,000 stops that occurred in 2012, reveals who is being stopped, why they're being stopped, and what, if anything, is being found by the police as a result.
The data, originally made available by the NYPD, was recently compiled by the NYCLU. The Arc of Law. Out of Sight, Out of Mind: A visualization of drone strikes in Pakistan since 2004. Here's Why Drug Policy Reform Is Gaining Momentum. How do governments know drug enforcement is working?
Generally by measuring seizures, arrests, and convictions—based on the assumption that the more drugs are confiscated, and the more drug users and dealers are imprisoned, the fewer drugs will be available. That assumption appears to be wrong. A new study by the International Centre for Science in Drug Policy finds that despite a tremendous increase in seizures, prices actually fell for most illegal drugs over the past 20 years—while purity increased. The Back and Forth Over the Shutdown and Debt Ceiling - Graphic. A Short History of the Highrise. What Is the Higgs? - Interactive Graphic. Tomato Can Blues. In Climbing Income Ladder, Location Matters. ATLANTA – Stacey Calvin spends almost as much time commuting to her job — on a bus, two trains and another bus — as she does working part-time at a day care center.
She knows exactly where to board the train and which stairwells to use at the stations so that she has the best chance of getting to work on time in the morning and making it home to greet her three children after school. "It's a science you just have to perfect over time," said Ms. Calvin, 37. Her nearly four-hour round-trip stems largely from the economic geography of Atlanta, which is one of America's most affluent metropolitan areas yet also one of the most physically divided by income. The low-income neighborhoods here often stretch for miles, with rows of houses and low-slung apartments, interrupted by the occasional strip mall, and lacking much in the way of good-paying jobs. Global Corruption Barometer 2013 - National results. On 9 July 2013, Transparency International launched the Global Corruption Barometer, the largest-ever global survey on people's experience and views on corruption in 107 countries, including Bangladesh.
While the global launch was undertaken by the TI Secretariat in Berlin, Germany, National Chapters, including TI Bangladesh, launched the survey results in their own country. The survey shows that corruption is a serious problem around the world, and Bangladesh is no exception. Our survey asked respondents to rank levels of corruption in 12 institutions from on a scale from 1 to 5, where 1 means 'not at all corrupt' and 5 means 'extremely corrupt'. Voting Rights Act Map - Graphic. Was Alex Ferguson a Better Coach Than the N.B.A.'s Phil Jackson? - Interactive Graphic. Les chiffres-clés du mariage pour tous.
New Gun Measures Considered by the Senate - Graphic. 2012: The Year in Graphics - Graphic. Interactive Globe: Small Arms Imports & Exports. How the Story of Trayvon Martin Went Viral. Occupy-wall-street-infographic-960-1575.jpg (JPEG Image, 960 × 1575 pixels) - Scaled (48. News » Iran Infographic in the The Washington Post! Amnesty International - 50th Anniversary Human Rights Infographic. Visualizing the Human Rights Issue Agenda. Infographics: The Times Newspaper (UK) on the Behance Network. Where the Bribes Are - Mintz Group FCPA Map. World-as-100-people_51505a8baf475.png (PNG Image, 1370 × 1370 pixels) - Scaled (65. Infographics.
---